Owain Glyndŵr and a timber from Sycharth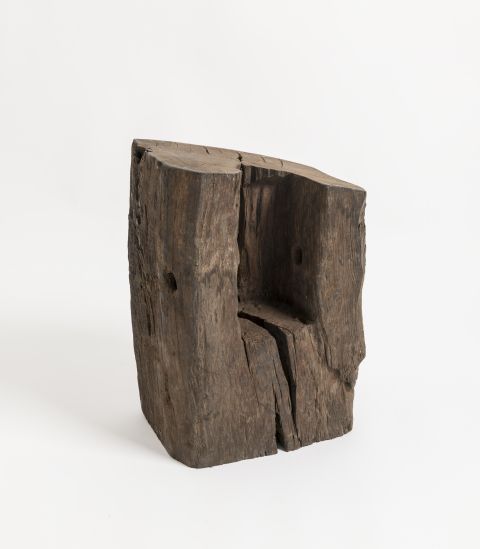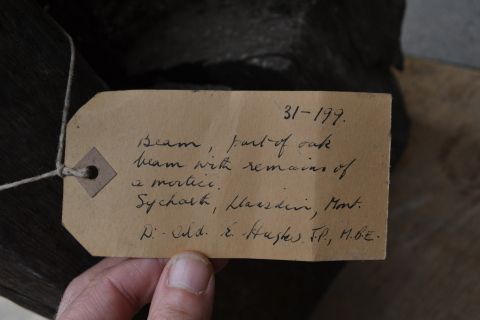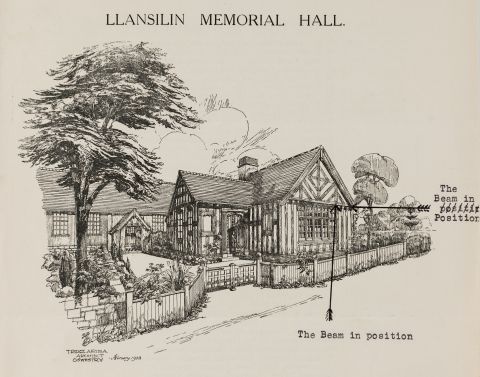 On 16 September, 617 years years ago, Owain Glyndŵr was proclaimed Prince of Wales by his followers at his court in Glyndyfrdwy. His rebellion between 1400 and 1409 was the last of many attempts to free Wales from the shackles of English rule. His home was Sycharth, an 11th century motte and bailey castle in Llansilin, Denbighshire. The poet Iolo Goch writing before the rebellion said that it contained nine grand halls all roofed in slate, and called it the 'fairest timber court'. The estate featured fish ponds, an orchard, vineyard, horses, deer, peacocks, and his staff only drank the finest Oswestry ale. Having found Sycharth empty, on May 1403 it was burned to the ground by Henry of Monmouth (later to become Henry V). After that, his forces burned Glyndyfrdwy too.
In 1927 Alderman Edward Hughes from Wrexham wrote to Sir Cyril Fox, head of the newly opened National Museum of Wales. In his letter he noted that about 30 years previously the agent for Sir Watkin Williams-Wynn (the then owner of Sycharth) was draining the moat and found a substantial oak timber. This was carefully removed and taken to Llangedwyn Hall by Lady Williams-Wynn for safe keeping. In 1924 Alderman Hughes asked Lady Williams-Wynn if he could use the beam in the new Memorial Hall being built in Llansilin. The great oak beam was too long for its intended use as a window lintel and a section was cut off the end, with great difficulty. Alderman Hughes donated this remaining section to the Museum.
The timber was recently cleaned and photographed ready for display at the National Eisteddfod in Abergavenny. There was no sign of burning on the timber as one would expect, but it may have formed part of a bridge over the moat that was not subject to burning. It is 50cm tall, and 27cm x 36cm in thickness (20" x 11" x 14"). The substantial mortice cut into it is 27cm tall, and 14cm in width (11" x 6").
The display garnered some interest, and Richard Suggett from the Royal Commission on the Ancient and Historical Monuments of Wales contacted me with more information. Some years after the construction of Llansilin Hall the south-westerly facing beam was removed due to rot, and placed in a skip. It was rescued by Mr Dick Hughes, a local garage owner, and was later presented back to the hall. The timber is now displayed in a glass case, but is only 75cm in length.
Archaeological investigations have revealed the presence of an 18m (43') hall at Sycharth, but not the nine mentioned by Iolo Goch. If we want to support the claim that the timber formed part of Sycharth, the next step would be to try and date both portions scientifically. However, not all timbers are suitable for dating by dendrochronology, and others like this one, may be too fragile to date through invasive methods such as core sampling.
Our recent work has involved gleaning as much information as we can through non-invasive methods such as the simple act of observation. We looked at the timber in raking light which highlighted different marks on its surface. This supplied us with a greater understanding of its use between felling and its accession into our collections in 1931. These include the saw-cuts at either end, one of which is crooked and is likely to be the cut that ruined three saws around 1924 when the timber was reduced in length to fit into the unfinished Llansilin Hall.
We have also carefully cleaned one of the saw-cuts to highlight the growth-rings of the tree. Having counted these rings we see that the timber was around 200 years old when felled. Our next step is to date the timber by comparing the exposed pattern of growth rings to a master chronology.