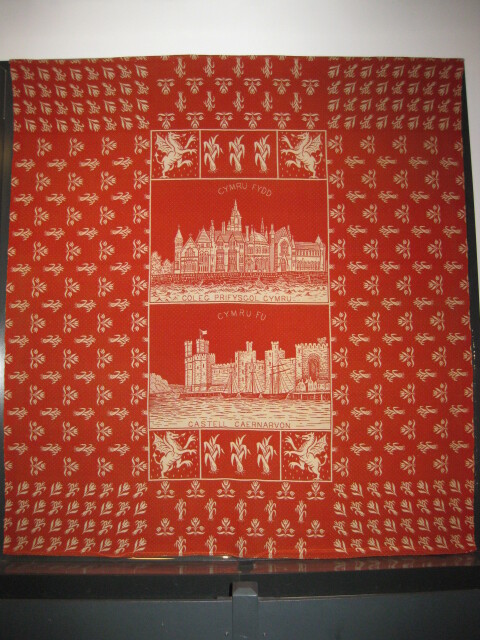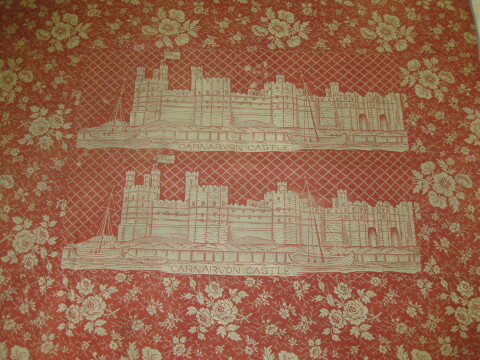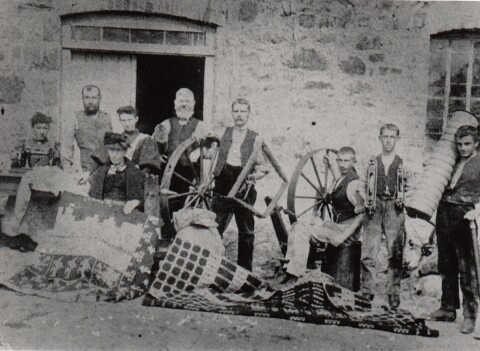 Caernarfon blankets have been described as an oddity in Welsh textiles; the National Wool Museum at Dre-fach Felindre has a couple of examples of this blanket in its collection.
These Caernarfon blankets are made up of three pieces; the most obvious is the middle piece. On this piece are the words 'Cymru Fydd' (Wales to be) underneath a picture of Aberystwyth College, and under a picture of Caernarfon Castle the words 'Cymru Fu' (Wales that was). Above and beneath these pictures are two dragons and three leeks; the rest of the quilt is then covered with leeks and daffodils in full bloom.
The origins of the original design are disputed by scholars. Ann Sutton, a leading authority on Welsh textiles, credits the original blanket to weaver John Roberts of Caernarfon; he is said to have presented the blanket to the Prince of Wales (the future Edward VII) on a visit to Caernarfon to open the water works in 1876. Welsh historian D. G. Lloyd Hughes disputes this as he states the water works in Caernarfon were opened in 1868 not 1876, and as the blankets show Aberystwyth College with the extension that was not completed until 1872. The Prince of Wales did not visit Caernarfon again until 1894; he accredits the design to Pwllheli Woollen Mill who patented the design in February 1895. There is a picture of the staff from Pwllheli Woollen Mill holding a Caernarfon blanket from the 1890s. There are other claimants to the original design, most notably Edward Davies-Bryan, whose great-granddaughter says he commissioned Pwllheli Woollen Mill to produce a blanket commemorating Aberystwyth college in the early 1890s as he was a former student and a great benefactor to the college.
The last Caernarfon blanket was produced in 1969 at Trefriw Woollen Mill to commemorate the investiture of the Prince of Wales at Caernarfon Castle. A recent donation to the National Wool Museum may have finally answered this debate: it is an early hand-woven blanket that is similar to the other blankets and is made up of two pictures of Caernarfon Castle and no picture of Aberystwyth College. The donor said the blanket belonged to her great-grandparents from Denbigh, North Wales, and they passed away in the 1890s. Could this be the type of blanket that was presented to the Prince of Wales in 1868?