VE Day 75: Medals of Heroism, Service and Sacrifice
Victory in Europe Day or VE Day commemorates the Allied victory over Nazi Germany. The United Nations also marks the 8th-9th May for all countries as a "time of remembrance and reconciliation for those who lost their lives during the Second World War".
On 8th May 1945, the War in Europe ended. After almost six years of bloody conflict, Nazi Germany had finally been defeated. By the end of the Second World War – which lasted another four months in the Pacific – more than 60 million soldiers and civilians had been killed, including more than 15,000 Welsh people. The National Museum Wales' collection of Second World War medals attests to the incredible heroism and sacrifice of Welsh servicemen and civilians between 1939 and 1945. In this article, we will present some of the medals from the war in Europe and share with you the stories of their recipients.
British servicemen were eligible for eight campaign stars (a retrospective ninth was added in 2012) and two service medals. Extraordinary acts of bravery or service by service personnel or civilians were rewarded with gallantry medals.
Petty Officer William John James (Royal Navy), Cardiff
Petty Officer William John James, served on HMS Galatea, a Royal Navy light cruiser that operated in the Atlantic and Mediterranean until it was torpedoed and sunk by a German U-Boat off Alexandria in December 1941. James and over 460 of the crew were killed; only around 100 sailors survived. His medals were awarded posthumously and given to his family after the end of hostilities and were accompanied by a condolence slip from the Admiralty.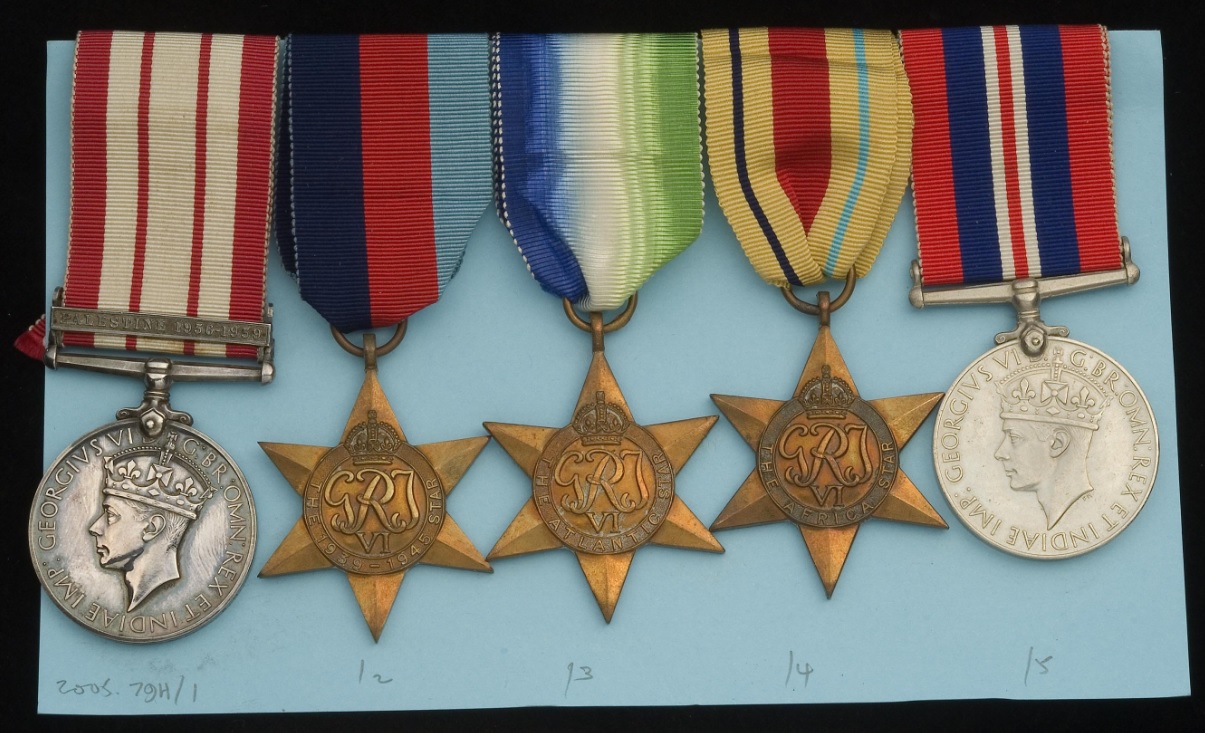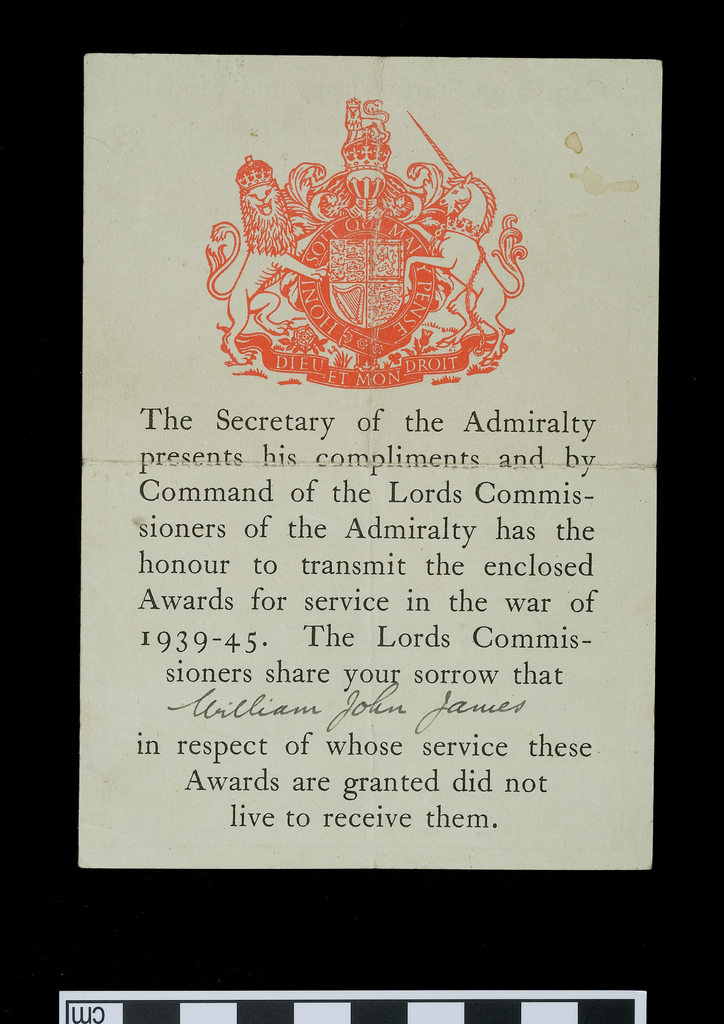 Reverend Ivor Lloyd Phillips (Army), Kilgetty
These medals were awarded to the Reverend Ivor Lloyd Phillips, a military chaplain who served with the 102 (Pembroke Yeomanry) Field Regiment, Royal Artillery in Tunisia and Italy.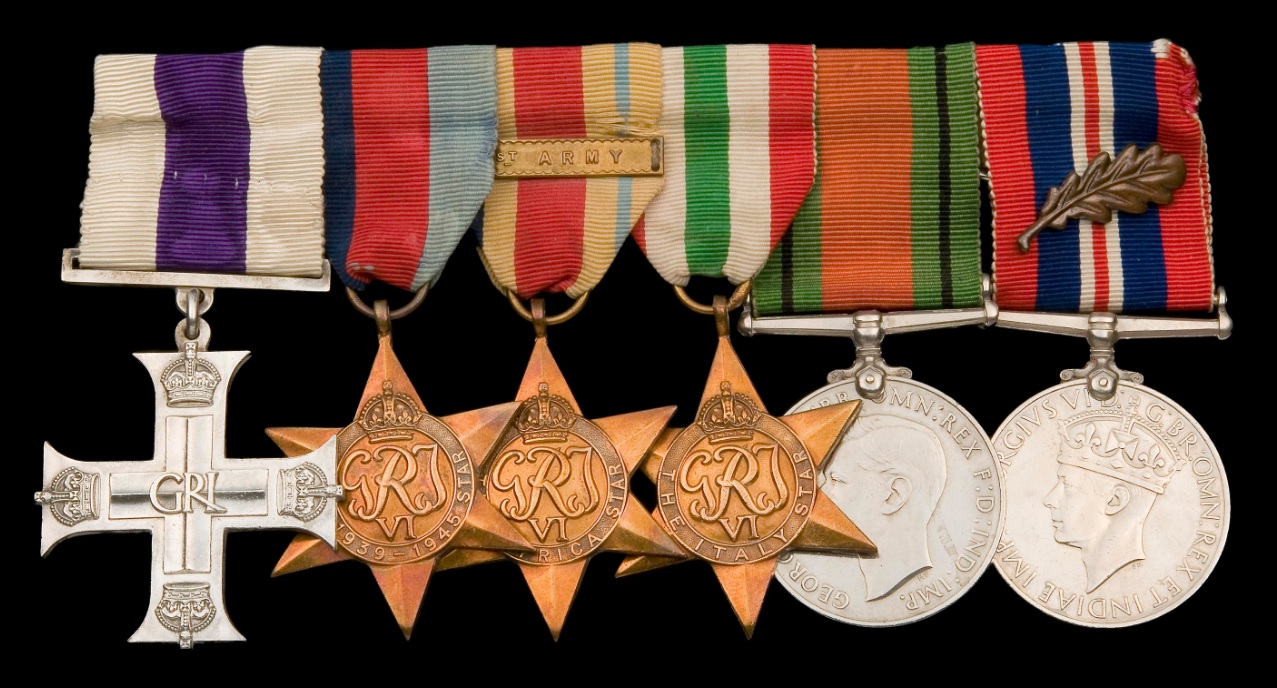 Phillips was awarded the Military Cross, which was at the time the second highest military decoration after the Victoria Cross. The recommendation for the award says "He has carried out his duties in a completely selfless and devoted manner… his work has been unremitting and he is held in very deep esteem by all ranks… Never deterred by any considerations of enemy shelling, he has always shown complete disregard for personal safety. He always hurries to the spot where casualties have occurred and his presence and work with them… has always been the greatest inspiration to others"
He later became Archdeacon of Newport.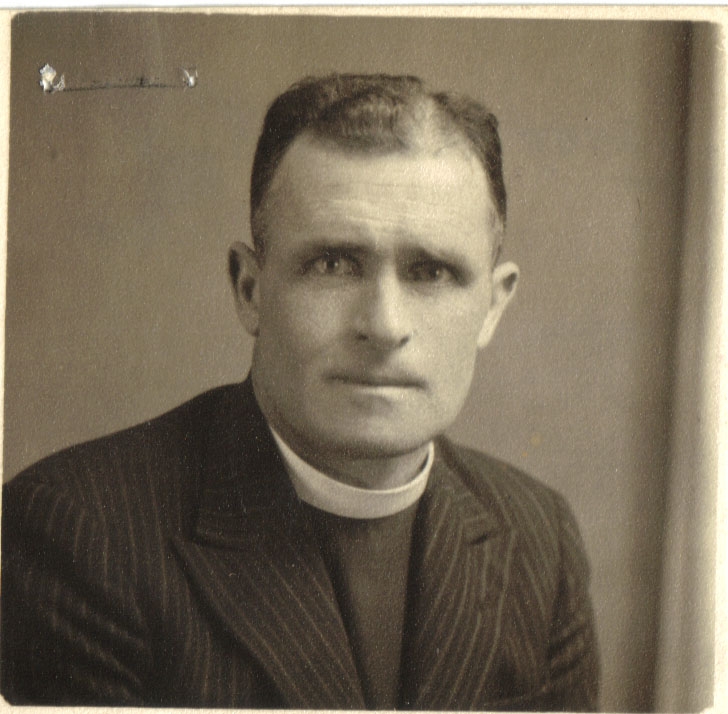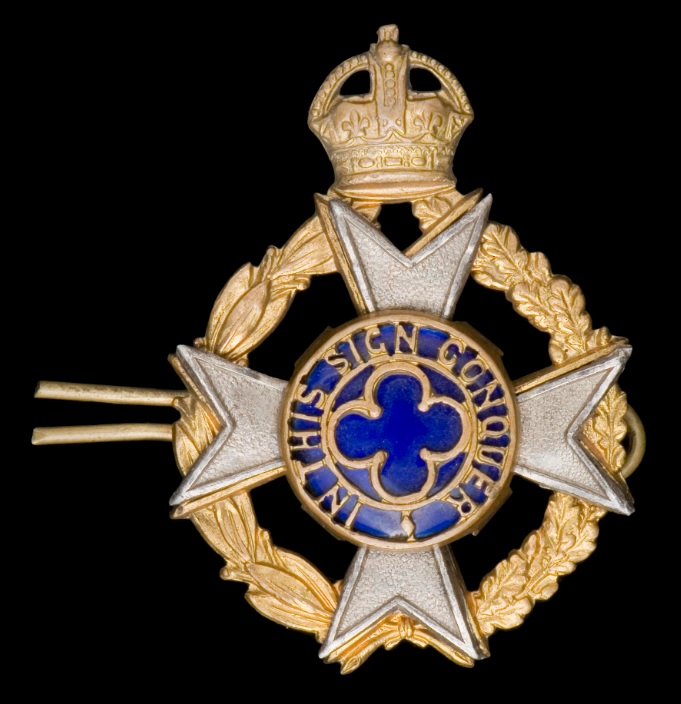 Rev. Phillips donated his medals to the National Museum Wales in 1991.
Sergeant Glyn Griffiths (Royal Air Force), Llandudno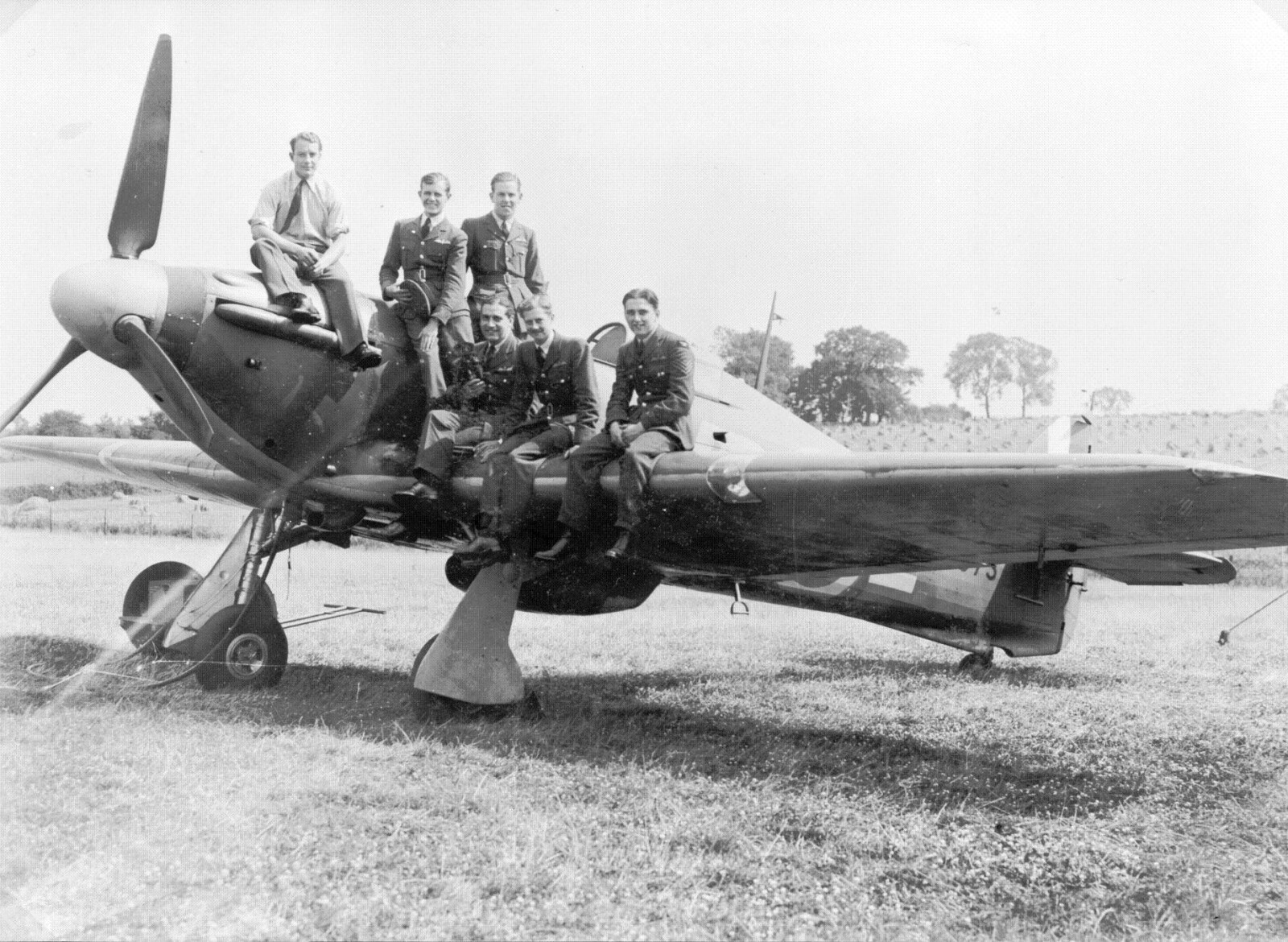 Born in Llandudno in 1918, Sgt Griffiths was an RAF fighter pilot who flew Hawker Hurricanes as part of 17 Squadron during the Battle of Britain, from July to October 1940. He destroyed at least six enemy aircraft and possibly as many as 15. He was awarded the Distinguished Flying Medal for his actions. Following the Battle of Britain he became an instructor and later flew operationally with 4 Squadron. Returning from a sortie over France, he and his wingman collided over their base and Griffiths was forced to bail out. He suffered severe burns, which ended his wartime service.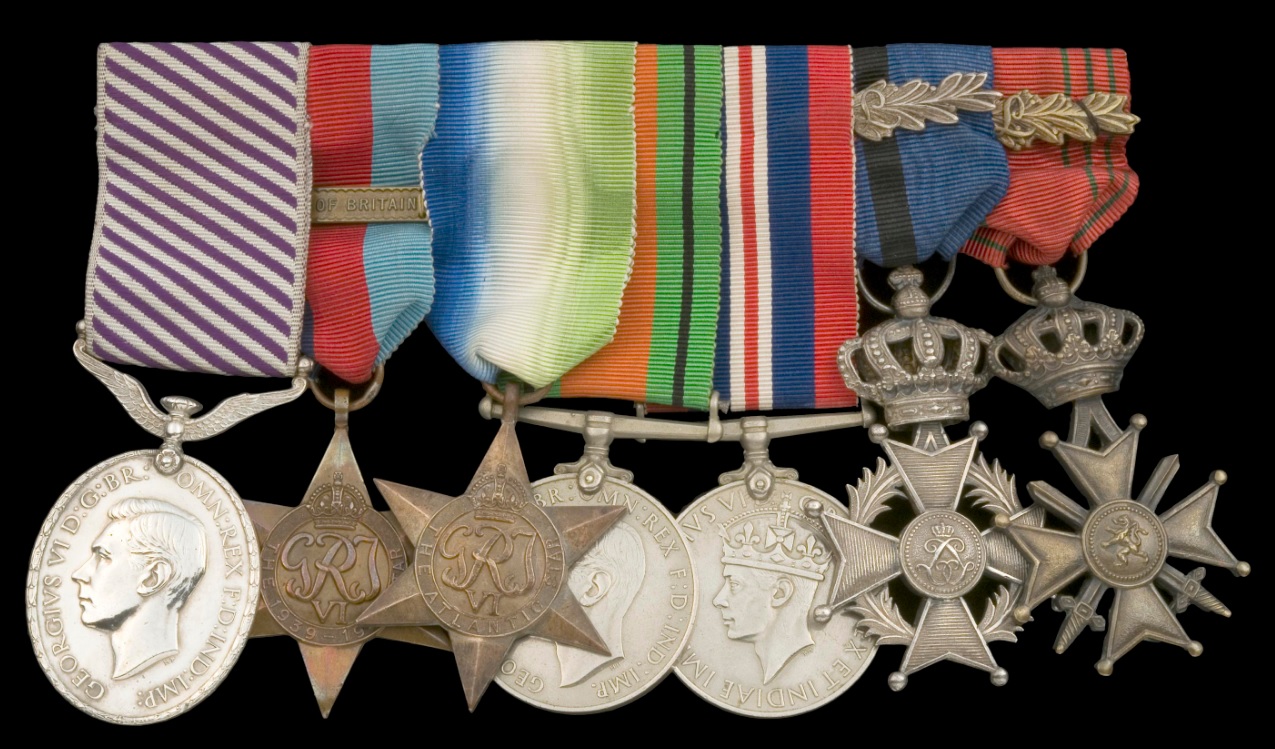 Sergeant William Herbert Evans (RAF), Cardiff
Sgt Evans was the navigator of a Halifax bomber in 78 Squadron. He was killed on 31st August 1943, when his aeroplane was shot down during a 600-aircraft raid on the German cities of Mönchengladbach and Rheydt. His medals were issued posthumously.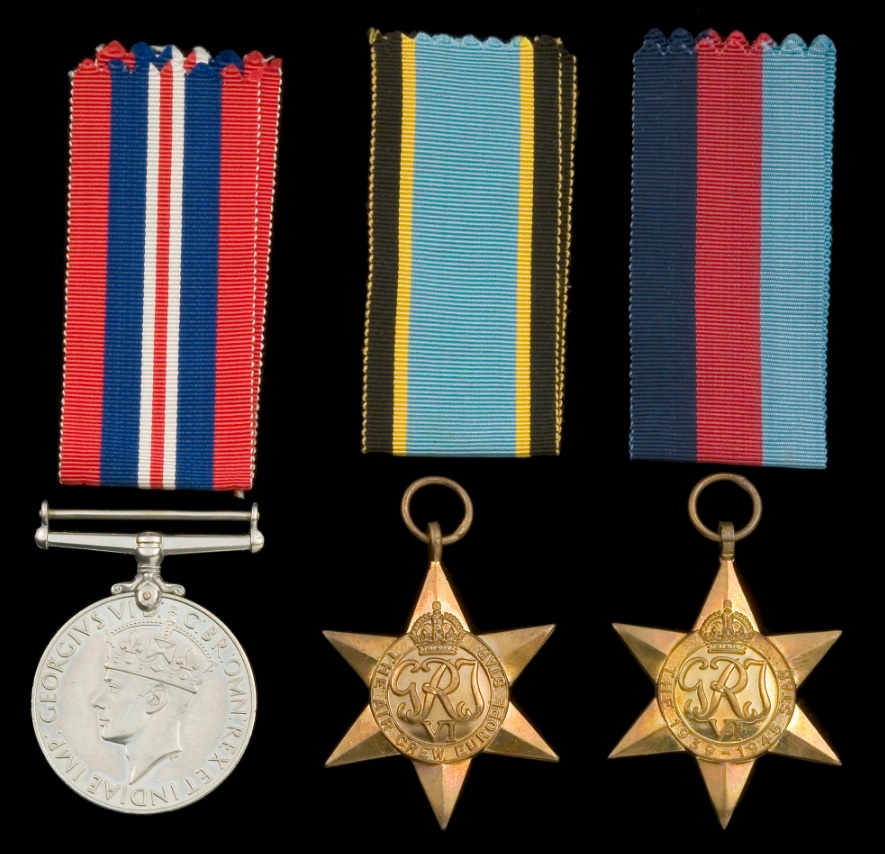 Sgt Evans' medals were donated to the National Museum by his family.
Benjamin Lewis Aylott (Police), Pontarddulais
London-born Aylott had served in the Royal Navy during the First World War before moving to Pontarddulais. At the outbreak of the Second World War he joined the Glamorgan Constabulary as a War Reserve Constable. He was awarded the King's Police and Fire Services Gallantry Medal for apprehending an armed army deserter on 27th December 1943.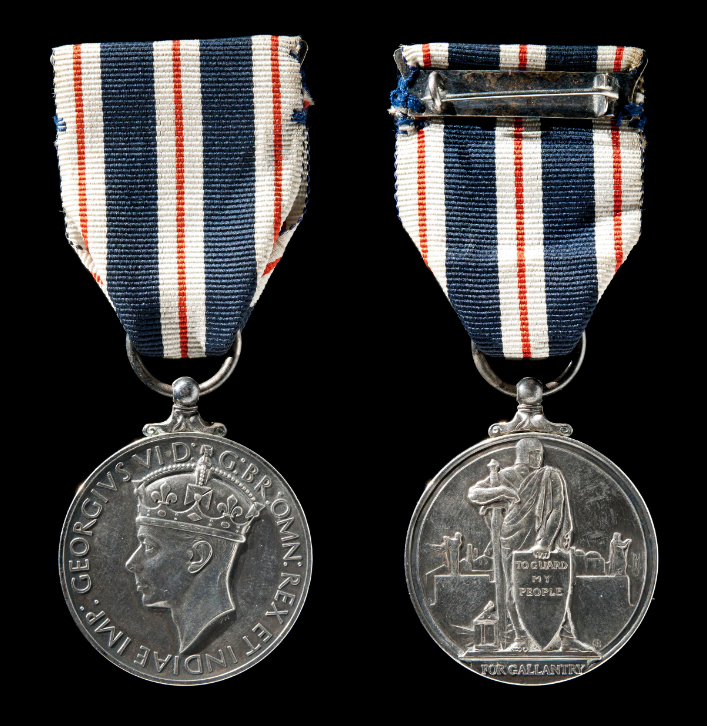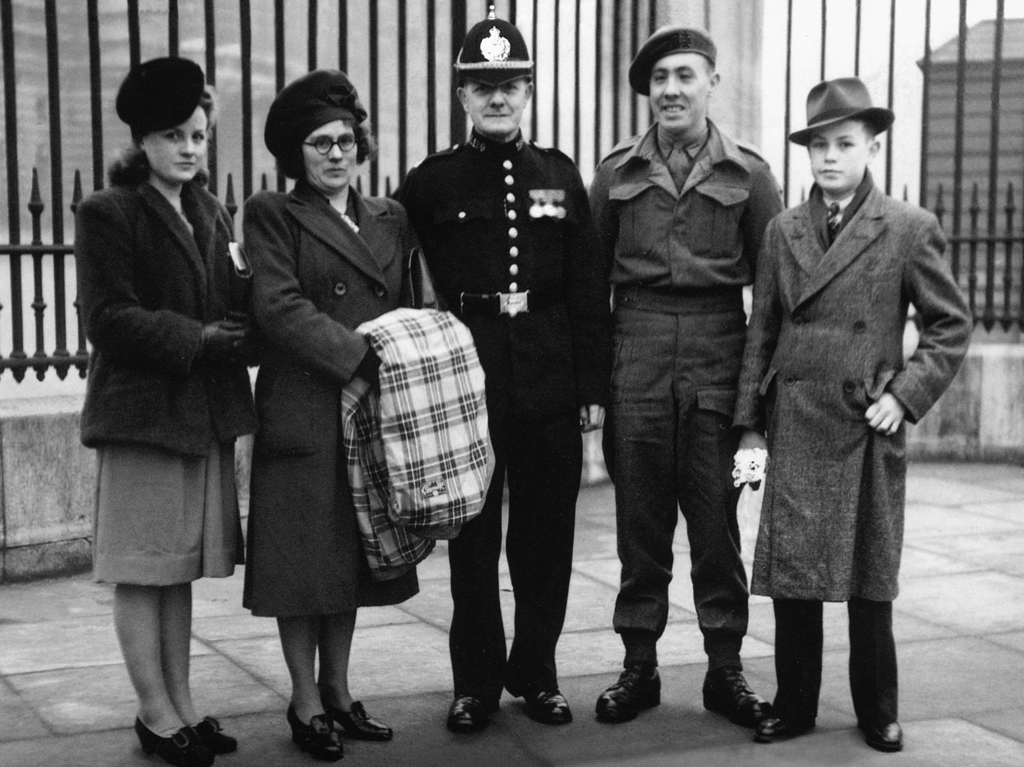 His medals were donated to the museum by his son Terry Aylott in 2011.
Thomas William Keenan (Civilian), Cardiff
On the night of 2nd-3rd January 1941, over 100 German aircraft attacked Cardiff. Keenan, watchman at a fuel depot, used his hat to remove an incendiary bomb from the top of a tank containing 300,000 gallons of petrol. His hands were badly burned, but the fuel tank was saved. He was awarded the George Medal for his bravery. Among his medals are two from the First World War that Keenan had received as a result of serving in the Machine Gun Corps.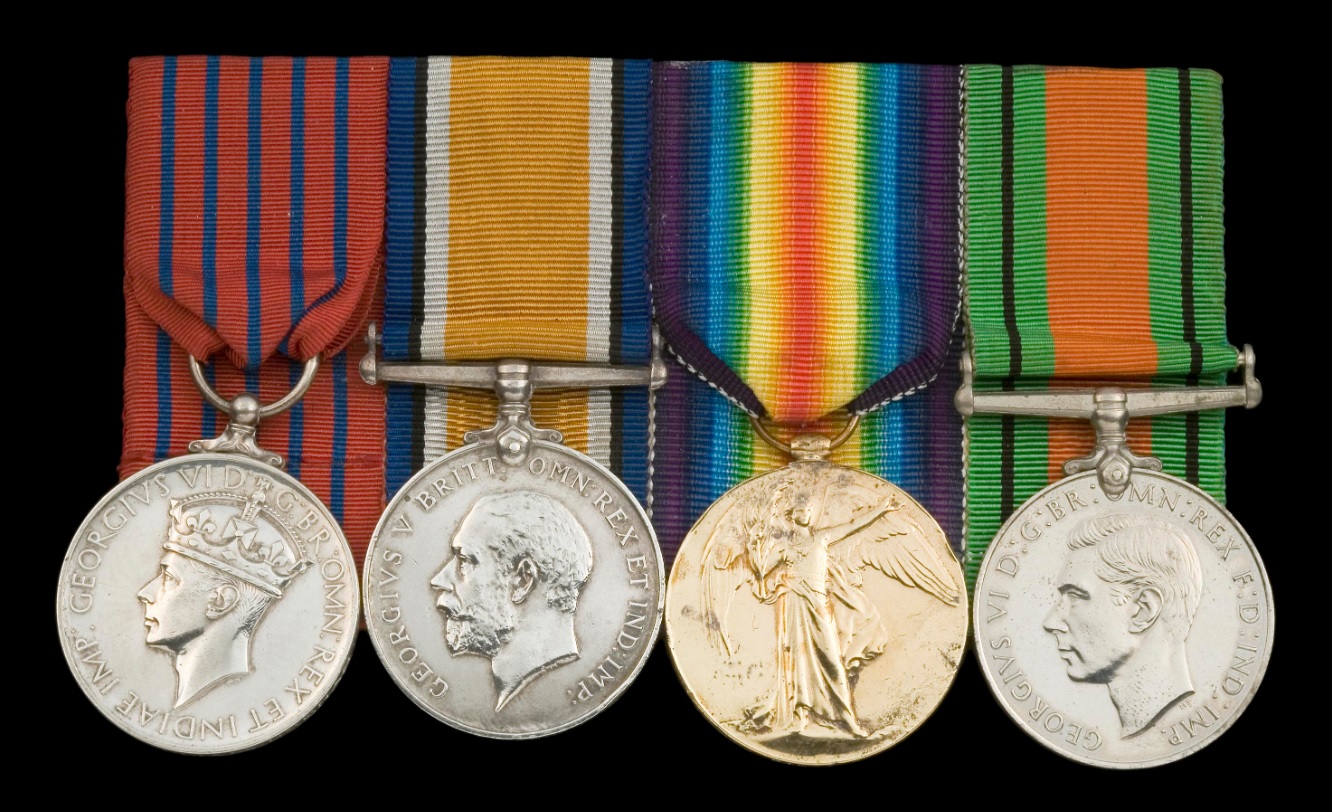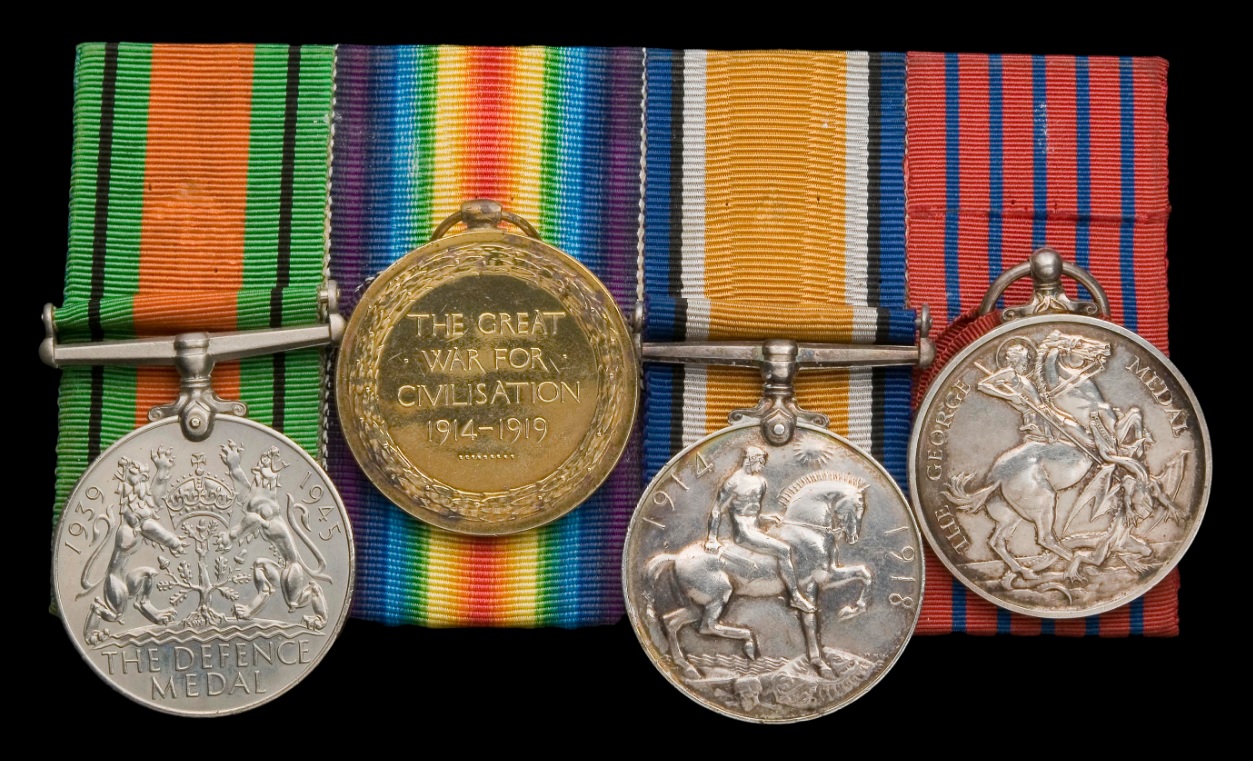 Gordon Love Bastian (Merchant Navy), Barry
Eynon Hawkins (Royal Navy), Llanharan
These Albert Medals were awarded to G.L. Bastian and E. Hawkins for saving life at sea.
Born in Barry, Bastian was a Second Engineer officer on the S.S. Empire Bowman, which was torpedoed on 31st March 1943. His Albert Medal was awarded for "exceptional bravery, strength and presence of mind" in saving two men from the ship's flooding stokehold.
Hawkins, a Royal Navy Able Seaman from Llanharan, was serving as a gunner aboard a defensively armed merchant vessel that was torpedoed and set on fire on 10th January 1943. According to the London Gazette (29 June 1943), "Hawkins, with the greatest coolness and courage, organised a party of survivors in the water until they were later picked up by one of H.M. ships. Twice he swam to the assistance of other survivors who were in difficulties, himself receiving burns in the face as he pulled them to safety."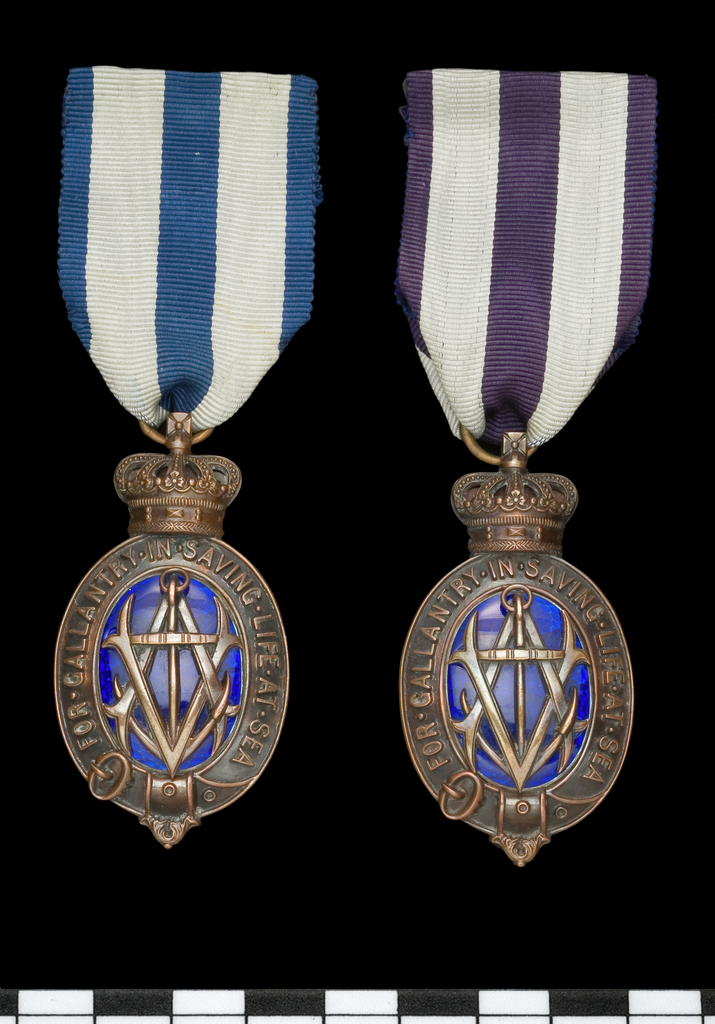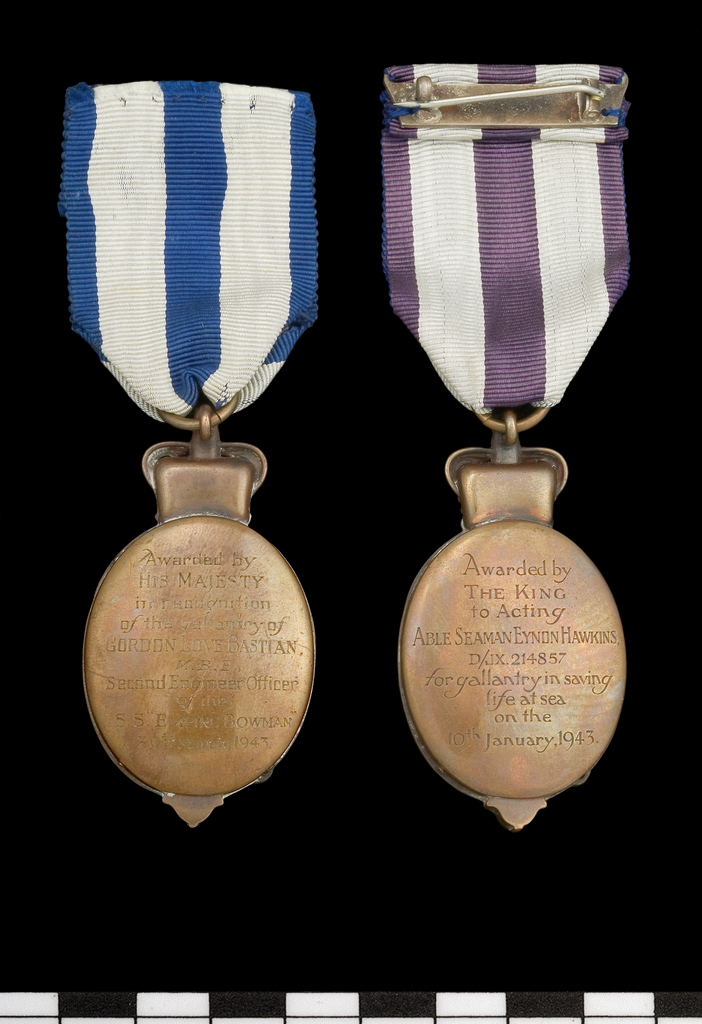 Both medals were donated to the National Museum by their recipients.
Elizabeth Harriet Edwards (Civilian), Cardiff
The British Red Cross Society awarded the medal below to Hetty Edwards for proficiency in First Aid. Edwards was the Librarian of the National Museum of Wales between 1931 and 1970. During the Second World War, she volunteered as a nurse for the British Red Cross Society.
Read more about Hetty Edwards: