Gwen John: 'It's tone that matters' Part 1
Gwen John is one of the most important artists of the 20th century. Her work is held in collections worldwide, including Tate, Musée Rodin and the Metropolitan Museum of Art in New York. Fortunately for us, the largest and most important collection of her work is here in Wales at Amgueddfa Cymru. We're going to take an overview of that collection and pick out a number of key works that can tell us about Gwen John, her technique and why her work resonates so much today.
Gwen John was born in Haverfordwest in 1876, the second of four children and the older sister by 18 months of Augustus John. Both Gwen and Augustus moved to London to study at the Slade School of Art, where she studied from 1895 to 1898. The Slade was one of the first Art Schools to admit female students, so Gwen was part of the first generation of women artists to receive a formal art education.
From the Slade, John moved to France where she was to spend the majority of her life, primarily in and around Paris. There, she studied under James McNeill Whistler; both her education and experiences in Paris had a profound impact on her work as she found herself at the centre of the art world. She supported herself by being an artist's model, famously for Rodin, with whom she had a passionate affair.
While being visited by her brother Augustus in Paris, he made comment to the great Whistler that Gwen's work showed good character. Whistler is said to have replied;
"Character? What's that!? It's tone that matters. Your sister has a fine sense of tone."
This quote is our starting point, from which we will look at some of John's pieces in the collections of Amgueddfa Cymru – the sense of tone, how it developed and how simplicity does not necessarily mean something is simple.
The Amgueddfa Cymru Collection
Gwen John exhibited rarely in her lifetime; holding only one solo show of her work at the New Chenil Galleries in London in 1926. She sold few works, often giving them away as gifts, and most pieces were collected after her death. The American patron John Quinn was a great supporter and did acquire many pieces (39 in total) – which is partly the reason there is good representation of John's work in the U.S.A. This crucially gave her some financial security to pursue her practice.
National Museum Wales acquired its first Gwen John work in 1935, Girl in a Blue Dress, for £20 after its appearance in an exhibition of Contemporary Welsh Artists at the Deffett Francis Art Gallery in Swansea. On its acquisition, John wrote this short note to the Museum: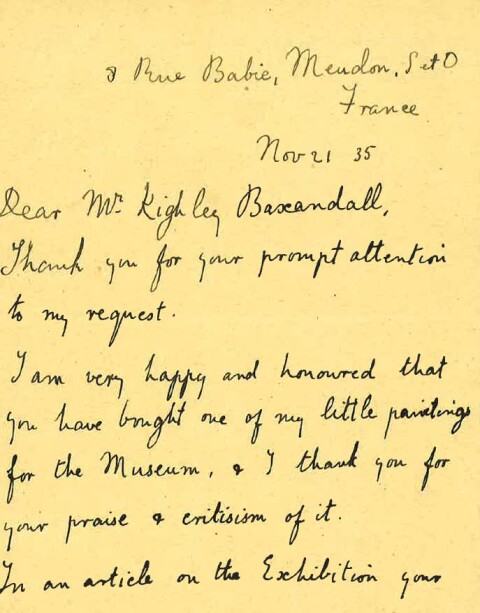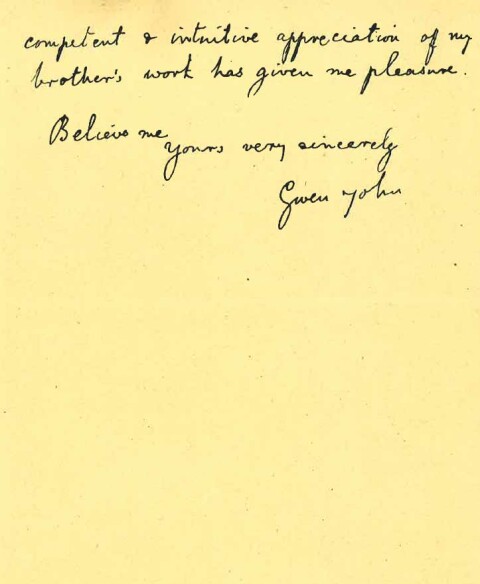 "I am very happy and honoured that you have bought one of my little paintings for the Museum, and I thank you for your praise and criticism of it. In an article on the exhibition your competent and intuitive appreciation of my brother's work has given me pleasure. Believe me, yours very sincerely Gwen John"
While Girl in a Blue Dress remains one of the most important paintings in the Museum's collection, representation of John's work did not greatly increase during her lifetime nor in the decades after her death. In fact, even in 1959, she is only listed in the Penguin Dictionary of Art & Artists as an appendix to her brother – she does not have an entry of her own.
It was not until 1976 that this picture changed for the collection at Amgueddfa Cymru collection – and it changed dramatically. In that year, the centenary of her birth, the Museum acquired a collection of more than 900 drawings along with sketchbooks and paintings; acquired from Gwen's nephew Edwin John. The collection comprised the bulk of the material in her studio after her death 40 years earlier and represented almost the entirety of her later-career output.
Suddenly, Wales had the largest collection of Gwen John work in the world.
Technique
Let's take a look at some of that collection – particularly John's later work – and see what it can tell us about her technique, its development and to perhaps understand how John employed a deceptively complex method to produce the beguiling work that we know so well today.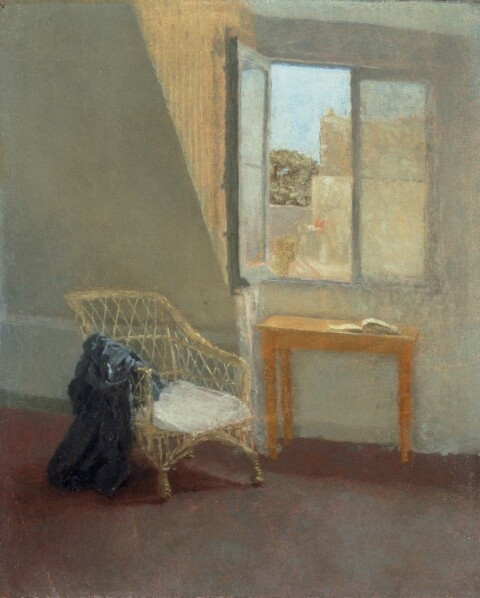 John's oil technique can be divided quite neatly into an early traditional technique and later dry technique. The Museum's collection has predominately later work, but this is a good example of that earlier style. This painting dates from 1907-09 and depicts John's small attic apartment in Paris, modestly furnished with a single wicker chair. An open book sits on a small table, itself sitting beneath a half-opened window. The work was acquired by the Museum in 1995 – so a relatively recent acquisition.
Many have read John's depiction of interiors as a representation of her reclusive lifestyle; and this work, with its sparse furnishings, certainly plays to the thought that the empty interior represents her own solitude. Some have drawn conclusions that this work, painted around the time of the breakdown of her relationship with Rodin, is a portrait of absence. However, Alicia Foster and others have argued that this also places John's work within the context of her contemporaries in Paris; far from showing a recluse, cut off from the movements of the art world around her, you can see this work as highlighting that John was plugged into what was happening artistically at the time.
In the early 20th century, many artists had turned to The Interior as a subject of study, and Gwen John was no different in this regard. The wicker chair seen here appears in a number of her works from the period; wicker chairs were light, inexpensive and appeared in many artists' studios and apartments. So much so, that the wicker chair itself became something of a fashionable symbol of an artist's identity in early 20th century Paris.
Let's take a closer look at the technique and materials used in this painting; colleagues in Conservation at the Museum have done a great deal of work looking into the structure of some of John's paintings – and this gives us some very interesting insights into how she worked, and how that changed over time.
A Corner of the Artist's Room in Paris is one of two versions of this subject, both paintings dating from the same time, with the other work in the collection of Sheffield Museums. At this time Gwen is painting with fluid oil paint built up in layers over a white ground. Brush marks are disguised and the work appears smooth and glossy due to the varnish layer on the top. This is typical of the traditional Old Master technique of painting, and shows John's formal training. The image on the left is a cross-section through the paint layers and is taken from the left side of the picture, near the top of the chair.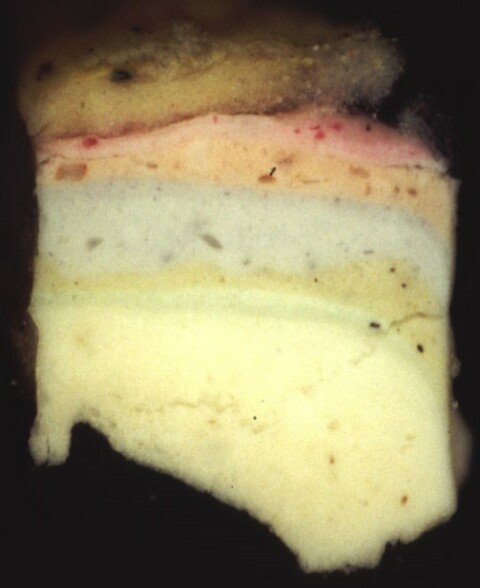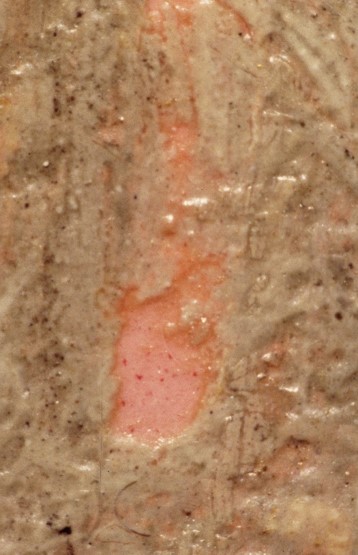 Pictured on the right, the pink layer gives a warm glow to the work, and thinner top layers of paint appear in a number of areas, allowing the pink to show through. This is what gives the work a tangible sense of the late afternoon/early evening – with the lace curtain billowing in the breeze.
In part two we'll look at John's later technique and see how much it changed. We'll also see one of the Museum's most important paintings in a new light. Lots of new lights actually…
With thanks to Amgueddfa Cymru colleagues past and present from whose research this article has been based; particularly David Fraser Jenkins, Beth McIntyre, Kate Lowry and Oliver Fairclough. Moreover, Alicia Foster's short biography, published by Tate, is an excellent overview and reappraisal of important aspects of John's career.