Do I have the most stupid job title in the world?
15 June 2017

,
Perhaps not the most stupid in the world, but I must be a contender for most ridiculous job title in the museum!
When friends ask "So how's the new job?" telling them that I'm a Collections Online Metadata Assistant doesn't really help explain what I do (neither does mentioning that it could be abbreviated to COMA!).
This is a brand new role for the museum funded by the players of People's Postcode Lottery.
"Er…it's glorified data entry" doesn't really help either. It's true that I sit at a computer looking at spreadsheets and databases most of the time, I move data from one field to another and some days my eyes feel like they're turning square from staring at the screen. But every now and then I'm reminded what this is all about.
What, to me are lists of numbers that don't behave themselves and don't fit in the correct column of a spreadsheet actually represent objects and images of our amazing and diverse collections.
So every now and then up pops an image of a world famous painting such as Rain, Auvers by Van Gough.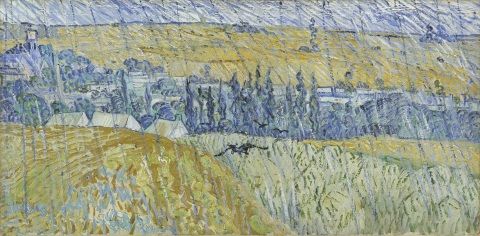 Or it could be an old photo of people who used to live in the terrace of iron workers' houses now at St Fagans National Museum of History. Looking closely you can see a few of the children couldn't sit still for the camera!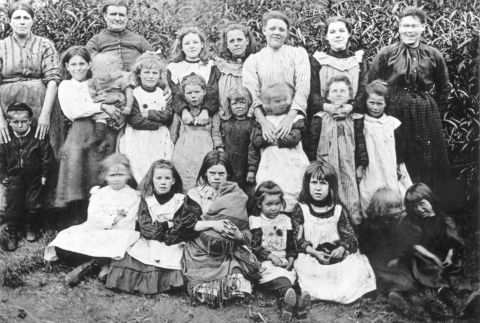 All of Amgueddfa Cymru — National Museum Wales's objects are catalogued on a database so that we can keep track of what we've got and where it is.
My job is to match up objects on the database with images and information about them (that's the Metadata bit), so that they can be viewed by yourselves on Collections Online (which will be up and running in the near future).
This will be the first time ever that you will be able to search the database for yourself. You will see exactly what the curators see when looking up information about our objects. So if you want to know exactly how many motorbikes we have in the collections, you'll soon be able to see for yourself.
We have a lot of work to do to tidy up our records, to make them presentable, but we're working on that…back to the data entry then!