Meet Ming the clam - a closer look at the oldest animal in the world
12 February 2020

,
What is Ming?
Ming is an Ocean Quahog clam with the scientific name of Arctica islandica. It was nicknamed Ming when scientists discovered that it would have been born in 1499 during the Ming Dynasty of China. Ocean Quahogs grow up to 13 cm long and the oldest one fished off the coast of Iceland was 507 years old, making it the oldest non-colonial animal known to science.
Where do Ocean Quahogs live?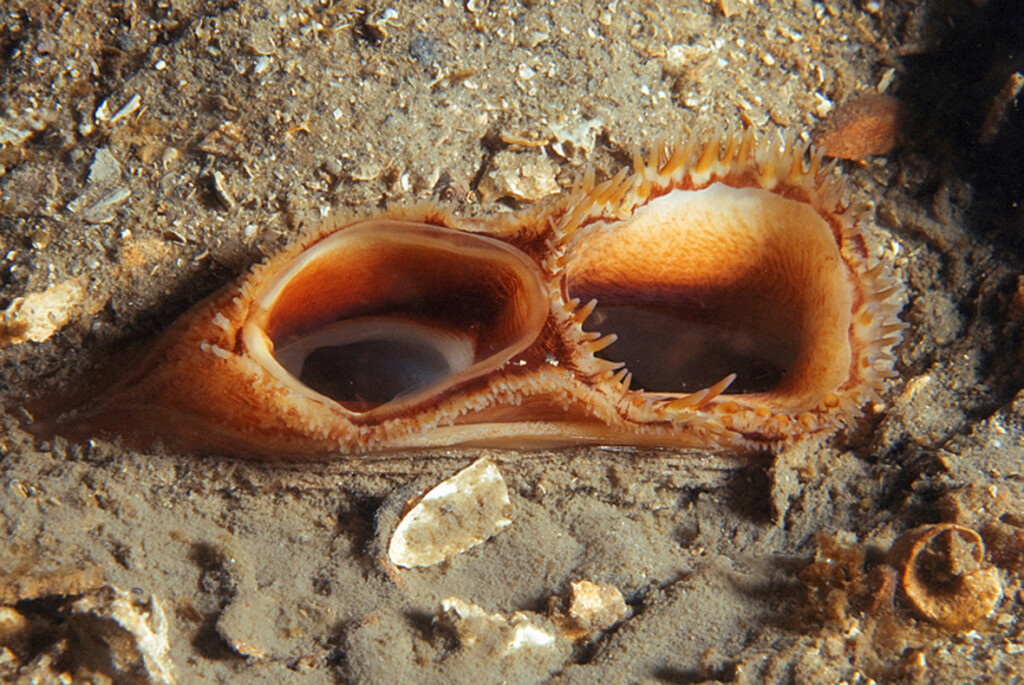 Ocean Quahogs belong to a big group of shells called 'bivalves'. Most bivalves are filter feeders and suck in water through their tube-like siphons (you can see in the photo, the two holes surrounded by darker pink). While lying on the seabed or buried in the sand or mud bivalves can safely take food particles and oxygen from the water.
Ming was collected from the deep waters around Iceland but we get this species in British and Irish waters too, although it does not live to such a great age here. The waters surrounding our islands are warmer than those surrounding Iceland, which is just south of the Arctic Circle. Warm waters hold less dissolved oxygen than cold water and so around the UK the Ocean Quahog needs to work harder to get oxygen and so has a faster metabolism. A faster metabolism means that it grows quicker but when animals have a fast metabolism they do not live as long. In the colder waters surrounding Iceland the Ocean Quahog has a slower metabolism and so grows slowly and may even live for longer than 507 – scientists just haven't found an older one yet!
How long do animals live?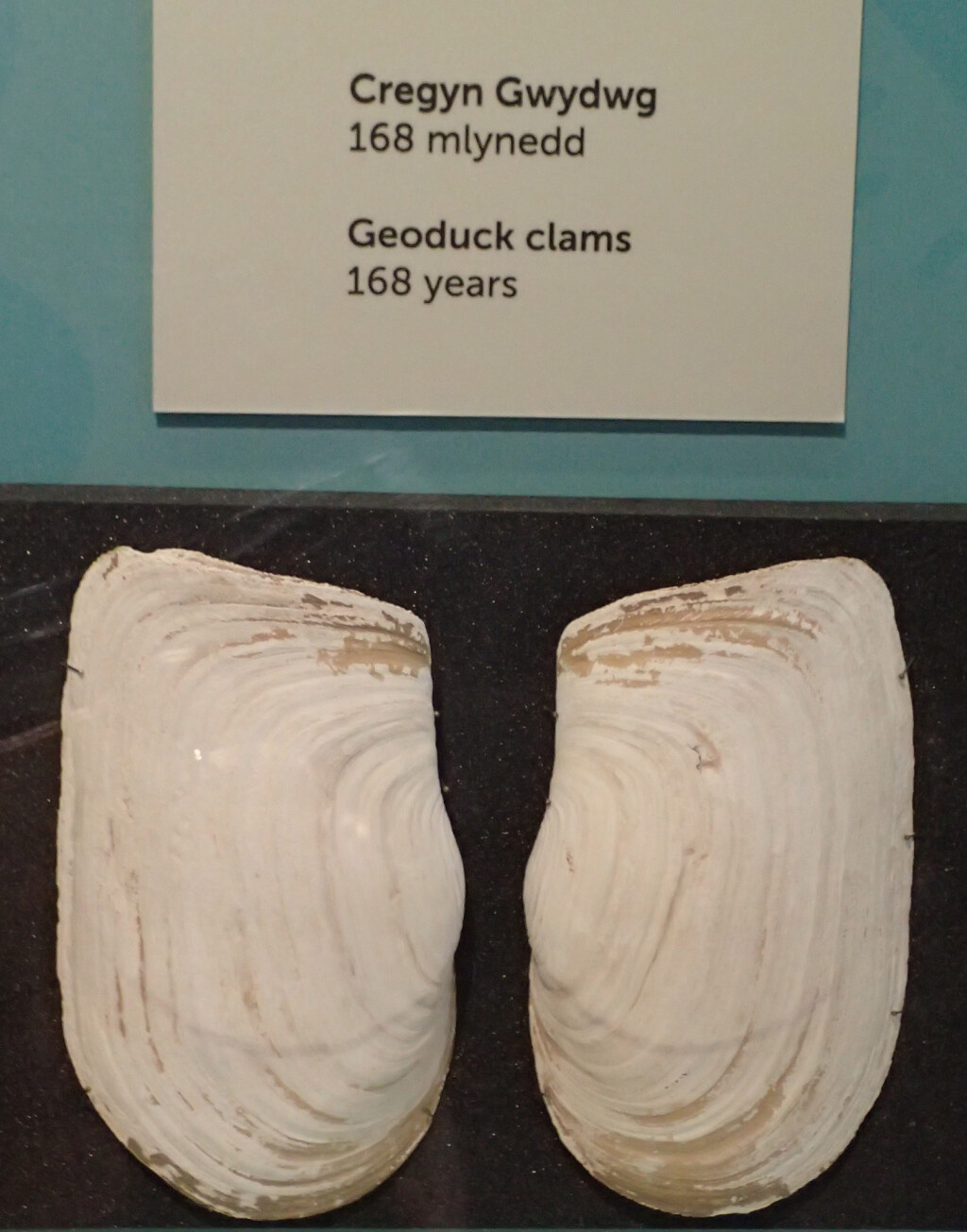 Some other bivalve molluscs can live for a long time as well. Giant clams can grow to 4 feet long (1.2 m) and live for around 100 years. They have tiny plant cells in their tissue that photosynthesize producing energy from the sun to give to the clam. This is why they reach such a large size – talk about plant power!
The Geoduck, which lives in the coastal waters of western Canada and USA, can live for 164 years. It is known as Gooey duck and has large meaty siphons that are a popular food for humans!
Come to our Insight gallery at Amgueddfa Genedlaethol Caerdydd - National Museum Cardiff to to find out more about how long animals can live for and much more...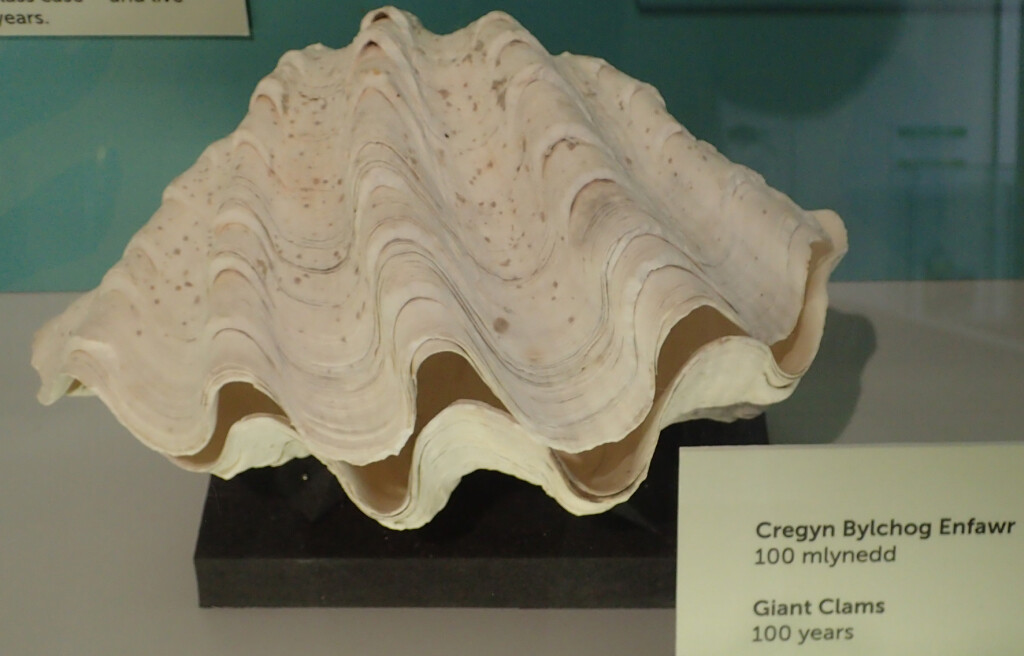 An introduction to Ming the clam can be found here:
https://museum.wales/blog/2020-02-11/Meet-Ming-the-clam---the-oldest-animal-in-the-world/