National Wool Museum named as one of country's best green spaces
14 October 2020

,
Keep Wales Tidy has unveiled this year's Green Flag Award winners – the international mark of a quality park or green space.
The National Wool Museum in Carmarthenshire has achieved the prestigious Green Flag Community Award in recognition of its dedicated volunteer involvement, high environmental standards and commitment to delivering great quality green space.
The museum tells the story of one of Wales' most important and widespread industries, wool. Drefach Felindre in the beautiful Teifi valley was once a thriving center for the woolen industry supplying fabrics to the world. While sharing the fascinating history of this industry, the museum also plays an important role in keeping alive its traditional skills, as well as promoting wool as a sustainable material for our future: for fashion fabrics, home goods and as building and insulation fibre.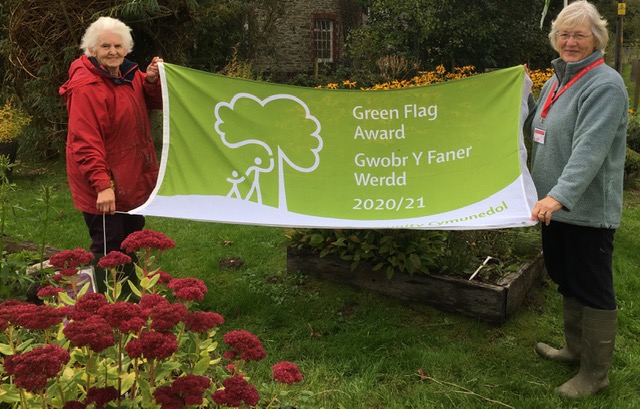 Speaking about the award, Ann Whitall, National Wool Museum Manager, said: "We are delighted to receive this recognition of the work we'e doing to support local biodiversity and sustainable practices. We have a long history of working closely with our local community to ensure that our activities make a positive contribution to the local rural economy. That includes our role as a tourist attraction and educational center, but increasingly it also means that we are developing a role in supporting the renaissance of wool as a future fibre, and stimulating a revival in its use and value."
The National Wool Museum is one of a family of seven museums and collections centres under the banner of Amgueddfa Cymru - National Museum of Wales, which offers free entry thanks to the support of the Welsh Government. Together, they house the nation's art, history, heritage and science collections, which will continue to grow so that they can be used and enjoyed by present and future generations.
127 community managed green spaces across the country have met the high standards needed to receive the Green Flag Community Award. This means that Wales still holds a third of the UK's community Green Flag sites.
The Green Flag Award programme is delivered in Wales by environmental charity Keep Wales Tidy, with support from Welsh Government. Independent green space experts volunteered their time in early autumn to judge applicant sites against eight strict criteria, including biodiversity, cleanliness, environmental management, and community involvement.
Lucy Prisk, Green Flag Coordinator at Keep Wales Tidy said: "The pandemic has shown just how important high-quality parks and green spaces are to our communities. For many of us, they have been a haven on our doorstep, benefitting our health and well-being. The success of National Wool Museum in achieving the Green Flag Community Award is a testament to the volunteers who have maintained excellent standards under the most challenging circumstances this year. I'd like to congratulate and thank them all for their outstanding commitment."
Jilly Doe, Jo Taylor, Steve Rees, Verrinia Rees, Pixie Harcourt, Maureen Bibby, Susan Martin, Helen Fogden.