A Queer Welsh Ballad
24 March 2022

,
In October 2021 following a talk on cross-dressing in history by Norena Shopland, a Welsh language ballad, Can Newydd, came to light in the Welsh Music Archive (WMA), National Library Wales. More can be read on that story in A Queer Bawdy Ballad. What is striking is the explicitly sexual nature of the ballad, depicting cross-dressing women having sexual relations with women.
Archifdy Ceredigion Archives (ACA) and Archives and Special Collections, Bangor University (BU) have exact copies in their collections but in February 2022 a third copy was located at Amgueddfa Cymru — National Museum Wales (ACNMW) however this version is simply entitled Can and has a few differences. Mair Jones who did the first translation of Can Newydd, also did the translation for Can.
The lyrics of both versions were written by a rather eccentric part-time criminal, one-eyed balladeer Abel Jones, 'the last of the "great" balladists' but who was often known by his bardic name Bardd Crwst after his birthplace, Llanrwst. Jones was a balladeer who travelled and performed at fairs across Wales, selling his ballads as 'new songs' (can newydd) on specific topics, such as the death of the Emperor of Russia, industrial accidents and disaster, tithe war and murders - though not always historically accurate, because his main aim was to sell his ballads. Sometimes he sold them with his son, and usually it was to people like the agricultural working-class community. He was the most well-known and popular balladeer of his time, though he died in Llanrwst Workhouse.
Dating the ballad is difficult although dates of between 1865-1872 have been suggested (see A Queer Bawdy Ballad for more details) and there is nothing in Can to suggest whether it comes before or after Can Newydd. However, all three versions of Can Newydd are signed Bardd Crwst while the ACNMW version is signed Abel Jones, (Bardd Crwst) and there may be a reason for this.
Jones wrote a number of humorous ballads, often using the tune Robin yn Swil (Robin is Shy), the same as for Can Newydd, a tune 'more suitable for the tavern than for singing at respectable concerts and eisteddfodau.' One of his ballads is listed as a poem about 'courtship', another was about Dic Sion Dafydd, and another about a drunken woman, while his other 'courtship' poems were advice not to marry or a man's complaints about his wife.
One mention of Can Newydd in a newspaper of 1915, when discussing Bardd Crwst's works, as 'Song about two Young Women who went to knock at Ffermdy (Farmhouse) Tu Ucha'r Glyn, near Harlech', has an added note by the compiler, 'I didn't give the title of the last one in full' which seems to show that this would have been too disrespectful even for the newspaper, including leaving out the cross-dressing aspect.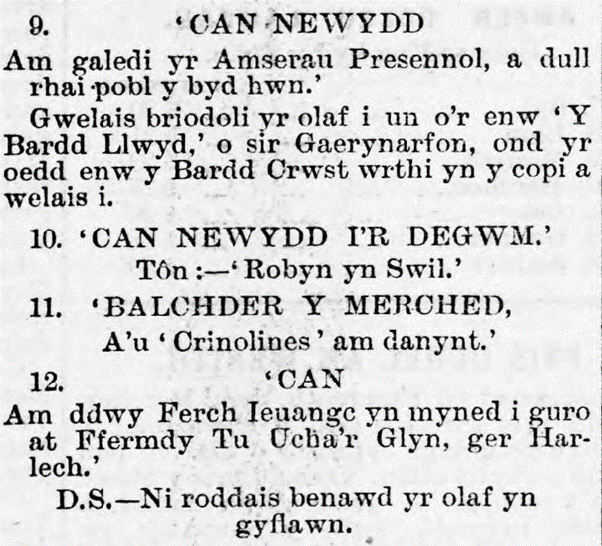 The risqué nature, not only of the lyrics, but of the tune it was associated with may have caused Jones to remove his full name from the Can Newydd version. No tune is associated with the ACNMW version so there may be the possibility that Can came first and Jones made it saucier in the second version but decided to omit his full name. Can also uses some English words, such as 'beauty,' 'Kate Pugh,' 'Visles' and 'Cirnoleens [sp],' while Can Newydd uses Welsh spellings such as 'biwty,' 'Cit Pugh' and 'busle,' and has removed the spelling error of 'crinoline'.
Another difference is the location where the event takes place. The introduction to Can is "A song about two young women who dressed themselves in men's clothes and went to knock at Ffarmdy (Farmhouse) at two other young girls, and entered their House, to bed like two men and two dear lovers" whereas in Can Newydd it is "The tale of two young women from this region who dressed themselves in men's clothes, and went courting to a country house to seduce two young women, who were strangers to them".
The farmhouse has disappeared and is replaced by 'Plas uchaf and Glyn'. Plas Uchaf (Upper Hall) is 1.5 miles (2.4 km) from Corwen, Denbighshire, and Plas Glyn, possibly short for Plas Glynllifon 56 miles (90km) from Corwen. It seems Jones has moved the location from an obscure working-class farmhouse to named gentrified houses, although no cross-dressing reference has been found in connection with these two properties. It is however, a trope used even today, to place sensational stories among the wealthy who are fewer in number and have more time on their hands, than working-class people and Jones may not have wanted to offend his main audience.
Whatever the purpose of the ballad, it was decided to revive it for a presentation at an LGBTQ+ History Month 2022 by Aberration recorded by Cerys Hafana with backing vocals by the community.
By sharing this queer-related ballad today as a part of our Welsh history, it is reclaimed by the LGBTQ+ community, creatively reimagined and helps to build our Welsh queer community today.