A Window into the Industry Collections – April 2015
28 April 2015

,
Again this month, a number of interesting objects have been added to the industry & transport collections. The photograph below was taken on 22nd July 1926, and shows a group of 29 slate quarrymen. The location is unknown, but it was probably taken at either Dinorwig or Penrhyn slate quarry. If you are able to help identify where the photograph was taken, or recognise any of the men we would love to hear from you.
These three ceramic pieces were designed and made by the artist George Thompson, a potter resident in Amlwch, Angelsey. They are inspired by the Parys Mountain copper mines.
Ceramic plaque with red ocre slip and copper glaze.
Ceramic pot with stand made from pink crank clay with graphite and copper glaze.
Ceramic dish with graphite, red ochre and orange ochre slip.

The photograph below shows the remains of a Cornish beam-engine house and chimney stack at Parys copper mine, Anglesey, 1964.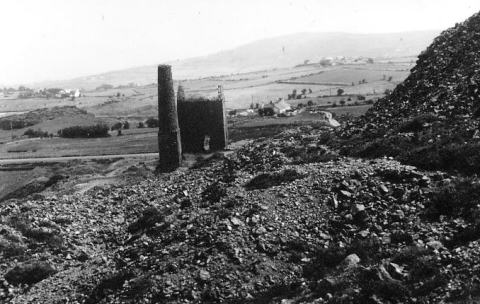 This is a diorama of Parys mountain copper mine from the museum's collections. It was made about 1967 for display in the industry galleries at Cathays Park.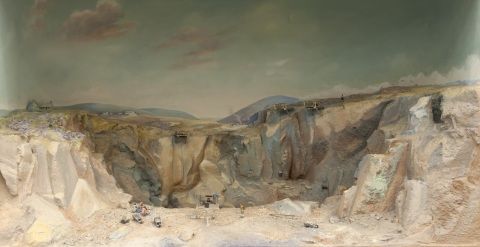 This medal commemorates the cutting of the first sod of the King's Dock, Swansea. On the 20th July 1904 the Royal Yacht Victoria & Albert arrived in Swansea Bay. The yacht arrived at the Prince of Wales Dock where King Edward VII and Queen Alexandre disembarked. The dock was named 'Kings Dock' in his honour. After the ceremony the King and Queen rode through the streets of Swansea in an open top carriage. The Dock was official opened on the 20th November 1909. It covers 72 acres (29 ha), and is still in use today, being the main dock of the Port of Swansea.
Photograph showing congested shipping (both sail and steam) at King's Dock about 1910. Not long after the dock was opened.
The view below shows the King's Dock. It was taken by the photographer John Eurof Martin and dates to the mid-20th century.
Mark Etheridge
Curator: Industry & Transport
Follow us on Twitter - @IndustryACNMW