Images of Industry
Hepplewhite Gray flame safety lamp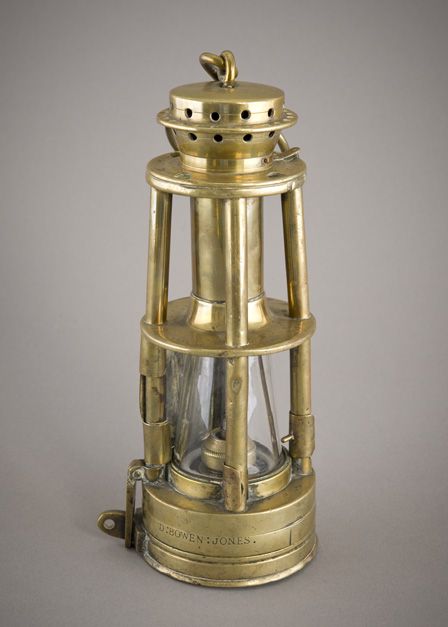 Date: early 1900s
Media: brass
Size: 90 x 350 mm
Acquired: 1993; Purchase
Accession Number: 1993.249
This gas detecting lamp was used at Universal Colliery, Senghenydd in early years of this century.
It was owned by Bowen Jones, one of the victims of the 1913 explosion.
According to the Home Office report the safety lamp used at the Universal Colliery in 1913 was the Cambrian type made by Thomas and Williams of Aberdare. Lamps were lit, locked and issued to workmen and officials in the surface lamp room. They were again examined underground at the beginning of a shift in places known as 'locking stations'. If a lamp became extinguished underground a man had to go to a 'lamp cabin' where men known as 'lamp lockers' would re-light it. An open light in the West side lamp cabin was put forward as a possible cause of the explosion.
The Hepplewhite Gray lamp was usually used by mine officials rather than workmen (although their use is not mentioned as being the practice at the Universal Colliery in 1913) and it it is possible that Mr Bowen Jones was one of them although his name doesn't appear as one of the fourteen 'firemen' down the pit at the time of the explosion.