Virtual Visits - in Lockdown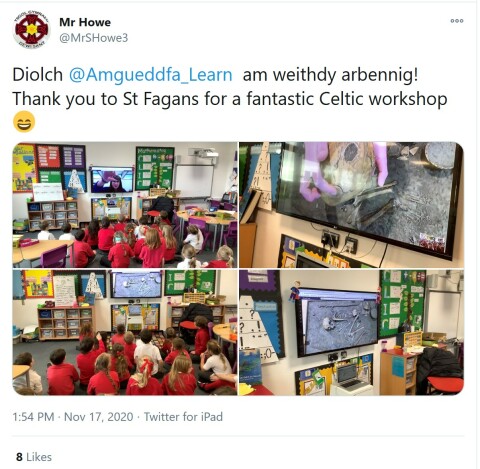 We can connect with your class if you are working from home or from school.
We have adapted some of our popular Museum workshops into virtual experiences! Book a session and connect with us using Microsoft Teams. These sessions are currently free of charge to all schools.
100% of teachers who responded to our doopoll said they would definitely book a virtual session again.
Follow us on Twitter for the latest information @Amgueddfa_Learn.
Each session lasts about 45 minutes and involves watching pre-recorded content and taking part in a live facilitated workshop. Digital resources complement each workshop and can be used either before or after the session.
Download this Teacher's Guide: Preparing for a virtual visit.
Even when not in lockdown, it's a great way to connect with expertise and experiences beyond the classroom. A wonderful opportunity for the children!
A brilliant way for the children to be able to experience real life artefacts and stories in these challenging times.
You can choose from the following virtual workshops:
Celts - KS2
What was life in Wales like 2000 years ago? Join our resident Celt for a virtual tour of Bryn Eryr, our Iron Age roundhouses. Discover why the fire was so important, what food was eaten, and how clothes were made. But how do we know so much about life in the past? Work with our facilitator to find out how to unlock secrets of the past and work together to solve the mysteries of an Iron Age grave.
To make a booking and talk to someone about this session phone (029) 2057 3424
Washday - Foundation
What was it like to have to wash and dry clothes before we had washing machines and electricity? Come and meet Marged to find out how she washed clothes in the olden days. You'll see her using the washtub, washboard and the mangle, then have the opportunity to explore further with our facilitator and see some of the objects more closely. I wonder what you will discover about how things have changed and what has remained the same?
To make a booking and talk to someone about this session phone (029) 2057 3424
Virtual Roman Bootcamp - KS2
Take part in a series of challenges to find out about the life of a Roman Soldier. Learn about the Romans that once lived in Caerleon and discover what skills the Romans looked for in a soldier. You will learn about Roman armour and be tested on your marching skills. You can also ask questions about a Roman soldier's life and some of the interesting objects they left behind.
To make a booking and talk to someone about this session phone (029) 2057 3546 or email learning.romans@museumwales.ac.uk
Virtual Roman Bootcamp
Dinosaur Detectives - KS2
Working with a dinosaur expert, learners will become young palaeontologists. They will solve a series of dinosaur puzzles and activities to learn about dinosaur lives. With these skills, they can study a Welsh dinosaur – the Dracoraptor! Learners will discover how this dinosaur was found, how it lived, what it ate and what it looked like. This workshop introduces learners to the importance of scientific enquiry and method.
To make a booking and talk to someone about this session phone (029) 2057 3240
Discovering Art at National Museum Wales - KS2
Combining film and live facilitation, this workshop introduces learners to the art galleries with a focus on Welsh Landscape art and artists. Learners will consider how the Welsh landscape has inspired artists. They will analyse some key Welsh landscapes, question evidence and develop vocabulary to describe and respond to artwork. Learners will also have the opportunity think about art technique, style, composition and the use of light and colour.
To make a booking and talk to someone about this session phone (029) 2057 3240
Documents