Press Releases
Continuing the innovation spirit
Date:
2019-10-18
Welsh inventions go on show in new exhibition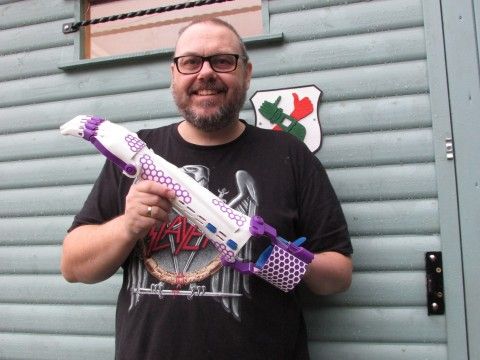 The pioneering spirit which saw Wales lead the way with some world firsts in the 19th century is alive and well – and coming to Swansea!
The National Waterfront Museum has created Innovate - a new free exhibition opening on 12 October showing current inventions which are set to shape lives into the 21st century.
From an amazing interactive mouth guard which feeds back live information to a rugby coach and which is being pioneered by the Ospreys, to "concrete on a roll" and a hydrogen-fuelled car, Wales is alive with creativity and innovation.
Highlights of the exhibition include:
The OPRA+ Mouthguard – an intelligent sports mouthguard from Sports and Wellbeing Analytics of Swansea that uses cutting edge sensors to report on the intensity and frequency of head impacts in contact sports

A scheme started at Swansea University for turning plastic film, black plastic food packaging waste and liquid solvents into electricity conducting carbon nanotubes

The Roof Coat Bag from Swansea flagmakers Red Dragon, which is a coat which turns into a sleeping bag for the homeless – it is slash and stab proof to protect on the streets

Team UnLimbited which makes 3D printed prosthetic limbs from a shed in Clydach near Swansea. Stephen Davies and Drew Murray publish their designs online for free, and they have been downloaded all over the world

A new firing system which makes recycled glass into a new material which acts like stone or marble for use as a building material – made in Swansea by Dr Tyra Oseng-Rees

A hydrogen car – built by a company in Llandrindod Wells - which emits no pollution. The car in the exhibition was built to test this very new technology, but the company hopes to have an everyday version on the streets soon

Concrete Canvas – a new class of construction material, this is flexible concrete filled fabric made in Pontyclun which can be rolled out where conventional concrete delivery is difficult
"From the Robin Goch mono-plane to the Penydarren steam locomotive, Wales has always been in the forefront when it comes to innovation," says Exhibitions Officer Jacqueline Roach. "The exhibition shows that people are developing ideas in all sorts of fields, from the medical to the practical, that continue Wales's innovation journey today!"
Innovate will be on show from 12 October 2019 – 20 April 2020. Admission is free.
The National Waterfront Museum is part of Amgueddfa Cymru – National Museum Wales, a family of seven museums and a collections centre, which are all free to enter thanks to the support of the Welsh Government. Together, it is home to the nation's art, history, heritage and science collections, which will continue to grow so that they can be used and enjoyed by both present and future generations.
One of its museums, St Fagans National Museum of History which explores the history and culture of Wales, won the Art Fund Museum of the Year 2019.
As a registered charity, Amgueddfa Cymru is grateful for all support. The events and exhibitions programme is supported by players of the People's Postcode Lottery.
Ends