Press Releases
Life in Lockdown: Amgueddfa Cymru – National Museum Wales launches public appeal
Date:
2020-05-06
Amgueddfa Cymru – National Museum Wales launches a new public appeal and a mass digital observation project that will collect the experiences of living in Wales during this extraordinary time of Covid-19.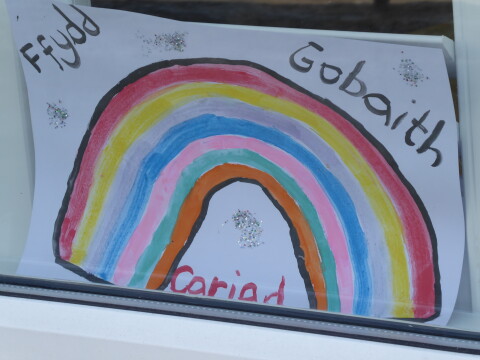 The museum will create a national memory and record of the pandemic in Wales with the support of the people of Wales. The appeal will start on the Amgueddfa Cymru website www.museum.wales and through its social media channels next week as part of #MuseumWeek.
Amgueddfa Cymru has an established history of recording the national memory of Wales, recognising that the life of every person matters. As part of this new collecting initiative Amgueddfa Cymru will launch a new mass digital questionnaire, inviting responses from a range of individuals, communities and organisations across Wales to record their experiences of lockdown.
The origins of this method of research can be traced back to 1937. During a time of unprecedented social change (the 1930s depression), the museum launched a public appeal and sent over 500 questionnaires to volunteers, communities, organisations and schools across Wales. Their task was to record their everyday lives, using their community knowledge to inform the Museum's future collecting.
The archive at St Fagans National Museum of History contains almost 800 completed questionnaires, ranging in date from the late 1930s to the early 1980s, with many of the original volunteers recording their lives over a period of several decades.
In a quote from his book Amgueddfeydd Gwerin / Folk Museums, published in 1948, Iorwerth Peate advocated for museums to collect contemporary culture and history:
"It is not enough… to show and preserve the things that have been; it is necessary to trace their organic continuity with the things that are and the things that shall be. "
As part of this initiative Amgueddfa Cymru will build a network of community collectors, collect oral histories, and work with People's Collection Wales to create an online gallery of images and responses from the questionnaires and collect objects relating to the pandemic in Wales post-lockdown.
The questionnaire will inform the development of Wales' Covid-19 collection. Participants will be asked to identify objects from their homes and communities that represent their experiences of lockdown. As restrictions ease, the museum will contact volunteers to collect and document their objects.
David Anderson, Director General of Amgueddfa Cymru, said,
"As Wales' national museum, we have a responsibility to create a national memory and record of the pandemic in Wales – a story of now, recorded as the lived experiences of everyone in Wales. This is an unprecedented time and one that we must record for future generations.
"Amgueddfa Cymru was an early advocate of this type of collecting– one which placed community knowledge at the heart of its practice, and which continues today."
ENDS
For further information please contact Lleucu Cooke, Communications Manager, Amgueddfa Cymru on 07961223567 or lleucu.cooke@amgueddfacymru.ac.uk