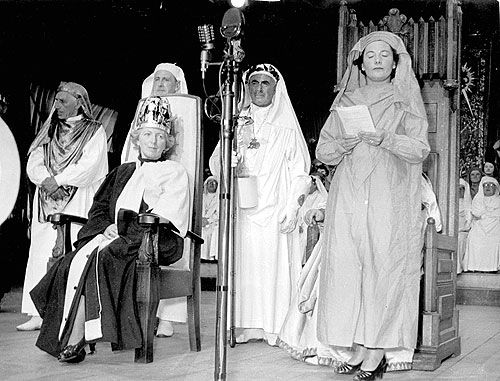 The accomplishment of winning the double-double, namely the Crown and the Chair in the same year has been achieved by:
T.H.Parry-Williams — 1912 and 1915
Alan Llwyd — 1973 and 1976
Donald Evans — 1977 and 1980
Before the rule that bards could not win the Chair, the Crown or the Prose medal more than twice was passed, there were several successful multiple winners:
Crwys — the Crown three times (1910, 1911 and 1919);
Cynan — the Crown three times (1921, 1923, 1931) and the Chair once (1924);
Caradog Prichard — the Crown three times (1927, 1928, 1929) - each poem a variation on the same theme — the anguish of his mother's insanity; and the Chair once (1962);
Dewi Emrys — the Crown once (1926) and the Chair four times (1929, 1930, 1943, 1948). According to hearsay, he tried to sell his Crown to a pawnshop.
Dilys Cadwaladr was the first woman to win the Crown in the Rhyl Eisteddfod, 1953. Since then Eluned Phillips has won it twice (1967, 1983) and Einir Jones once (1991).
In Cardigan Eisteddfod, 1976, the adjudicators chose an ode by Dic Jones on the topic 'Gwanwyn' (Spring) as the winning entry but because a rule had been broken it was disqualified and Alan Llwyd was chaired instead.
Robat Powell from Ebbw Vale was the first learner to win the Eisteddfod Chair, in Rhyl in 1985 for a poem portraying the effects of the closure of heavy industries.
Caradog Pritchard, at 22, was also the youngest poet to have won one of the major Eisteddfod prizes when he won the Crown in 1927.
When the chaired poet, John Gwilym Jones was Archdruid (1993-96), he had the honour of crowning his brother, Aled Gwyn, and chairing his son, Tudur Dylan Jones, in the Bro Colwyn Eisteddfod, 1995. Furthermore, another brother, T. James Jones, had already won the Crown twice - in Fishguard 1986 and Newport 1988.
T. James Jones had competed for the Crown with the American poet, John Dressel in 1979 under the pseudonym 'Ianws' but when it was realised that it was a joint effort, they did not receive the prize.
Mererid Hopwood was the first woman to win the Chair of the Eisteddfod (in Denbigh 2001) and she went on to win the Crown two years later in Maldwyn 2003.