Christmas customs: Toffee Making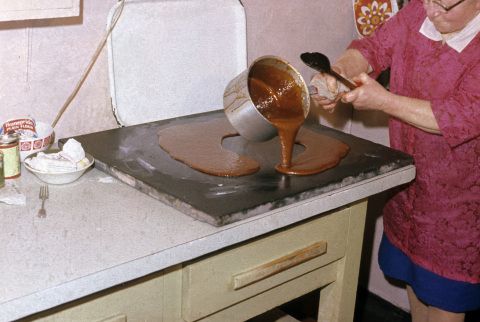 Noson Gyflaith (Toffee Evening) was a traditional part of Christmas or New Year festivities in some areas of north Wales earlier this century. Families, in their turn, would invite friends to their homes for supper, usually in the form of a Christmas dinner, and it would be followed by merriment, playing games, making toffee, and storytelling.
When the required ingredients had boiled to a certain degree, the toffee was poured onto a well-greased slate or stone slab. The hearth-stone itself was used for this purpose in some houses. Members of the happy gathering would then cover their hands with butter and attempt to 'pull' the toffee while it was quite warm. It was a skilled art to 'pull' and twist the toffee until it became golden yellow in colour. Both the skilled and unskilled would take part-the one being a source of envy, the other a source of banter.
Toffee-making was also practised in parts of south Wales, especially in the coal-mining areas. As far as we know, it was not associated here with a particular festive occasion, but housewives were known to sell itfrom their homes or on local market stalls. It was known by various names such as taffi, dant, or 'fanny', or indeed it could be known by the name of the person who made it, e.g. losin Magws, or losin Ansin bach. Children would buy it - a six inch strip or two ounces for a penny.