Ancient Drinking Culture: The Langstone Tankard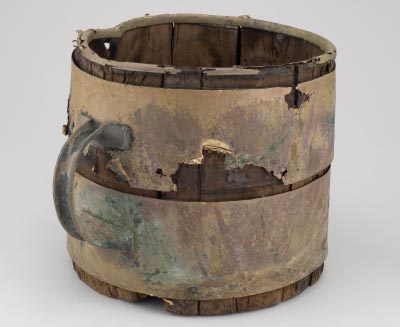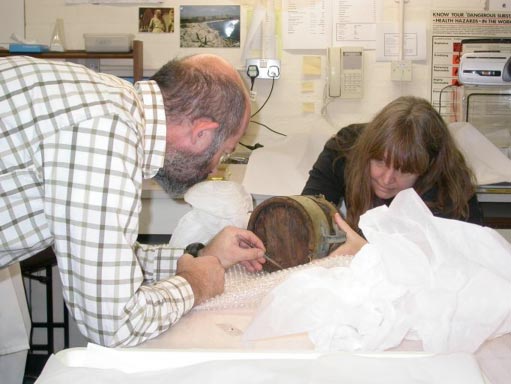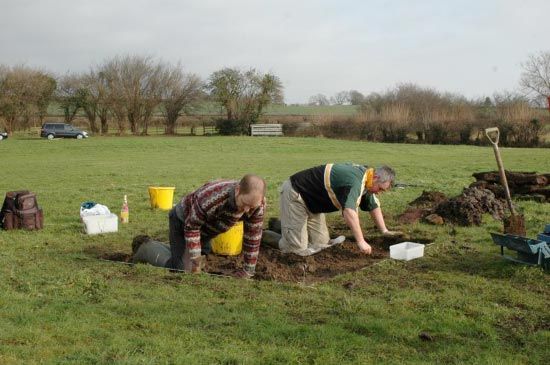 In December 2007, Craig Mills discovered a complete wooden tankard while metal-detecting in a field near Langstone, Newport. Around 2000 years old, this article presents this rare and exceptionally well-preserved drinking vessel, showing how museum conservation and research are helping to reveal its story...
The tankard
When full, the tankard would have held nearly four pints of beer or cider. It was held in two hands and was probably passed around a group as a communal drinking vessel. This vessel was made of six wood staves, slotted around a circular base-piece. Surrounding the outer face of the body are two bands of bronze sheet. The vessel has a cast copper-alloy handle, attached to the tankard wall by two pairs of rivets.
Dating to the Late Iron Age or early Roman times, the tankard has only survived because it was buried in a waterlogged soil, without contact with the air. As soon as it was taken out of the ground, it started to dry out with a real danger that it could shrink, crack and warp beyond recognition. Conservators spent much time and care, monitoring it, until it could be conserved. This was achieved by immersing it in alcohol (one more time!) to replace water from the cells within the wood. The alcohol was then replaced by ether (a very volatile substance), which evaporated easily from the wood's surface to leave the object 'dry'. Finally, the metal fittings were carefully cleaned and stabilised.
The significance of the find
Tankards were popular drinking vessels across western and southern Britain in the Late Iron Age and Roman periods. This is only one of six complete tankards to have survived in Britain and Ireland. The other example from Wales is the elaborately decorated Trawsfynydd tankard (Gwynedd), which was found around 1850 and also preserved in waterlogged peat. More common, are discoveries of just the bronze handles from tankards. The Langstone tankard is difficult to date accurately. The surviving handle, is very similar to a tankard handle discovered at the Roman fort at Loughor (Swansea). It was buried in a well, which was filled up during the second century AD. However, close examination of the Langstone tankard, suggests that this poorly fitted handle was a late replacement to an original, now missing. A localised tapering of the rim and delicate bronze pins remaining in the middle tankard wall are the surviving evidence for this early handle. This suggests that this tankard was made in the first or early second century AD (AD1-150).
Just a few metres away from the tankard find-spot a group of
two bronze bowls and a wine-strainer
was found also by Craig Mills at around the same time. These near complete vessels were made during the Late Iron Age and decorated in the Celtic Art style. They were buried in a similar waterlogged and peaty layer, probably during the middle of the first century AD. This similar use, for straining and holding liquids, such as wine or medicine, suggests that this location held particular significance to their owners, who chose to bury their valued drinking gear here.
Written by Adam Gwilt, with a contributing team of Evan Chapman, Mary Davis, Mark Lewis, Mark Lodwick, Craig Mills & Nigel Nayling