French pottery in medieval Wales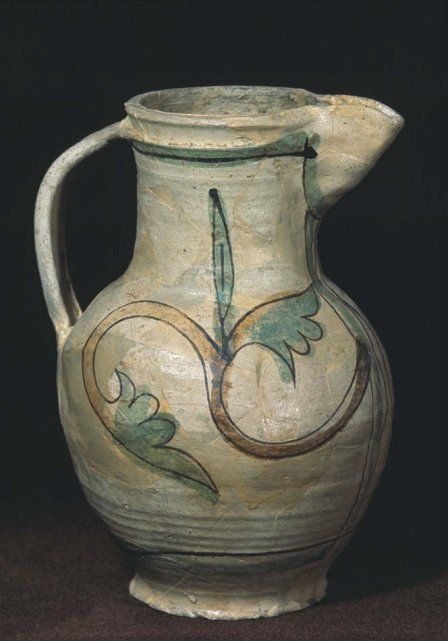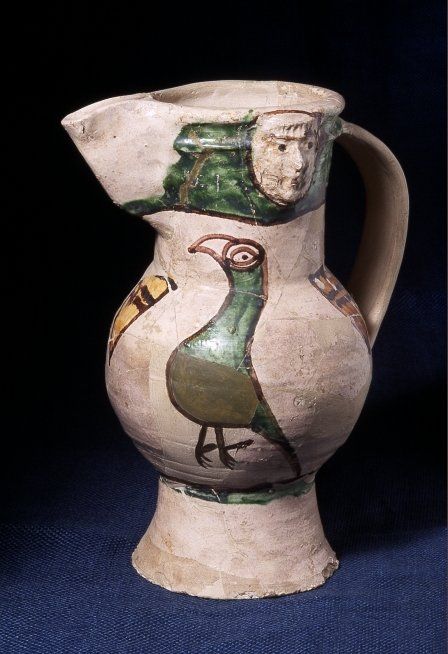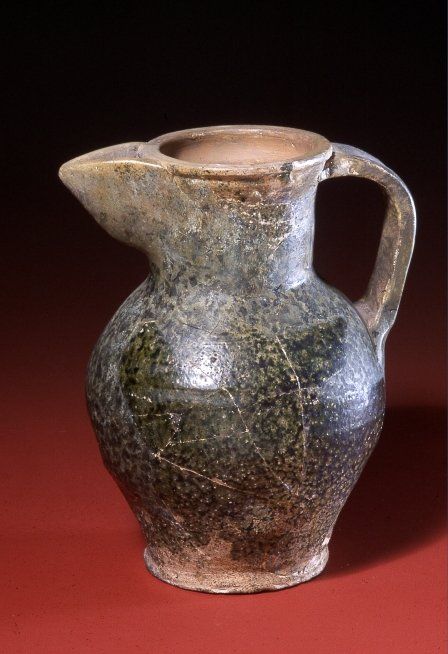 During the Middle Ages, several regions of France exported pottery to Britain - notably northern France, Normandy and the Ardennes. Most of the French pottery found in Wales came from the Saintonge area of south-west France.
The trade in pottery from the Saintonge area to Britain began early in the 13th-century and lasted for about 500 years. At the start of this period the English ruled neighbouring Gascony, and many of the vessels that have been found in Wales probably made their way to Britain from the ports of La Rochelle and Bordeaux as part of mixed cargoes (wine being the most important commodity).
Pottery from the Saintonge area was made from a fine clay that was well suited to the throwing of light, thin-walled shapes such as those seen here. The clay also had a low iron content, which meant that, when fired, it produced a vessel with a white or buff fabric.
The first example illustrated here was found in a midden at Kidwelly Castle (Carmarthenshire) during excavations in the 1930s. It appeared to have been thrown away along with several plainer vessels and is decorated with a vine scroll motif typical of Saintonge jugs. It was probably produced between 1275 and 1320. This elegantly decorated vessel illustrates the great skill of the Saintonge potters. It is 25cm (9.8 inches) tall and in places its walls are only 2.4mm (0.1 inches) thick.
In these years Kidwelly Castle passed from the ownership of the de Chaworth family, who greatly improved its defences, to William de Valence and then to the House of Lancaster. These later owners set about improving the castle's accommodation. This jug may have been used to pour wine in the Great Hall for one of these English owners or their guests, though such jugs may also have held water.
Saintonge pottery is known from many other sites in Wales, including Cardiff and Castell-y-Bere in Gwynedd. For the most part the ware has been found at coastal sites - locations more easily controlled by the English, or more accessible to their traders - though occasionally it has been found in remote upland sites.
Cardiff jug: This jug was discovered during work in Cardiff High Street in 1893. Its decoration includes birds, masks, and heraldic shields - all are common features on jugs from the Saintonge potteries.
Castell-y-Bere jug: Castell-y-Bere was only occupied by the English from 1284-1294. Given the frequency with which Saintonge pottery is found at other castles occupied by the English in Wales, it seems likely that the jug dates from this period.
While such pots may not even have been greatly valued by their owners, when viewed alongside vessels of silver, bronze or brass they survive as examples of great craftsmanship and illustrate links between Wales and the wider European world during the Middle Ages.
Background Reading
'Kidwelly Castle, Carmarthenshire; including a survey of the polychrome pottery found there and elsewhere in Britain', by C. Fox and C. A. R. Radford. In Archaeologia vol. 83, p93-138 (1933).
'Medieval finds from Castell-y-Bere, Merioneth' by L. A. S. Butler. In Archaeologia Cambrensis vol. 123, p78-112 (1974).
Medieval pottery and metal-ware in Wales by J. M. Lewis. Published by the National Museum of Wales (1978).