Llanbedrgoch on Anglesey is home to one of Wales' most interesting archaeological sites from when the Vikings invaded Wales. Research at this site by Amgueddfa Cymru has helped reveal the nature of Viking Age life that has puzzled scholars for decades.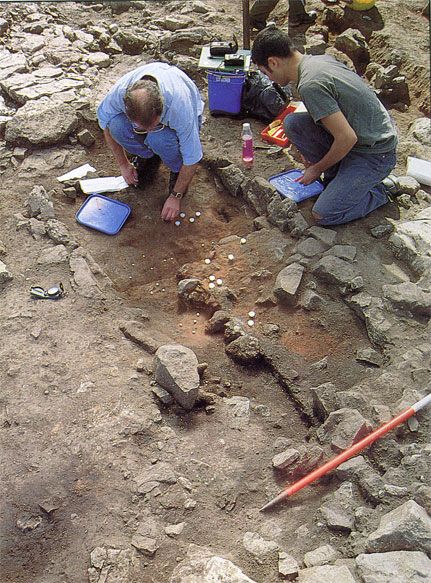 The site was discovered in 1994 after a number of finds were brought to the Museum for identification. These included an Anglo-Saxon penny of Cynethryth (787-792 AD), a penny of Wulfred of Canterbury (about 810), and three Viking lead weights.
From Neolithic to Roman
After detailed excavation and research, the complex history of the site began to be unravelled. The site appears to have been a focus of activity from as early as 3300 BC, a period when most of the large burial chambers on Anglesey were built. Several items of pottery, radiocarbon dated to around 240 to 450 AD, show activity at the site during the Roman period.
The Site
Activity at the site can be broken up into a number of phases. A ditch was found measuring 2m wide and 1m deep. Further excavation uncovered post-holes cut into bedrock thought to represent a platform of a house. Items recovered suggest that the ditch is pre-Viking. It is at this time that a large timber hall, represented by large post pits, probably belongs.
This timber building appears to have been replaced in the late 9th or early 10th century by at least two halls, last used between about 890 and 970. To the east was a large hall or barn, measuring about 8m by 12m, dated to around 855-1000 AD.
A small section of stone paving to the west marked the entrance to a third, slightly smaller building. Ploughing has removed any clear evidence for the walls but a 10th century fine bronze buckle and an iron knife blade with angled back were recovered.
A rubbish dump at the south-west corner of the site contained a few artefacts, including a Northumbrian styca (penny) of Archbishop Wigmund (about 848 - 58), socketed iron tools for leatherwork, mounts and bucket bindings.
The area then appears to have returned to agriculture, which in time removed all surface traces of the former settlement. Like sites elsewhere, it is situated on a carefully selected, sheltered location, about 1000m from the sea.
Forming one of the largest collections of this kind from Wales, the objects found at the site are remarkably well preserved. Coin and other evidence suggests an early period of economic growth at Llanbedrgoch from the late 8th century. In the 10th century, the settlement appears to have been at its peak, with harvesting of crops, keeping of livestock, the presence of craftsmen, and contact with Viking merchants arriving in ships.
The enclosure at Llanbedrgoch appears to be the key to unlock further secrets and reveal the nature of Viking Age settlement which has puzzled scholars for decades.