The Artists in Residence programme at St Fagans
History, Art and Play
St Fagans National Museum of History is renowned for its historic installations - from a
medieval church
to a tailor's shop,
bakehouse
and
terraced houses
.
The museum has long been an inspiration to artists, who have used and responded to the museum site, its collections and archives over the years.
Recently, we have created more opportunities for artists to use the museum in innovative ways, through an Artists in Residence programme. Thanks to the generous support of the Heritage Lottery Fund in Wales and the Arts Council of Wales, the Artist in Residency programme provides opportunities for artists to develop their work, as well as developing new experiences for visitors - such as the children's play area, by the artist Nils Norman.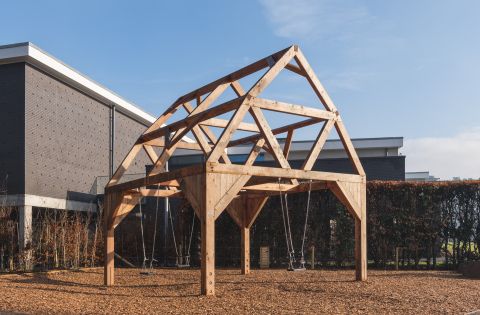 For 2017 and 2018 we are really excited to be working with Owen Griffiths, Sean Edwards with research support from Louise Hobson. Their brief is to investigate how visitors navigate the museum site.
Artists in Residence at St Fagans
Nils Norman, 2015-16
As part of the
redevelopment of St Fagans National Museum of History
, there was a need for new play area. We wanted the play area to be unique and bespoke to the site and to encourage creative play. We invited the artist Nils Norman to spend time at the museum as a resident artist and to create a design for the new play area as well as some ideas for creative play around the site.
Nils is a London based artist who has worked on numerous projects dealing with play and urban design, he is the author of four publications and is also a Professor at the Royal Danish Academy of Art and Design, Copenhagen, Denmark where he leads the School of Walls and Space. See more of Nils' work.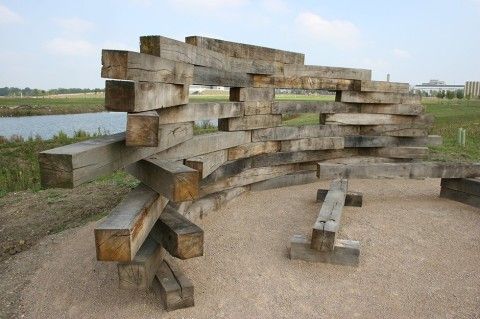 Imogen Higgins
"Being on a residency at St Fagans has enabled me the freedom to explore the potential of community arts independently.

This freedom has allowed me to expand on ideas that play to my strengths and interests. Additionally, it has given me the chance to work in a more focused way and to a specific brief.

I have also had to experiment with creative ways of gathering information, which I am sure will be a great advantage in my career as a community artist."
Imogen Higgins is a recent ceramics graduate based in Cardiff was is interested in community arts and engagement and her task was to work with local groups to feed into the design of the playground.
Imogen began her workshops by looking at patterns in the collections and on site, investigating patchwork quilts, medieval tiles and the paving patterns in the Italian garden and also researched play grounds and creative play around Cardiff.
She worked with two local groups as part of the project – students from Woodlands High School and parents and children from Ysgol Gynradd Hywel Dda. You can read more on Imogen's project blog.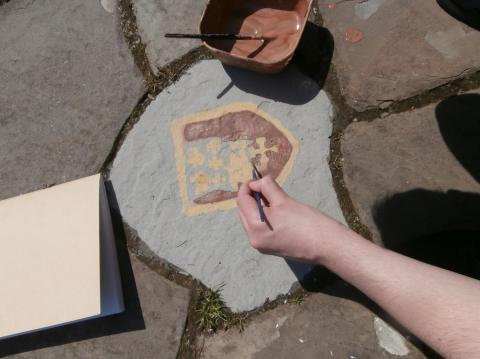 Fern Thomas
"Over recent years my practice has increasingly explored historical narratives, documents and archives. I am drawn to exploring lost objects, hidden narratives or knowledge, and imagining the layers of history one place can offer.

I was therefore very excited about the potential of this residency, with the specific opportunity to explore the archives of St Fagans."
Fern Thomas is a Swansea-based artist whose work is rooted in research and she is also interested in folklore and folk magic. Her remit was to undertake research for the play area and information about her research and work can be foundFern's website.
"The residency itself has been key in helping me shape new territory within my practice, helping me clarify my interest in archives and Welsh history, which I intend to take further into future works and research."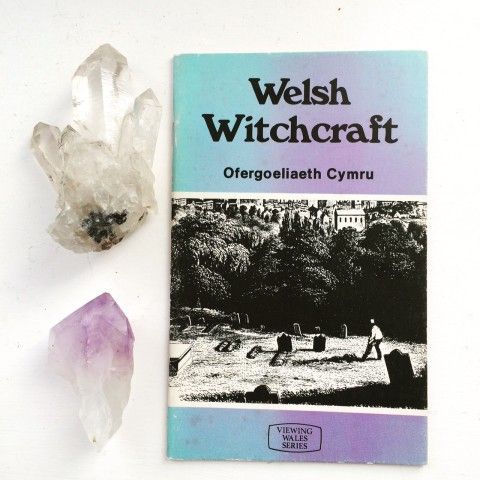 Melissa Appleton
"I set out to sample the site and to create a palette of fragments - a space of collisions – between the domestic, the spiritual, the everyday, the otherworldly. Gathering structures, plants, windows, patterns, objects, rocks, tools and doorways, I planned to rework these into a shifted, yet familiar, landscape. In essence, I set out to evolve a parallel St Fagans, with one foot in this world and one in another." (interview with CCQ, 2015)
Melissa Appleton's work usually manifests outside of the gallery walls and combines constructed environments, live events, sound and other materials into an expanded form of sculpture. During her residency in 2015 Melissa worked with the site close-up and at a distance, collaborating with Mighty Sky (Swansea) to film the site using a drone and Cardiff Met to map parts of the site using a 3D scanner. As a result of this and interviews with museum staff, Melissa gathered a palette of elements that included a man on beach conjuring mackerel through song; a triskelion (an ancient symbol depicting three hares with ears intertwined); a triple harp; window frames made from recycled aircrafts; a figure of death scratched into a headpost and the ghost of a naked coracle man furiously paddling across a river. Melissa plotted an apocryphal masterplan for the museum, drawing on St Fagans' evolution which has been shaped by desires and dreams of different curators and staff over the last fifty years.
As the residency progressed Melissa became interested in the 'listening studio and laboratory' (the recording studio and sound/video archive) which inhabited the edge of the museum redevelopment (underway at the time), seemingly unchanged since the 1960's – caught between the awaited future expansion and the present day. Melissa is now working with Bedwyr Williams (also artist-in-residence in 2015) on a speculative project to tour the sound and video archive across Wales in a vehicle which reimagines the curator's original caravan.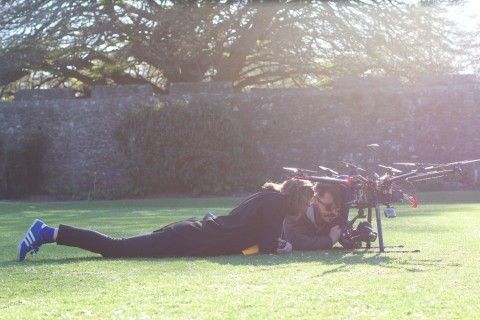 James Parkinson
"I set out to look into the architectural histories of the Museum and the process of recording, relocating, and rebuilding. I wanted to explore areas across the site where fragments of original and replicated elements had been fused to produce a believable whole. I was interested in how this process is central to the museum's creation and continual development but also challenges the notion of the historic monument being fixed and immobile."
James Parkinson is a Bristol based artist whose work uses processes of material translation to re-code notions of space, object, and body. During the residency James spent the majority of his time with Museum conservators and staff from the Historic Buildings Unit. Since completing the residency, James has continued to work and develop ideas informed by his time at St Fagans.
"During the residency I was able to develop a series of texts by transcribing interviews I conducted with conservators who describe techniques used to excavate a series of wall paintings. I am interested in recirculating the conditions of artefact and monuments in the museum's collection through writing, and tracking the effect of this process of translation. Allowing these voices into my practice is a substantial moment and going forward I'm really excited at the possibilities of bringing these texts into proximity with other areas of my work."
More about the artist's work: James Parkinson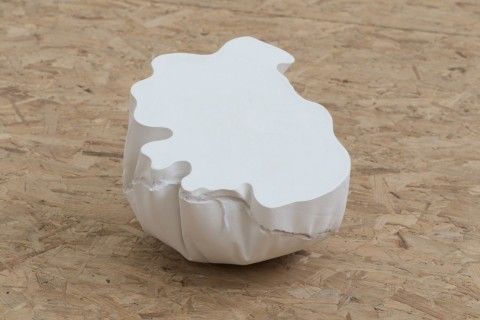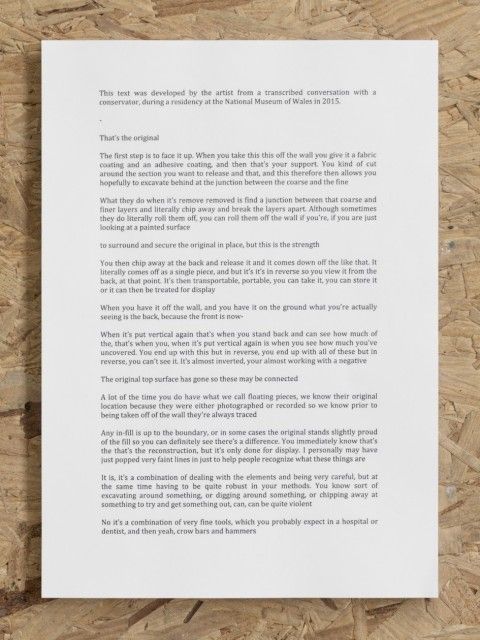 Claire Prosser
Claire Prosser is a visual artist, writer and performer. During her residency at St Fagans she worked with museum attendants, craftspeople, gardeners and cleaners to look at the small, every day, repetitive, subconscious movements that people make as part of their jobs – the way the museum attendants use their hands to turn the key in the locks of the historic buildings, the movements the clog maker uses as he sews or cuts leather. At the end of the residency Claire 'scored' a performance entitled 'If Movement was an Object' that was then performed for the public by herself and Expressions Dance Company.
"When I was spending time with these members of staff, I realised that what I was more interested in was not necessarily the technical movements and skilled work, but the necessary, subconscious, idiosyncratic movements that each person would adopt. [….]These movements, are human, necessary and ordinary. They happen because of the time spent in the space, they happen because over time people naturally become familiar with a space. They are of the person that is there in that location, at that time every single day. These people are just as part of the space as the space is a part of them. What happens if these movements are taken elsewhere? Do they fit? Just like an object that fits in a certain space, can a movement be moved and refit?"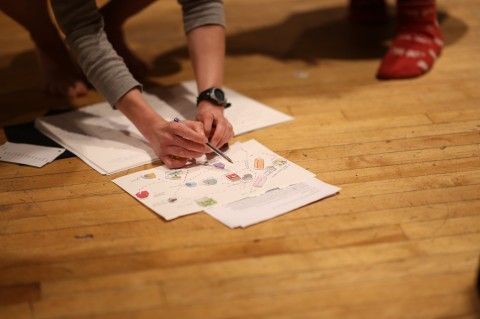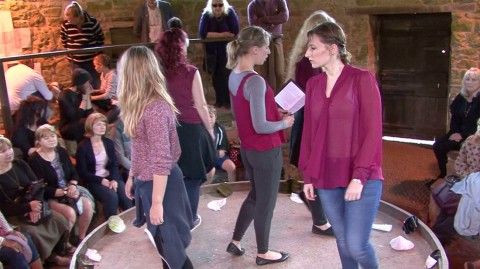 Bedwyr Williams
Bedwyr Williams Bedwyr Williams represented Wales in the Venice Biennale in 2015 and is currently one of the shortlisted artists for Artes Mundi. During his residency at St Fagans, Bedwyr spent a lot of his time in the sound archives as well as walking around the site filming and taking photographs. He is still considering ways to use his research in his work, but did make a short film whilst at St Fagans, which has since been exhibited as part of his show at the Whitworth in Manchester.
Since presenting his work at Artes Mundi 2016, Bedwyr was awarded the The Derek Williams Trust Prize, and through the Trust's generosity, his work, 'Tyrrau Mawrion' is now part of the national collections.