What does your signature look like? Is it an illegible squiggle, an elegant flourish, or simply a hurried scrawl of your name?
Whatever it looks like, it's something that's unique and personal to you – identifying you and no one else. Putting your signature to something shows that you have approved and endorsed it, and things like contracts, deeds, cheques and certificates would be invalid without one.
But what if you can't write, because you live in an age where literacy is a skill only needed by a small proportion of society? What if you hold an important position – such as bishop or abbot – where power is invested in your office, rather than in your person?
What is a seal?
For hundreds of years, instead of using signatures, people in past societies resorted to the use of seals – personal devices usually containing an image and often some sort of inscription, legend or motto to identify the owner – to show that they have witnessed and agreed to documents of various kinds.
In the Roman world, seals usually took the form of signet rings, which contained an intaglio - a gem engraved with an image. Later, in the medieval period, they generally took the form of either flat metal discs or ovals, with lugs or cone-shaped projections for holding.
Both forms were engraved with a distinguishing design and legend on the flat face to form a die, or matrix. This would have been pressed into coloured wax and the resulting seal was often affixed to a document with a cord or strip of parchment.
Suspension loops on the backs of medieval seal matrices suggest they were kept secure or carried on cords or chains.
Amgueddfa Cymru-National Museum Wales and local museums throughout the country hold many examples of seal matrices in their collections. This article, however, considers some of the hundreds which have been found by members of the public and recorded on the Portable Antiquities Scheme (PAS) database. The majority of them were found by metal detectorists and are now in private collections, apart from a small number acquired by museums through the treasure process.
Seals were most commonly used in Wales in the medieval period, particularly between the twelfth and the fourteenth centuries. There are far fewer examples known of from the Tudor period and later, although they have continued in use up to the present for certain functions.
What do they look like?
Many seal matrices were made from base metals such as lead or lead alloy and copper alloy such as bronze. Silver examples are less frequently found by members of the public, but when they are they often end up in museum collections after being declared treasure by coroners.
Generally they are circular in shape, though other shapes do occur. Pointed ovals were often used for the seals of women and the clergy, while shield-shaped, lozenge and hexagonal examples are also known.
Medieval seals usually contain some sort of engraved central image or design, surrounded by an inscription identifying the owner of the seal - an individual or an institution - around the outside edge. Later seals often had an image only.
Where are they found?
Seal matrices have been found all over Wales, but some hotspots do occur. The Vale of Glamorgan is where the highest numbers have been recorded, followed by Pembrokeshire, Monmouthshire, Wrexham and Flintshire. Apart from a single example each from Pontyclun and Caerphilly, none have been recorded from the South Wales Valleys, or from Neath and Port Talbot, Ceredigion or Gwynedd.
If you take a look at the Saving Treasures map of objects, you will notice that this pattern matches pretty closely with the areas where other archaeological objects of many different kinds, from the early Bronze Age to the eighteenth century, have been found.
Who used them?
A wide range of people would have needed a seal, from the monarch to small landowners and tradespeople – anyone, in fact, who might have needed business or legal documents of many different kinds. Individuals had personal seals, but seals were also used by bodies such as town corporations, trade and religious guilds, cathedrals, abbeys and monasteries.
The higher your status, the better quality your seal was likely to be. It might be made of silver instead of base metal, with a carefully-chosen device engraved by an expert craftsman. The less wealthy might have resorted to a basic 'off the peg' example, made of lead or bronze, with a standard design which may also have been quite crudely cut. There were seals out there to suit all pockets!
Legends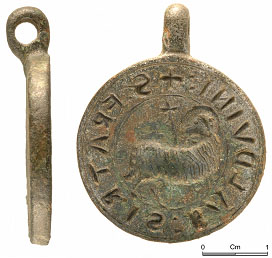 The legend (also known as the motto or inscription) is carried around the outer edge of the matrix. It generally follows a standard formula containing the owner's name, such as 'S. FRATRIS BALDVINI' (The seal of Brother Baldwin), on an example found in Porthcawl in 2008. Here, the Latin word 'Sigillum' (seal) has been abbreviated to a single letter 'S'. This was common practice in order to save space for the more important element – the name itself. Both Margam and Neath Abbeys held land in the Porthcawl area, so Baldwin is likely to have been a monk of one of these houses.
Names are often abbreviated, which can make them difficult to decipher, especially if the matrix is corroded or damaged. Out of the 150 or so matrices looked at for this article, 59 of them had illegible or partially legible inscriptions.
More rarely, the legend takes the form of a religious or secular motto, instead of a name. A seal containing the Latin religious motto 'CREDE MICHI' (Believe in Me) was found in Penmark in the Vale of Glamorgan in 2011, while 'I CRACKE NUTS' was recorded on a seal found in Penhow, near Newport, in 2014. This legend is sometimes thought to be a sexual reference, so although seals had a serious purpose, they could sometimes be playful!
Inscriptions on seals found in England are in one of the three main languages used there in the Middle Ages – English, Anglo-Norman French and Latin. In Wales however, Welsh can be added to that list, and is far more common than either English or French. It appears either in the form of personal names, such as Ieuan or Gwenllian, or as the Welsh word 'ap' meaning 'son of'. Much rarer is the female version 'ferch/verch', or 'daughter of'.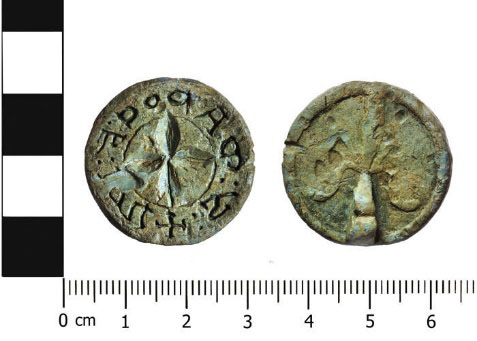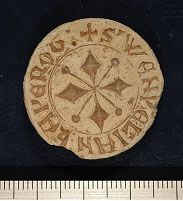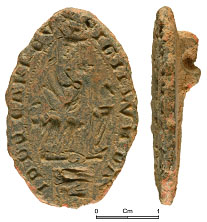 Some people with clearly Welsh names also used the Latin 'filius' instead of 'ap'. This was usually abbreviated to 'fil' or 'f', such as in the seal of MADOCI F MADOCI (Madog son of Madog), found near Wrexham.
In the Middle Ages, language and names were among the ways in which people signalled their personal identity, so information like this is valuable evidence for historians studying the society of medieval Wales.
Parts of Wales were extensively settled by Anglo-Normans after the conquests of the late eleventh to the late thirteenth centuries, and seals sometimes provide us with evidence of cultural exchange between the native Welsh and the incomers. Wenpelian (Wenllian) Kaperot, whose seal was found at St Mary Hill (Vale of Glamorgan) in 2005, combines a Welsh first name with an English surname. Was she a Welsh woman married to an Englishman, or was she from a settler family who had adopted native names and begun to think of themselves as Welsh?
History books often tell us that the native Welsh were treated as second class citizens after the Anglo-Norman conquests, but the evidence of these seals shows us that a significant number must have been wealthy enough to have been buying and selling land and conducting legal business of various kinds.
Although we can often decipher the names of the owners of the seals, it can still be difficult to link them with an individual who appears elsewhere in the historic record. Occasionally however, seals are found which can be linked to known families. The Carew family were important Pembrokeshire landowners throughout the medieval period, and the seal of one of them – DAVID DE CARREV (David de Carew) – was found in Carew Cheriton in 2009. The pointed oval shape of this seal and the religious imagery on it suggest that David was possibly a younger, non-inheriting, son of the family who had gone into the church.
Like the Carews, the Turberville family were powerful Anglo-Norman lords, settled at Coity Castle, near what is now Bridgend. Reginald de Turberville's (REGINALDI DE TURBERVILL) seal was found at nearby St Bride's Major in 2010. Close neighbours of the de Turbervilles were the de Reigny family and the seal of RICAR' DE REIGNI (Richard de Reigny) was found near Laleston, Bridgend, in 2018.
Designs
The seal's central motif is its most obvious feature, and can range from simple and crude to complex and sophisticated.
The most common motif on Welsh seals recorded with PAS is a variation on a many-pointed star, sometimes also described as a flower. Typical examples of this form are the thirteenth- or fourteenth-century lead seal of IEWANI APIERWE (probably Ieuan ap Iorwerth), found at Marshfield, Newport, in 2017, and the contemporary seal of WILLIEI FIL ROBERTII (William son of Robert), found at Merthyr Dyfan, near Barry, in 2013.
Sometimes, seals display such similar central designs, that it is highly likely that they came from the same source, or that the pattern was a very common one, produced in large numbers.
Compare, for example, the twelfth- or thirteenth-century seal of RICARDI MADENVEI (Richard Madenvey), found in 2015, with a broken example found the following year. They contain near identical images of a flower, of six broad petals and a central circle, which looks very like a daffodil. Interestingly, they were found less than seven miles apart, on the Gower Peninsula.
Only slightly less common than the star/flower, are a range of cross-shaped designs, and in fact these two groups are closely related, since many of the cross designs have more than four arms and can be interpreted as stars or floral patterns.
A well-preserved example is the seal of Ieuan ap Gronw, found in Pontyclun, Rhondda Cynon Taff, in 2013. The seal of Wenllian Kaperot, already mentioned, contains a slightly more elaborate variation on this theme, while a more basic style can be seen on the seal of Leuel (Llewelyn?) son of Ithael, found in St David's, Pembrokeshire, in 2011.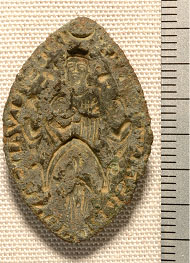 Devotional images, including saints, donor figures and other religious imagery, were also popular. A typical example was found in St Nicholas, Vale of Glamorgan, in 2006, dating from the thirteenth century. It shows the Virgin and Child, with a small figure of a praying cleric under a canopy at her feet. Many of these examples are also pointed oval-shaped, suggesting it was a popular theme for the clergy.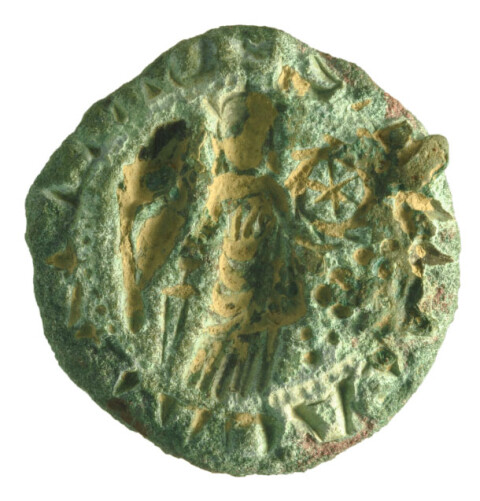 The round seal of Brother Baldwin, mentioned above, contains a Lamb and Flag, the symbol of St John the Baptist. An individual, possibly named Winton or Wilton, had a seal containing an image of another popular medieval saint, Catherine, which was found at St Donat's, Vale of Glamorgan, in 2012. St Catherine is easily identified by the inclusion of the wheel on which she was martyred.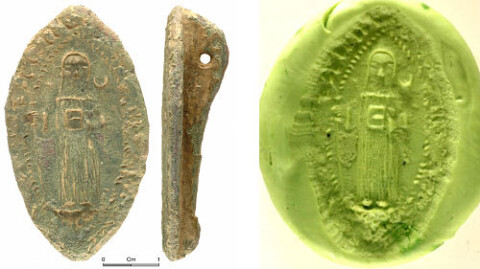 Connected to these examples of devotional imagery, and a rare and important find in its own right, is a seal from Ceredigion which depicts a standing, veiled female figure holding a book and staff. Only part of legend is discernible, reading '[ - - - - -] n l l e i r', making it possible that the seal belonged to an abbess of Llanllyr, Wales's only Cistercian nunnery.
The fleur-de-lys – a stylised lily – was another popular design and was a common decorative device in the Middle Ages. A particularly nice example appears on the late thirteenth century lead seal of Tuder ab Ithel, which was found in Llanhennock, Monmouthshire, in 2010. However, the craftsman who cut the fleur-de-lys design on the seal of Henry David, found at Nevern, Pembrokeshire, in 2009, was considerably less skilful!
If your family was important enough to possess a coat of arms, you may decide to include it on your seal. Heraldry was an important signifier of status in the Middle Ages, and appeared everywhere, from wall paintings, to tombs, stained glass, horse trappings and even clothing, as well as on seals.
The arms of the Turbevilles of Coity Castle, Bridgend, appear on a seal found at St Bride's Major in 2010, referred to above. It is more difficult, however, to identify the families associated with some other heraldic seals, such as that found at Reynoldston, Gower, in the same year, or the crudely-incised three chevrons on a seal found at Llanasa, Flintshire, in 2012.
As well as crosses, stars, saints and heraldry, a number of other designs are found, including animals, non-religious human figures, letters and inanimate objects. Some, like the stag's head that appears on a seal found in Pembroke in 2017, or the rampant lion on a seal from Holt, Wrexham, may also be heraldic in origin, alluding to an animal on the owner's coat of arms.
The occasional appearance of bows and arrows, such as on a seal found near Kenfig, Bridgend, in 2012, may indicate an association with archery, either through military service or through hunting. Allusions to occupations are rare however. The only clear reference in a Welsh context recorded with PAS comes from a late thirteenth century lead seal found in Llawhaden, Pembrokeshire, in 2006. This vesica-shaped seal belonged to 'I'his Carpentarii' (John the Carpenter), and shows one of the tools of his trade in the shape of a pair of dividers.
Conclusion
Of all the object types commonly recorded with the Portable Antiquities Scheme, seal matrices are unique in that they can provide us with a precious link to specific named individuals. Often, this is the only evidence we have of this person's existence, as they may have left no other trace in the historical and archaeological record. More than this, they give a tantalising insight into the lives of their owners: their activities, status and even ethnic identity, occupations and spiritual beliefs.
Further Reading
David H. Williams, Catalogue of Seals in the National Museum of Wales, 2 vols, (National Museum of Wales, 1993 and 1998, Cardiff).
David H. Williams, Welsh History through Seals (National Museum of Wales, Cardiff, 1982).
Seals in Context: Medieval Wales and the Welsh Marches, John McEwan and Elizabeth New, eds., (Aberystwyth University, 2012).
Website of the Imprint Project: https://www.imprintseals.org
All images are ©Amgueddfa Cymru-National Museum Wales, unless otherwise stated.