The Making of the Tip Girl
15 October 2021
,
The Craft group of volunteers had been "coasting" for some time waiting for our next assignment from the museum. We'd made rag rugs for the houses at Rhyd y Car, we made mediaeval costumes for the children visiting Llys Llewellyn and we'd used the lavender grown in the castle gardens to make lavender bags to sell in the shops. For a few other meetings we'd been doing our own crafting projects in Gweithdy, talking to visitors, showing them how we made our various quilts, rugs, throws, and tapestries, but we were ready for a new project.
None of us had been familiar with the term Tip Girls, or the work they did in the mining industry when Noreen and Ceri from Big Pit visited us to ask for help in setting up a new temporary exhibition at the big pit Museum.
We were asked to design and make an outfit suitable for a Tip girl as would have been worn in the Welsh coal fields. Little research has been done on these girls in Wales but some records were kept of those girls working in the coal fields of Nottinghamshire and Durham. There were similarities between the two but also some distinct differences; most notably the names: Tip Girls in Wales and Pit Girls in the north of England
We obviously needed to research these Tip Girls and the period in which they were working, to find out the type of clothes they wore in order to undertake our task.
Until 1842 women and children had regularly worked underground, but after a dreadful mining disaster in Barnsley, Queen Victoria demanded an enquiry. This resulted in the Mines and Collieries Act banning women, girls, and boys under 10 from working underground.
This was a blow to many women who earned their living, or supplemented their household income from working underground, but women who needed to work adapted. They worked at loading wagons or hauling tubs up from the pithead and some became Tip Girls, sorting rocks and stones from the coal when it had been brought up from the mines below ground.
In our research we found that Tip girls developed a distinctive style of dress and different areas develop their own distinctive styles
The work was cold and wet and very dirty and the girls' dresses catered for this. In Wales, W. Clayton had taken photographs of these women; although they were posed and in a studio setting we still get a good idea of how they were dressed. They wore long flannel skirts or frocks covered by leather aprons. Some wore breeches under their skirts, but this was frowned on in some mines, although it was commonplace in the mines in the north of England. They clothed their heads in hats and scarves, ensuring all of their heads were completely covered to prevent the coal dust saturating their hair.
Several members of the Craft group luckily have experience in costume design and they shared their expertise with us, helping us to design the costume.
We needed to decide what fabric we could use for the costumes, and we were lucky to be allowed the opportunity to see the museum exhibits in storage that would help us in designing the costume. We saw skirts, aprons, petticoats, stockings, socks and even boots that were all being carefully conserved by the museum.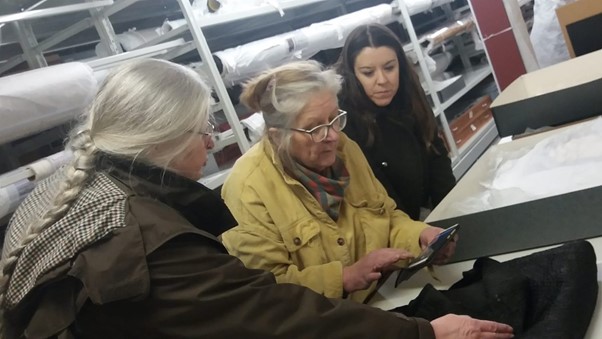 We had been given a shop-window mannequin to use as the Tip Girl and were expected to dress her. However, her solid hands and feet posed a problem in that we needed to give her gloves and boots, and her elegant pose made making her resemble the Tip Girl very difficult.
It took some time to work out that she couldn't be used and something else had to be sorted out. There was no other mannequin available from the museum, so our resourceful team got together and manufactured one from various sources. (It does help having costume designers in the group!)
We used the original mannequin as the basis to design the clothes and even used our own members as models. The tip girls hats seem to have been of special interest to the girls. They were all decorated quite lavishly with beads, ribbons, bows, flowers, and even birds and cherries and other fruit. This seems to have been their gesture to glamour in the midst of the grime of the pit head.

We were getting on nicely with the manufacture of the clothes when Covid hit and we were locked down. We carried on our monthly meetings over Zoom but the Tip Girl project was side-lined for a while, while we made masks and protective clothing for the NHS. Edwina however was still working on our model and when a year later we resumed, we were nearly there with our very own Tip Girl, who we had nicknamed Brenda, for some unknown reason!
In discussion with a friend who is also doing research on the Tip Girls of the Welsh mines, I discovered that these girls were not the lowly workers they seem to be from their photos. In fact, they were quite well-paid and regarded themselves as better off than girls who had to go into service at the local "big houses". Photographers also wanted to take their photographs and make them into postcards to sell to the public which made some of the tip girls into minor celebrities.
During lockdown we have made headscarf, skirt, chemise and socks. We'd made hands (ready for gloves) hats, bloomers and a bodice. On returning to face-to-face volunteering, we collected what we had been working on and found we had been quite productive during lockdown.
The home-made mannequin was coming along at pace and caused some hilarity when we first assembled the legs and body as they weren't quite compatible. Caroline, our expert in period costume, had knitted a wonderful pair of stockings that fitted the homemade legs perfectly.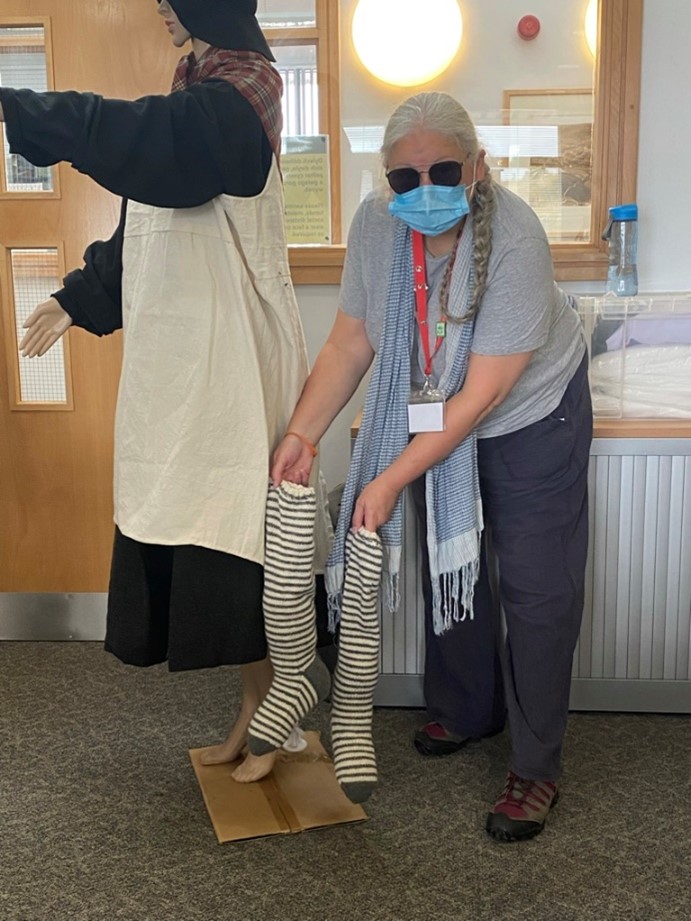 The figure of the mannequin at the beginning caused much hilarity, and the arms and legs both had to be considerably altered. Having it made by different people in different places had its difficulties!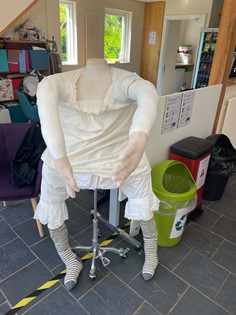 Our next meeting was at Big Pit, when we collected the disparate pieces of the costume and put them on the model. Our home-made model was not in use, and the museum was using another mannequin that was being altered to fit the brief. It was rather tall for the display case, but the staff intended shortening it discreetly.
The main reason for visiting Big Pit was to make the costume look as realistic as possible for the exhibition. They all looked newly made and pristinely clean, and we had to make them look as grubby and dirty as possible. So, after dressing up the model, we then undressed her again, and took the clothes over to the Forge where we had a good time rubbing them into the dirtiest and most filthy parts of the machinery.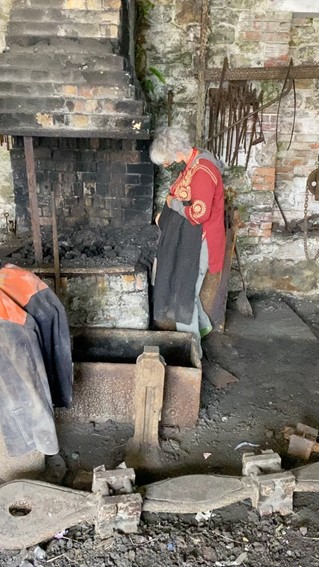 It's finished now, and we are waiting eagerly for the opening of the exhibition. We've left the clothes with the museum, along with both models, and it depends on which model best suits the display cabinet. When we visit the exhibition we will be very interested to find out more about the Tip Girls, and proud to see the small contribution we made to the exhibition on display.