Twm o'r Nant's Consolation Prize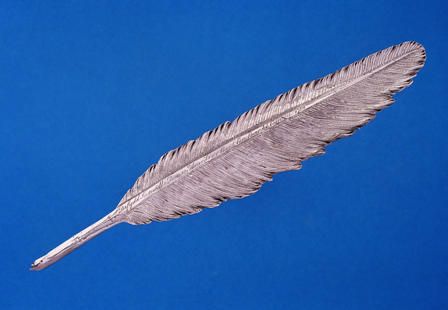 Twm o'r Nant, who was a great favourite, had one remarkable supporter, Dafydd Ddu Feddyg, Dafydd Samuel, who had travelled with Captain Cook on the famous voyage where he met his death. Dafydd Samuel was a volatile, fiery kind of man, rather inclined to challenge judges to a duel if he felt that someone like Twm o'r Nant was being unfairly treated.
Well, in order, probably, to raise Twm's spirits after his disappointment at Bala in 1789, Dafydd Samuel gave Twm o'r Nant a silver pen, which you can see here. He also did something else, something which may have done Twm more harm than the wrong done him at the Eisteddfod. He called the poet and dramatist Twm o'r Nant the 'Cambrian Shakespeare', and for years poor Twm was weighed down by the burden of this description. So that's the year 1789 for you. It begins, if you like, tempestuously and amidst great excitement, and in this sense is very characteristic of the history of the Eisteddfod during the decades to follow.
Listen to a video narrative in Welsh by Hywel Teifi Edwards: