The Abergavenny Eisteddfod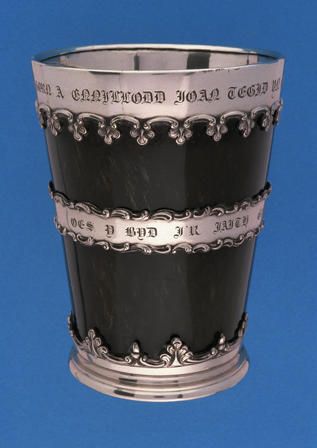 The provincial eisteddfodau came to an end at Cardiff in 1834 but a new movement, under the auspices of a new society, began another memorable journey in 1835, one which lasted until 1851. I'm referring to the eisteddfodau of Cymreigyddion Y Fenni. The remarkable woman who sponsored those eisteddfodau was of course Lady Llanover, the famous Gwenynen Gwent. She had already played her part in the provincial eisteddfodau, and had sponsored Maria Jane Williams, collator of the melodies in Ancient National Airs of Gwent and Morgannwg. She had also sponsored the famous Thomas Stephens, who won a fabulous prize, the Prince of Wales's Prize, for the volume we now know as The Literature of the Cymry, a particularly influential book in its time. Lady Llanover had also ventured inside the druidic circle, where she had been given the bardic name Gwenynen Gwent.
Although she was an Englishwoman born and bred, she turned out to be a very fiery Welshwoman. I don't believe that she ever mastered Welsh, either oral or written, yet there is no doubt at all of her loyalty and attachment to the culture of Wales. Of course she had the support of her husband, Sir Benjamin Hall, and assistance from the Reverend Thomas Price, Carnhuanawc, and Tegid, who won a handsome cup in Cardiff in 1834.
It was with the help of people such as these that Lady Llanover and her husband created a series of ten eisteddfodau at Abergavenny. They were quite, quite remarkable, and nothing else of that kind has really been seen in the Eisteddfod's history since then. They were not poor eisteddfodau by any means; they offered very substantial prizes, sometimes as much as eighty guineas. Back in the 1840s prizes such as these could be won for essays on Celtic philology, and attracted some of the greatest European Celtic scholars - people such as Karl Meyer and Albert Schultz of Germany.