10. Becoming a Farmservant (Welsh audio)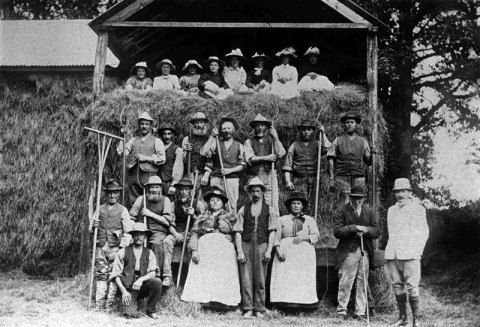 And you were twelve children in all then?
Yes, but we weren't twelve at that time, remember. Some of us - and you thing now - there was about twenty five years between us I think. Between the smallest and the eldest, you know, the youngest, you know.
Yes, so all twelve of you were never home at the same time?
Oh, no. Oh, no we weren't. Oh, no, no. But we were - at the time I'm thinking about now - there were five or six of us home together.
And how much schooling did you have?
Well, I went to school until I went to standard seven and I was twelve years old then.
And what did you do when you went into service?
Oh, well, there was nothing - there was nothing to do then but go out to the farm, you see. Well, there was nothing - well uh - in the countryside you had nothing but to go out to a farm...
There were two maids in Pant Moch and two servants and a man working on the land, living on the land, working there every day, and then there was a woman who came to work very often, nearly every day. She was a tenant they used to call them. They lived on the land you know.
It was hard work in those days, you had to do everything. You think now, if they were spreading manure. Dom we call it around here. She would go out with them. She and the second maid would go out with the boys, because, you know, farming was very slow in those days compared to today, wasn't it? You had to do everything with a pick and shovel as they say.
Mrs Kate Davies, Llandysul, born 1892.
MWL archive no. 3927. Recorded 1973.