Reframing Picton project
About the project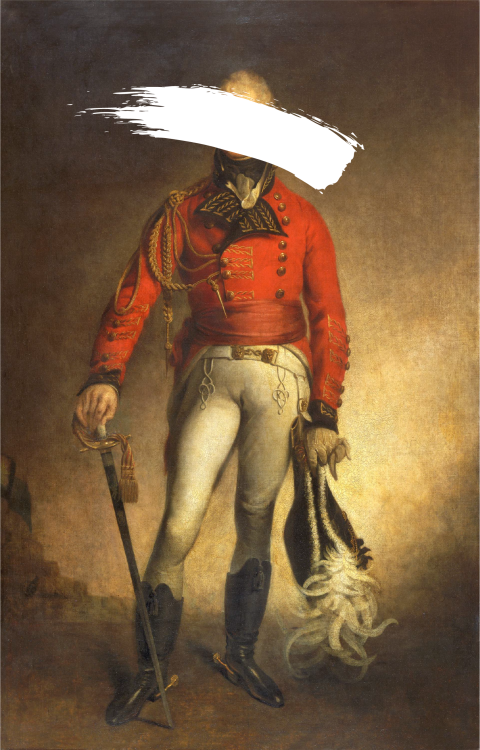 Amgueddfa Cymru and the Sub-Sahara Advisory Panel (SSAP) Youth Leadership Network have been working on a project to reframe the colonial narrative around the portrait of Lieutenant-General Thomas Picton. Picton is a controversial figure previously hailed as a public hero, but who is today equally notorious for his cruel treatment of Black enslaved people and free people, and for sanctioning torture during his governorship of Trinidad.
In January 2021 we launched an open-call commission for artists to reframe the colonial narrative around the portrait of Lieutenant-General Sir Thomas Picton and to centre Black experiences. The Museum hopes that the new commissions will amplify the voices of those originally neglected in the telling of Picton's story, or those whose lives are most affected by its legacy today. The callout received over 50 international responses, with the majority coming from the UK, or Trinidad and Tobago.
We have commissioned two artists, Gesiye and LakuNeg, and their artwork will become part of the national collection on display at National Museum Cardiff.
More about the commissioned artists
Laku Neg
Laku Neg is represented by 4 members of Trinidadian heritage, living and working in the UK. The group promotes expressions of African diaspora knowledge through the arts. Their commission will explore a re-presentation of Louisa and Patient, two young girls who became victims of Picton's brutal regime in Trinidad.
Gesiye
Gesiye (pronounced gay-see-yay) is a multidisciplinary artist from Trinidad and Tobago. Her work with individuals and communities explores storytelling, connection and healing across various mediums, and is inspired by a deep love and respect for the earth. Her commissioned work invites Black Trinidadians to participate in a healing offering that includes a series of tattoos and conversations around their connection to the land.
The full press release is now available for you to read.
The portrait of PictonThe portrait of Lieutenant-General Sir Thomas Picton has been taken down from the Faces of Wales gallery at National Museum Cardiff; it will be kept in the Museum's stores before being redisplayed and reinterpreted. The Faces of Wales gallery celebrates people from Wales, but does not allow space to explore complex histories. The decision to remove the portrait from the gallery for these reasons has been made as part of Reframing Picton, a youth-led initiative involving Amgueddfa Cymru, the Amgueddfa Cymru Producers and community partner the Sub-Sahara Advisory Panel (SSAP). Another portrait titled Hedger and Ditcher: Portrait of William Lloyd will take the place of Picton's. This portrait was painted by Dutch artist Albert Houthuesen, who became fascinated with the working life of the colliers in Trelogan, Flintshire, whilst on holiday in the area with his wife in the 1930s.
You can read the full press release here.
The exhibition
The Reframing Picton exhibition is now open. Information on how to come and visit can be found on our 'What's On' pages:
Details on visiting the exhibition
Take a look and read one of the speeches given at the opening of the exhibition:
Visit our blogs to read the speech
The press release is available to read in our news section:
Read press release