Reframing Picton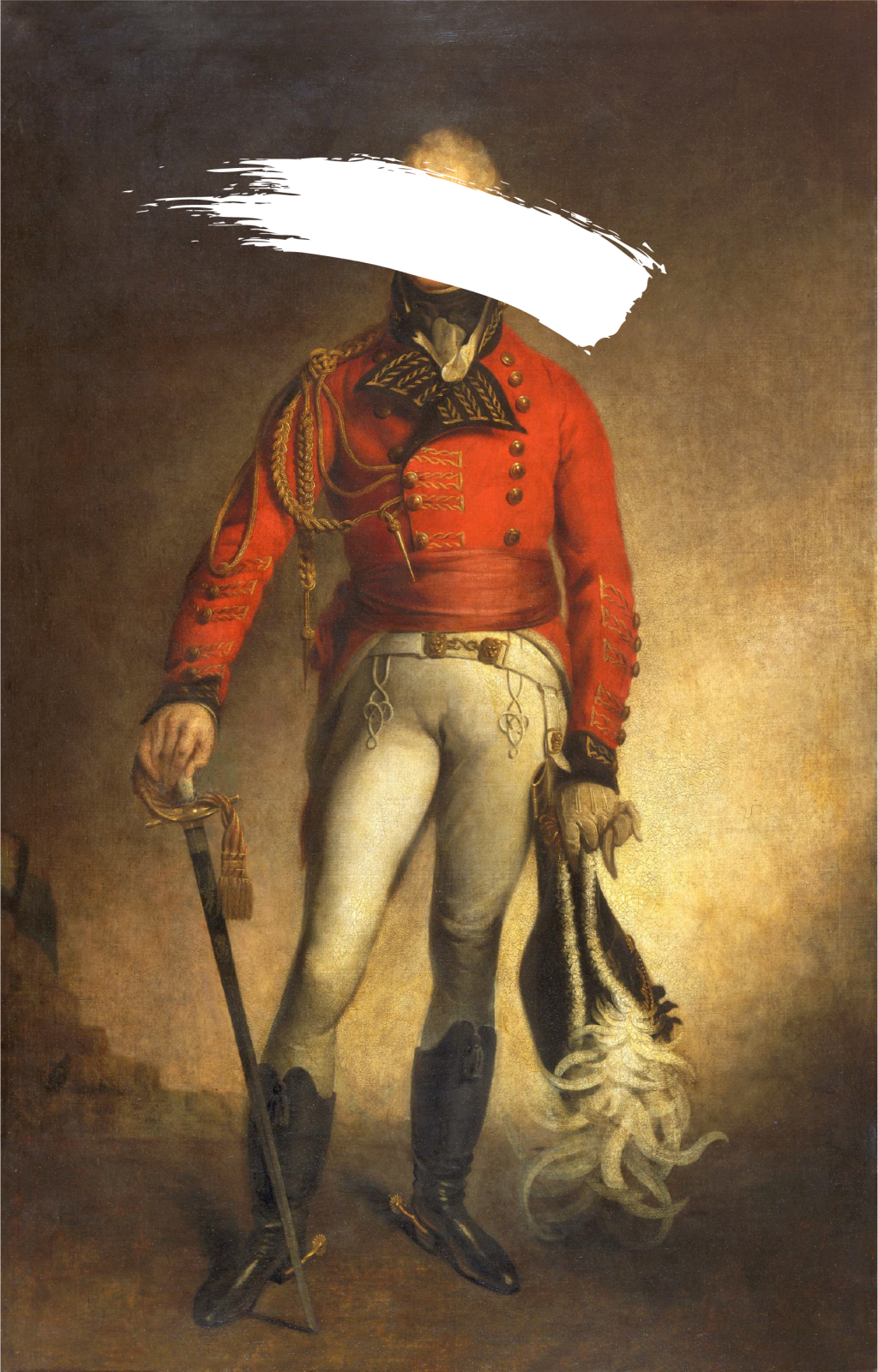 The application period has now closed and we have started the shortlisting process. Due to the amount of applications received the process is taking a little longer than expected so please bear with us and we will be in touch as soon as possible with an update.
Reframing Picton: An open call commission for artists, creatives and activists. Get involved! Change the narrative! Tell our story!
About the project
Amgueddfa Cymru and Sub-Sahara Advisory Panel Youth Leadership Network are inviting artists to help us reframe the colonial narrative around the portrait of Lieutenant-General Thomas Picton, which is currently on display in the galleries at National Museum Cardiff. Picton is a controversial figure previously hailed as a public hero, but who is today equally notorious for his cruel treatment of Black enslaved people and free people, and for sanctioning torture during his governance of Trinidad.
But Picton is also a distraction. The constant debate and focus on his story draws attention away from the stories and narratives that really matter today. Our vision is to commission a piece that reframes the narrative in a way which amplifies the voices of those originally neglected in the telling of Picton's story, or those whose lives are most affected by its legacy today.
History is so often written by those in positions of authority or privilege that we would like to amplify the voices of those who relate to Trinidad and its culture through their personal and lived experience. We are looking for new voices to change the narrative in a way which centres and celebrates Black consciousness. In the words of the current President of Trinidad and Tobago Paula-Mae Weekes, 'we can lament, blame or criticise, or we can consciously choose the alternative.' Through this project we hope to choose the alternative.
Opportunity
We are looking for an artist, creative, performer or activist (individual or collective) to create an artwork that reframes the narrative.
We recognise that Black artists and artists from minoritised or racialised communities are often expected to create art for a white gaze, with pieces stemming from pain and trauma. This is not the case for this project. The real context of Picton will be featured separately, and if you are thinking of applying you do not have the responsibility or burden of that for your piece. We want to commission you to create, showcase and most importantly celebrate Trinidadian culture and layers of Blackness in whatever way you choose.
The work will be displayed in the galleries at National Museum Cardiff as part of an intervention co-curated by SSAP Youth Leaders, Amgueddfa Cymru Producers, and museum staff. It will also be acquired to become part of Wales' national collection.
The art work may be in whatever media the artist chooses, keeping in mind that it will need to be transported to Cardiff and displayed in the galleries there.
Eligibility
Anyone from any background is able to apply, but in line with the aims of the project we are making this an international call out and particularly encouraging applications from people of Trinidadian descent, with personal or cultural ties to Trinidad, or residing in Trinidad. We encourage applications from artists at any stage of their careers.
Budget
Commission fee: £12,000
This is a one-off fee to include all production, materials, and the cost of purchasing the work for the national collection
The fee will also cover any live performance



Selection process

Proposals will be short-listed by SSAP Youth Leaders, and staff from Amgueddfa Cymru, and a short-list of 5 will be interviewed before a final decision is made. The final decision will be based on how well the proposal fits the project brief, the quality of the concept, feasibility, and the potential for impact.




Proposed Timeline

Due to the nature of Covid 19 timelines are subject to change but, we are hoping the work will be available for display at National Museum Cardiff before the end of 2021 with an indicative timetable as follows:

March 2021: short-list interviews and final artist selected
April-May: 8 weeks to produce artwork
June: transporting and installation in Cardiff



How to apply

The application period has now closed. Please keep an eye on the Museums' social media channels for further updates.




Additional information

We want the application process to be as equitable as possible and we pledge to make reasonable adjustments to this process in order to achieve this. Please get in touch if there are any adjustments we could make or additional support we could offer in order to help you apply. We will come up with suitable alternative options together.

For further background to this project, you can read the blog about Picton on our website or read the Twitter thread on the @AmgueddfaCymru account. You can also see the portrait on Amgueddfa Cymru's Collections Online.

This project is a collaboration between Amgueddfa Cymru - National Museum Wales and SSAP Young Leaders Network. Youth led projects across the museum are part of the Hands on Heritage initiative, made possible by the National Lottery Heritage Fund's Kick the Dust Grant. Thanks to The Fund and all our National Lottery Players - keeping our fingers crossed for you!