Reframing Picton project
What is Reframing Picton?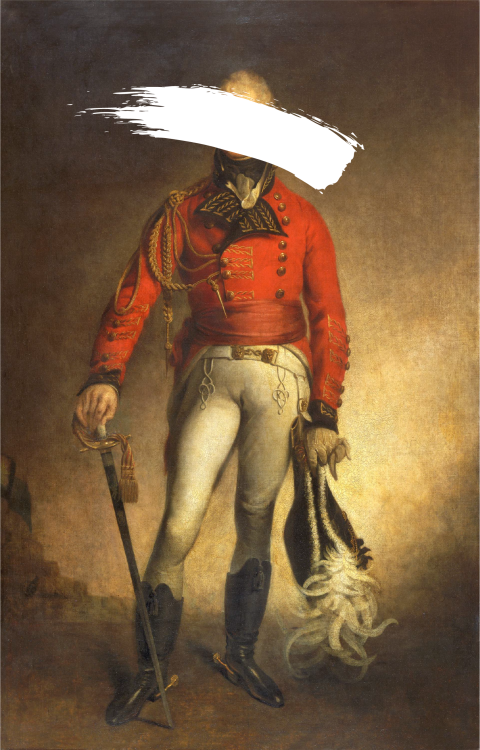 "One of our goals for this exhibition was to create a site of conscience rather than indoctrination. To create a dialogue between museums, the governments that fund them and the communities they serve. To create healthy ways of addressing trauma. We hope that this exhibition will encourage visitors of all backgrounds to listen and learn from the past, and to put these learnings into practice today." – The Reframing Picton project team.
Reframing Picton is a community-led project between the Amgueddfa Cymru Producers and the Sub-Sahara Advisory Panel's (SSAP) Youth Leadership Network. The Reframing Picton exhibition opened at National Museum Cardiff in August 2022 and is due to close 12 January 2025.
The journey started in 2020, during the Black Lives Matter protests following the death of George Floyd, and the subsequent removal by protestors in Bristol of the statue of slave trader, Edward Colston.
Through numerous lockdowns, the young people worked closely with our curators to add more information and context about Haverfordwest-born Lieutenant-General Sir Thomas Picton (1758-1815) legacy as Governor of Trinidad at the turn of the 19th century. This includes his brutal treatment of the people of Trinidad, including the torture of 14-year-old Luisa Calderon – information which was not part of the museum's previous interpretation of the portrait.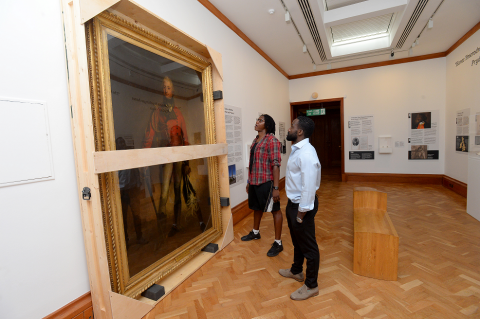 What can I see in the exhibition?
As part of the exhibition, the project team looked at objects across Amgueddfa Cymru's collections to reinterpret the narrative around Picton. Objects included in the exhibition include:
a newly acquired transcript of the trial of Picton in London in 1806;
anti-slavery medals produced to support the late 18th century anti-slavery movement in Great Britain;
and a medal from the 1819 Eisteddfod, won by Walter Davies in 1819 for an ode to Picton.
As well as an exhibition on Picton, the project team commissioned two artists to become part of Wales' national collection. The pieces reframe the legacy of Picton and to give a voice to those most affected by Picton's actions, and to those who live with the legacy today. ⁠
The Reframing Picton project team consulted with independent arts and education charity Culture& on different ways to approach the redisplay.
The commissioned artists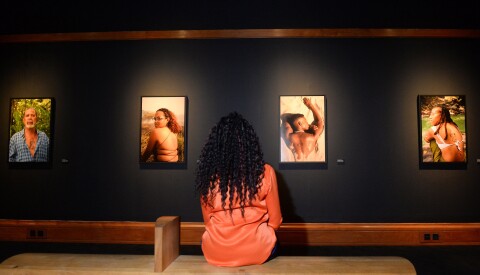 Gesiye
Gesiye (pronounced gay-see-yay) is a multidisciplinary artist from Trinidad and Tobago. Her work with individuals and communities explores storytelling, connection and healing across various mediums, and is inspired by a deep love and respect for the earth.
Her commission, 'The Wound is a Portal' uses the cathartic process of tattooing to explore generational trauma in relation to the land. Her installation includes a series of portraits and a short film.
Each tattoo in this intergenerational work is connected through a stop motion animation, facilitating a reclamation of agency and acting as a portal to re-connection with self, with each other and with the land.
Read what Gesiye has to say about her commission in her blog, 'On Portals'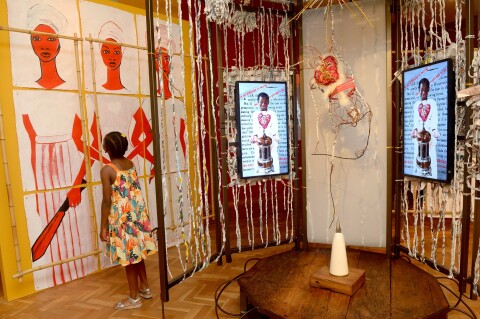 Laku Neg
Laku Neg (Black Yard in Haitian Kwéyòl) is represented by four artists, three of Trinidadian heritage, who live and work in the UK. The group promotes expressions of African diaspora knowledge through the arts.
Laku Neg's commission 'Spirited' is an immersive installation - a tapestry of memory and understanding, comprising a metal sculpture, bamboo frames, twisted paper, fund objects and audio visual elements.
It is inspired by the Ol' Mas' traditions, practice and aesthetic of the Trinidad and Tobago Carnival. Their commission explores a re-presentation of Luisa, Thisbe and Present, named victims of Picton's brutal regime in Trinidad.
Read what Laku Neg had to say about their commission in their blog, 'Spirited'
Who was Picton and who was Luisa?
Sir Thomas Picton is a controversial figure known for his brutality in his own lifetime and was known by the aliases 'The Tyrant of Trinidad' and 'The Blood-Stained Governor' due to his governance of Trinidad and his treatment of slaves.
Luisa, a free 'mulatto' girl, had been accused of theft. The excruciating form of torture Luisa suffered was known as 'picketing': she was hung from a scaffold by her wrist for almost an hour, her entire weight being supported on an upturned wooden peg.
The portrait of Picton
The 2-metre-high-portrait by Sir Martin Archer Shee has been a part of our collections since Amgueddfa Cymru's founding in 1907. It is among the earliest group of paintings to enter the museum's collection and has been on near-continuous display in National Museum Cardiff for over a hundred years.
The portrait is displayed in a travel frame in the Reframing Picton exhibition to nod towards the portrait's removal from the Faces from Wales gallery to the Historic Art galleries at National Museum Cardiff to give more context around the portrait.
Find out more: