Drinking punch in the eighteenth century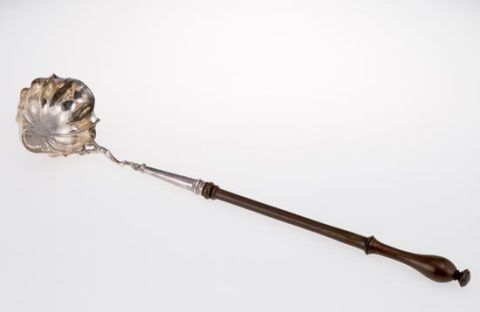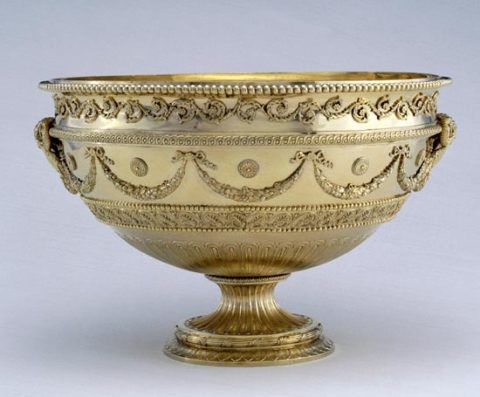 Punch was first drunk in Britain in the 1650s. This was around the same time that tea, coffee and hot chocolate became available. By the turn of the eighteenth century, it was an incredibly popular drink.
Making punch
Punch was made using a mixture of expensive imported ingredients. The alcohol content was provided by rum or brandy, to which sugar, citrus fruit, spices – usually grated nutmeg – and water were added.
The Punch Bowl
Using an elegant ladle, punch was served from large communal bowls into individual glasses (Figure 1). One of the most important punch bowls in Amgueddfa Cymru's collection is that designed by Robert Adam for Sir Watkin Williams-Wynn (Figure 2). It was commissioned to celebrate the success of Sir Watkin's horse, Fop, at the Chester Races and would have been displayed prominently on the sideboard at his fashionable London home.
Punch was often drunk at gatherings of clubs and societies, usually held in taverns, coffee houses, or special punch-houses (Figure 3). These were almost exclusively attended by men. Drinking punch seems to have been a highly sociable act that strengthened social ties. A letter published in 1736 describes this eloquently:
"…we hope nothing will ever hinder a Man drinking a Bowl of Punch with his Friend, that's one of the greatest pleasures we enjoy in the Country, after our labour.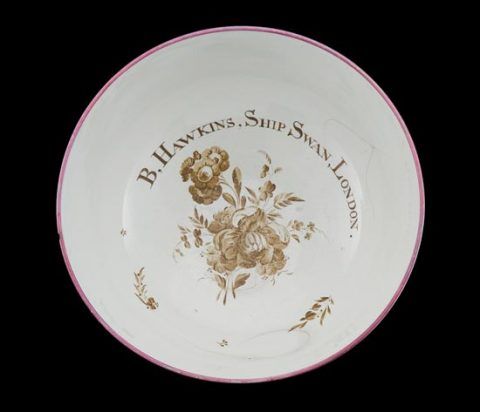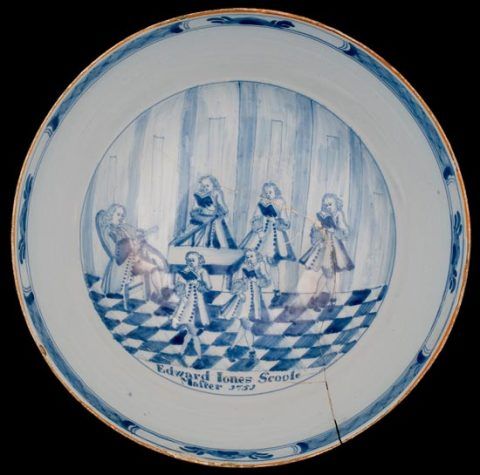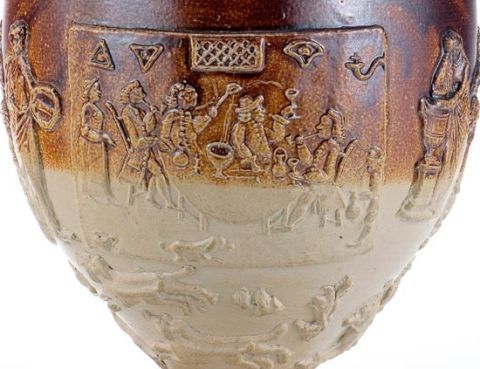 Punch bowls were made to commemorate special events; they were decorated with the names of guilds or societies, or masculine symbols such as ships. An interesting example in Amgueddfa Cymru's collection is inscribed 'Edward Jones Scoole Master 1751' (Figure 4). It has a painting of a school teacher and his pupils reading together. It is easy to imagine such a personal object being commissioned by Edward Jones, or perhaps given to him as a gift.
Raucous and uncivilised parties:
During the first half of the eighteenth century, there was widespread alarm about the dangers of alcoholism, particularly resulting from the widespread availability of cheap, home-distilled gin. Excessive punch drinking was often associated with bad behaviour.
Excessive drinking in general was often linked with moral decline, and punch parties were usually satirised by contemporary artists as raucous and uncivilised. William Hogarth's A Midnight Modern Conversation, published in 1732/33, is perhaps the best known illustration of a punch party. It was immensely popular and was soon reproduced on punch bowls and other vessels for consuming and serving alcohol (Figure 5).
Eighteenth century binge drinking
Old Bailey records often support the linking of excessive punch drinking with unsociable, even criminal behaviour. This includes stealing expensive punch bowls from public houses and people's homes and sharing a bowl of punch with a victim before swindling them.
From around the 1750s, punch also began to be served from porcelain and earthenware punch-pots. These are very similar in form and sometimes in decoration to teapots, but are much larger (Figure 6). Unlike open punch bowls, punch pots enabled the drink to be served in a controlled manner by one person – just like tea. This mediated form of serving might have been considered more civilised and refined than communal punch bowls, where people could help themselves and easily drink to excess.
Punch drinking was at its most popular during the mid-eighteenth century, but it continued to be enjoyed into the nineteenth century. A fine earthenware punch bowl was made for John Richardson by the Cambrian Pottery in 1845, the same year that he served as Mayor of Swansea (Figure 7). Interestingly, he commissioned the bowl as a birthday gift for his infant grandson and it is decorated with several Richardson coats of arms. Part of the inscription reads 'GAILY STILL OUR MOMENTS ROLL, WHILST WE QUAFF THE FLOWING BOWL'.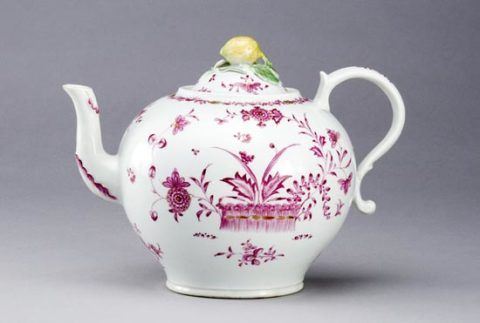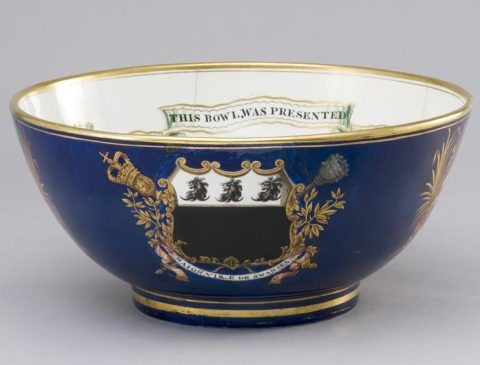 References:
Harvey, Karen. 'Barbarity in a tea-cup? Punch, domesticity and gender in the eighteenth century', Journal of Design History, 21 (3) (2008), pp. 205-21.
(unknown) 1736 A collection of all the pamphlets that were written pro and con on the British distillery, whilst the act for laying a duty upon the retailers of spirituous liquors, and for licensing the retailers thereof, was depending in Parliament. London. Eighteenth Century Collections Online. Web. 12 Jan 2010. http://galenet.galegroup.com/servlet/ECCO