Food Rationing during the Second World War
Can you imagine how you would feel today if you were told that you couldn't buy your favourite food?
Or, if you could, you could only buy a small amount that would have to last you a week and you would have to queue up for it?
This is what happened to people during the Second World War (1939 -45) when rationing was introduced in Britain.
Why was rationing introduced in Britain during the Second World War?
Adolf Hitler, Germany's dictator, tried to force an early end to the war by attacking ships carrying food and other resources heading for Britain.
He wanted to starve the nation into defeat and his weapon was a fleet of submarines or U boats which travelled across the Atlantic.
In Wales, as in other parts of the country, their planes also targeted ports and docks, as well as goods trains in industrial places such as Newport, Swansea and Cardiff.
What was Rationing in the Second World War?
Certain items, in particular food, were in very short supply and difficult to buy in people's usual shops.
People started to panic buy in a manner similar to recent times as in the petrol or Covid crisis.
So, the Government introduced rationing as a fair system to allow people to have a certain amount of food each week.
Other countries involved in the war such as America had rationing too. Some people remembered rationing as it had also taken place during the First World War (1914 -18).
When did Food Rationing start in Britain in the Second World War?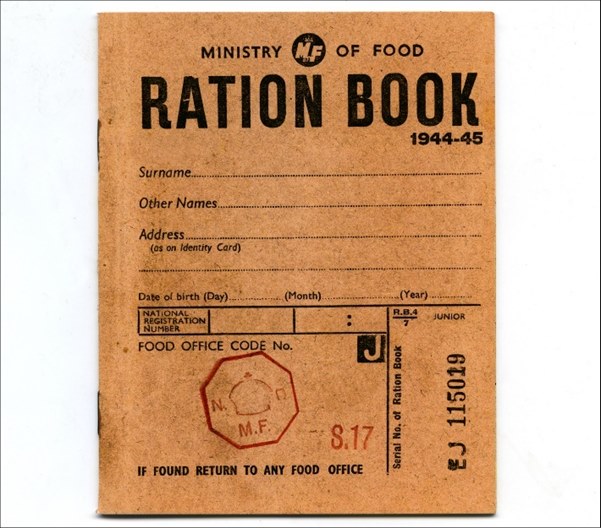 With the shortage of food during the First World War still fresh in the memory, the government introduced the food rationing scheme in January 1940.
How did the rationing system work?
Every person in the country, including children, received a ration book and each home had to register with a local butcher, grocer and milkman who had to ensure they had enough food for their customers.
The ration books contained coupons which had to be presented when items were bought. Everyone had a ration book, including members of the Royal Family.
The list of foods which were rationed grew as the war continued.
The rules were very strict and people who were caught trying to cheat were fined or sent to prison.
Often people who were poor or unemployed and undernourished in the pre-war years were much better fed in wartime because of rationing.
How did rationing affect people's lives in the Second World War?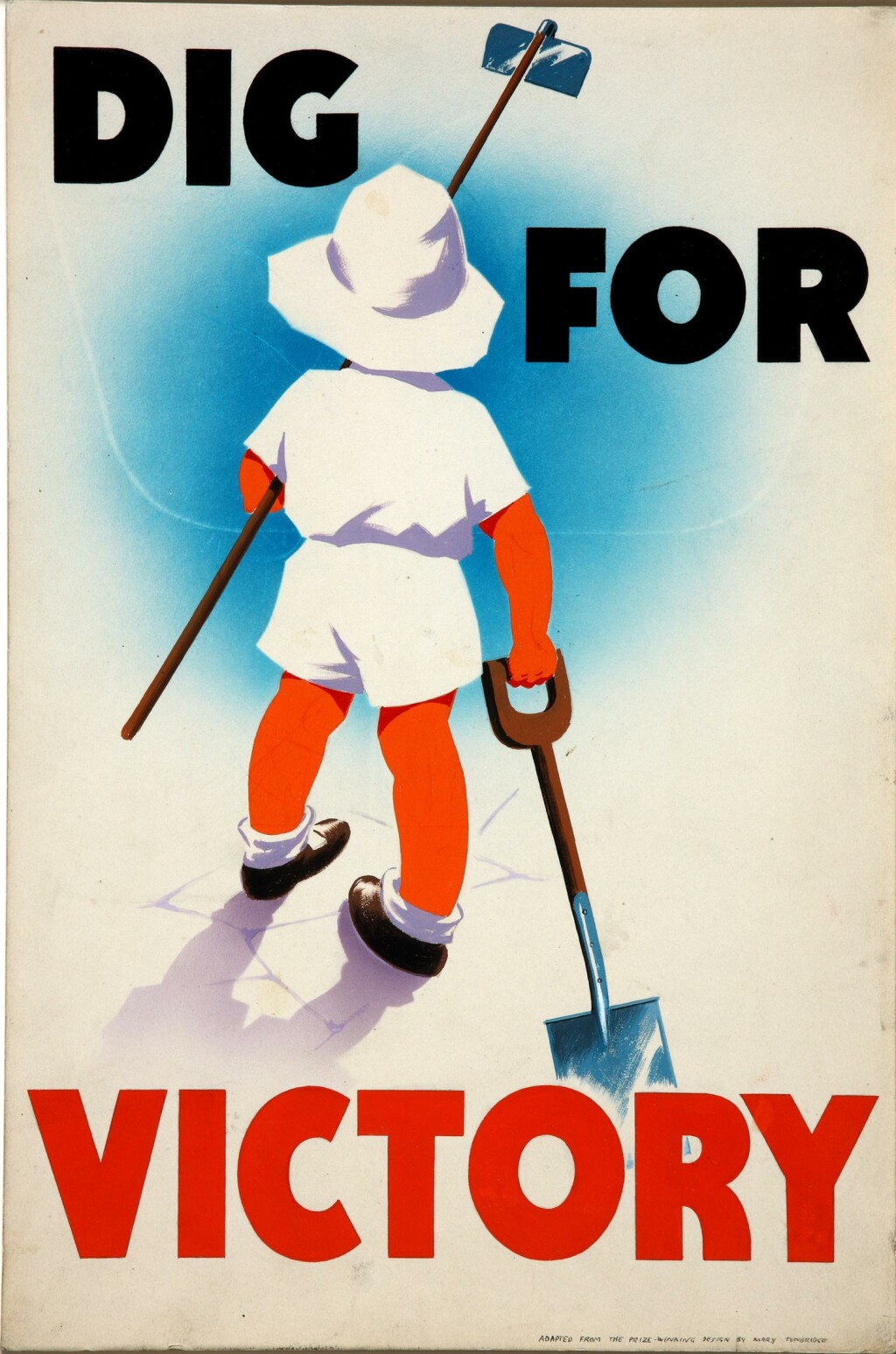 In 1939 the government began its "Dig for Victory" campaign and it issued a series of colourful posters to encourage people to grow their own fruit and vegetables.
Some of these posters can be seen in Blaenwaun Post Office and the tailor's shop at the Museum.
Surplus products were made into jam, pickles or chutney which could be eaten in the winter.
People also kept goats, chickens, rabbit and pigs. Pigs were particularly popular as they would eat virtually anything and could be fattened up quickly to be killed for their meat.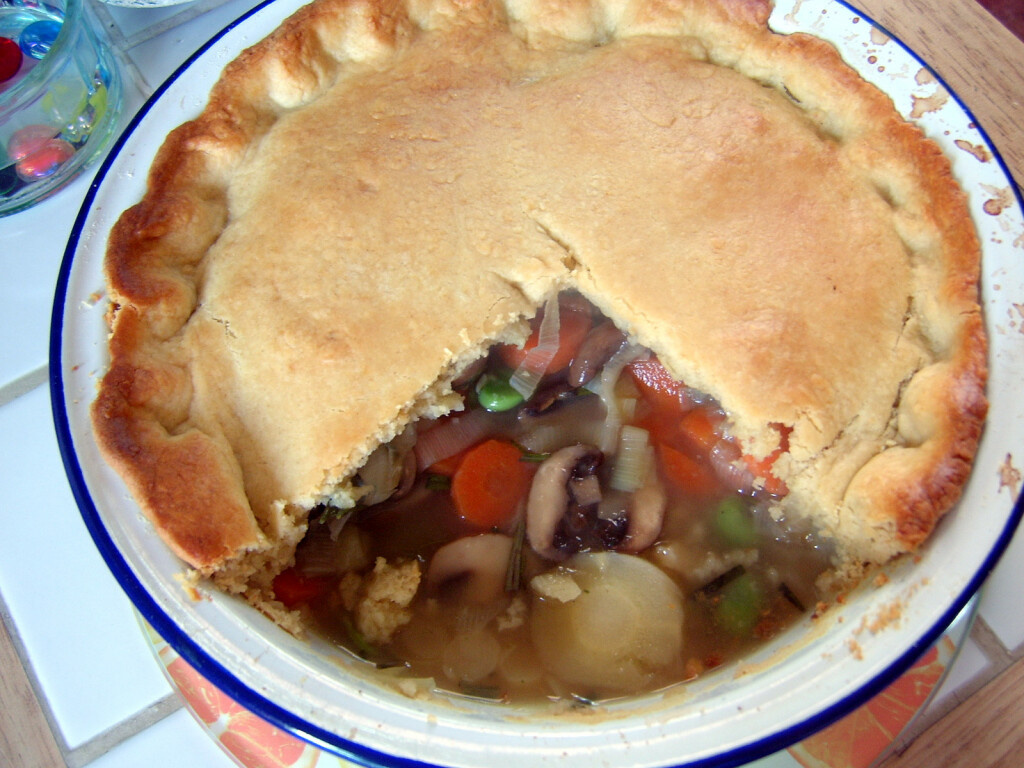 Woolton Pie was a pastry dish of vegetables and was widely served in the war.
It enabled people to use the both the vegetables they grew and those which were rationed, thus giving them a nutritious diet.
Who were Potato Pete and Doctor Carrot?
To make the campaign appealing, two characters, Potato Pete and Doctor Carrot were created to promote eating vegetables.
They appeared in most recipes in books and magazines.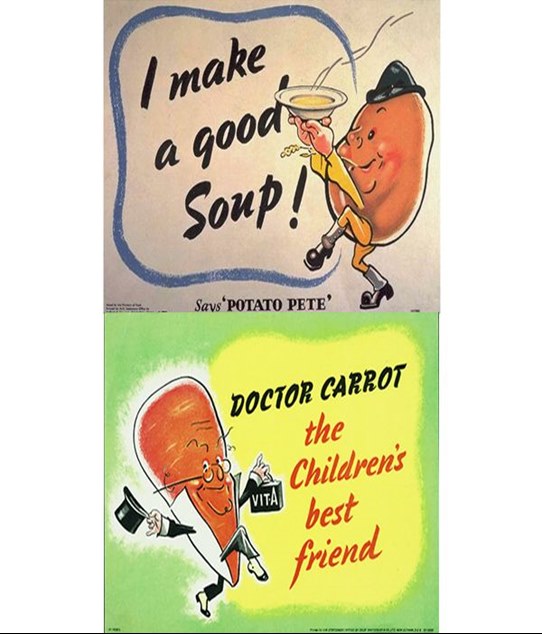 What sort of food was rationed in Britain during the Second World War?
Here is an example of a ration for one adult during the war:
Bacon and ham 4oz
Butter 2oz
Cheese 2oz
Margarine 4oz
Cooking fat 4oz
Milk 3 pints
Sugar 8oz
Jam 1lb every two months
Tea 2oz
Eggs, 1 a week, if available powdered egg packet every four weeks.
Children, because they were still growing, received extra milk, orange juice and cod liver oil.
Many non - food items were also rationed such as soap, clothing, petrol and paper.
When did rationing end after the Second World War?
In 1945 the war ended but rationing continued.
Because of poor weather conditions, bread was rationed until 1948 and potatoes were also in short supply.
Some food was not restricted at all e.g. whale meat but, not surprisingly, this never proved popular with British people!
It was only in the early 50s that some foods were no longer rationed i.e. tea in 1952, eggs, cream, sugar and sweets in 1953 cheese, and butter, cheese and cooking oil in 1954 and meat and bacon in 1954.
Here is a photo of Mrs. Barbara Donaldson from Aberdare, Mid Glamorgan.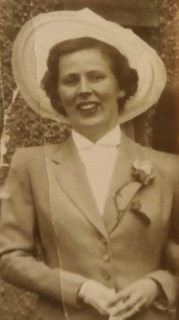 She remembered rationing quite clearly as she was 13 years old when war broke out.
The dried egg was quite tasty and had a great deal of uses, she said.
After the war, she always refused to buy margarine as she said it had an artificial taste and reminded her of the war years and "The White Cliffs of Dover" a song she was never keen on!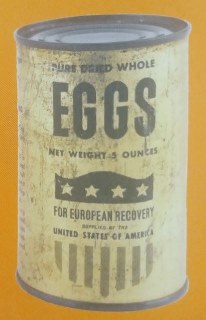 Lesser known facts about Rationing in the Second World War.
Whale meat was 'off ration', i.e. it was available for people to buy without ration books.
It was not popular with the British public as they thought it had an unpleasant smell and tasted bland even when spices were added to it.
Because bananas were imported i.e. brought from countries abroad, they were one food item which was not available at all during the Second World War.
Some fruiterers would put sign in their windows stating, "Yes, we have no bananas!" to raise people's spirits. This was inspired by a 1920s American catchy and fun song of the same name.
Other fruits which many children never saw until the war was over were oranges, lemons, pineapples and grapes all of which were also imported.