A Story on a Plate: The Ladies of Llangollen
25 August 2017

,
It's usually during LGBT History Month in February that people start producing articles and events around sexual orientation and gender identity heritage. But history should not be restricted to just one month and now as Pride Cymru takes place in Cardiff, it's a good time to consider LGBT history.
A Story on a Plate
Take for example a plate in the collections of Amgueddfa Cymru National Museum Wales, which features an image of two women on horseback set within a landscape. It is just one in thousands of blue and white transfer-printed wares so popular in the 19th century and beyond. However this picture is intriguing.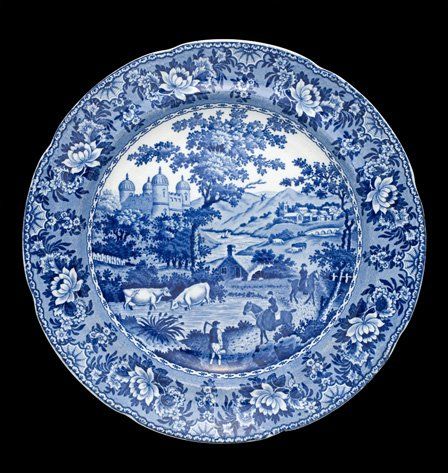 It is called "Ladies of Llangollen", inspired by the story of two women, Lady Eleanor Butler and Miss Sarah Ponsonby.
When Eleanor and Sarah developed a passion for each other in their native Ireland their families, alarmed by this same-sex attraction, tried to ban them from seeing each other. However, determined to be together, they made an escape in the dead of night but were quickly captured. Persistently Eleanor and Sarah fought for the right to be together until eventually they won and their families allowed them to leave.
They made their way to Wales and eventually set up home in a small cottage in Llangollen where they were to live together for over 50 years.
Growing Fame
Their fame quickly grew and were visited by and corresponded with all manner of people such as Shelley, Byron, Sir Walter Scott, the Duke of Wellington, Josiah Wedgwood and Caroline Lamb. Their deaths in 1829 and 1831, respectively, did not end the fascination with this couple and throughout the following centuries their fame has endured – making them probably the most famous lesbian couple in history.
During their lifetimes, the Ladies were adamant they wanted no portraits done.
However when Lady Parker visited in 1829 she got her mother to distract Eleanor and Sarah whilst she made quick sketches of their faces under the table. Eleanor was now quite blind so Lady Parker was able to sketch her full face whilst Sarah is in profile. After the couple's deaths she worked the faces up into full body poses set within their library and sold copies of the picture to raise money for charity.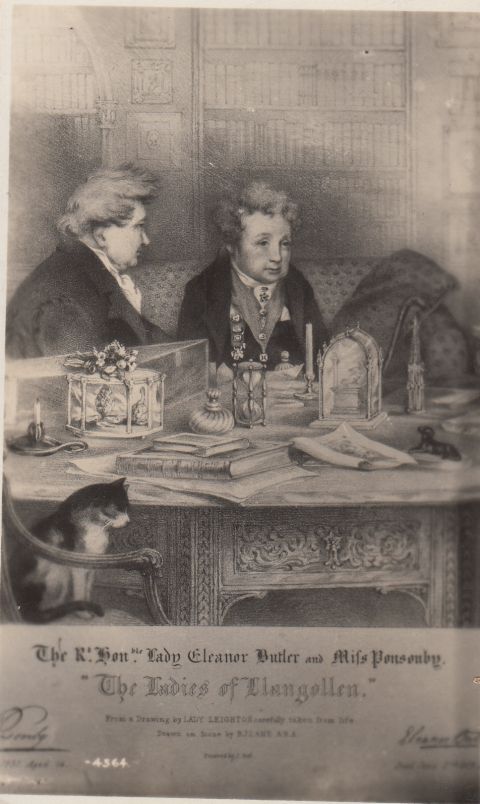 A Stolen Portrait
Around 1830 James Henry Lynch pirated the picture and produced what was to become the most enduring image of Eleanor and Sarah. It was mass produced and featured on a large range of tourist souvenirs, postcards and the covers of many books.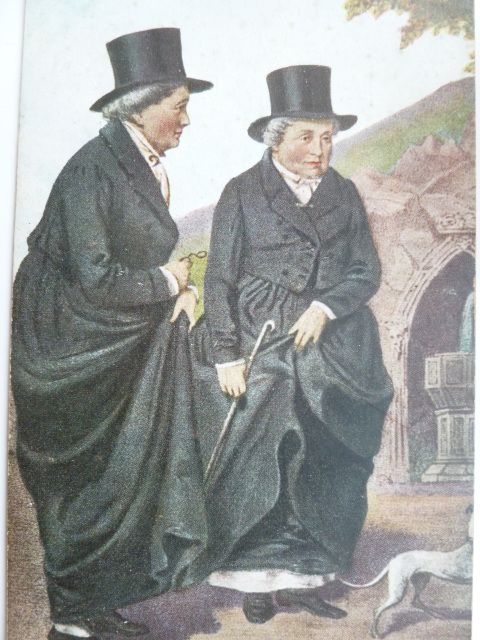 The picture Lynch produced was of the two women standing outside dressed in riding habits which both women were known to favour. And it appears at the tail end of a period of public fascination with Eleanor and Sarah's lives.
The story of the Ladies had reached a wide audience by the late 18th–early 19th century and numerous accounts of their lives were being produced. Even William Wordsworth wrote a poem in 1824 after visiting them. Therefore interest was high when the pottery designs started appearing.
Glamorgan Pottery and the History of the 'Llangollen' plate
The first design shows the women on horseback talking to a man carrying a scythe over his shoulder with some cattle, the town of Llangollen, the River Dee and a highly imaginative Castell Dinas Bran in the background.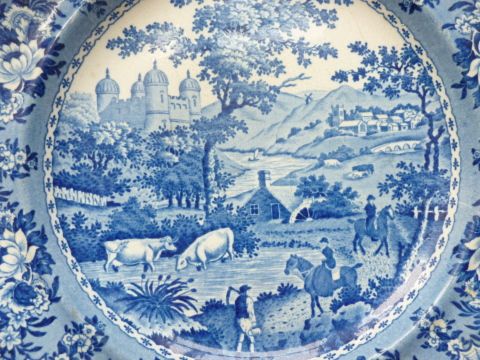 The earliest date for the design is via a base stamp 'BB&I'. This refers to Baker, Bevin and Irwin of Glamorgan Pottery and was used c. 1815–25. It went on to become one of Glamorgan Pottery's most famous pieces and means that the plate was produced during the lifetime of both Eleanor and Sarah. The two women, both avid diary keepers, made no comment so we don't know if they knew of the plates or if they approved of being fictionalised.
Glamorgan pottery was then taken over by Swansea businessman Lewis Llewelyn Dillwyn in 1838 and he continued to produce the design using the Glamorgan, Swansea and Cambrian stamps until around 1840. However, it is likely that he was already using the same design at the Cambrian Pottery from around 1825, as there was rivalry between the two potteries and they did use some of the same designs.[1]
The fascinating link here is that the most famous member of Lewis's family was Amy Dillwyn. Amy, a business woman, ran her father's spelter works after his death, was also a well-known novelist.
She too was in a same-sex relationship. It would be nice to have a flight of fancy and think that Amy, having seen the Glamorgan plate, had some influence in getting her father to produce it at the Cambrian Pottery, but there is no evidence of her involvement.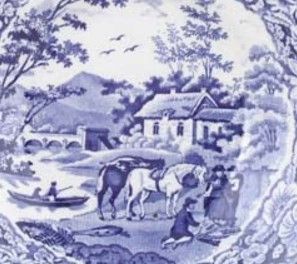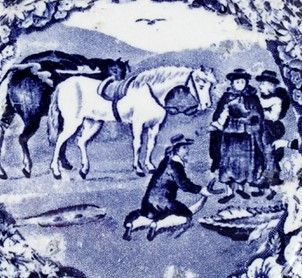 It is not clear whether it was the Glamorgan pottery design which was produced first or another by William Adams of Stoke. This design, also called Ladies of Llangollen, features the two women, again in riding habits, standing looking down at a man who appears to be showing them a large fish. Behind them stand their horses whilst in the distance there are two men in a boat, one punting along, a bridge and on the bank a rustic cottage. The mountain Cadair Berwyn is in the centre.
Adams had produced a pottery series called 'Native' in the 1820s and this design was part of that series. Not long after F. and R. Pratt of Fenton, Staffordshire, acquired the plates from Adams and reproduced the series between 1880 and 1920, renaming it 'Pratt's Native Scenery.' When Cauldon took over Pratt's in the 1920s they continued using the design up to c. the 1930s.
There continues to be enormous interest in Eleanor and Sarah – particularly when discussing how we define lesbian relationships from the past. However, despite the mass of interest these fictionalised blue and white images are hardly ever mentioned. But at least we know that Amgueddfa Cymru – National Museum Wales have this piece in their LGBT collection.
NORENA SHOPLAND
Author of Forbidden Lives: LGBT stories from Wales to be published by Seren Books, 17th October 2017
Website: http://www.rainbowdragon.org
---
[1] Thanks to Andrew Renton, Keeper of Art, Amgueddfa Cymru/National Museum Wales for clarifying this