Carmarthen 1819 and the Gorsedd of Bards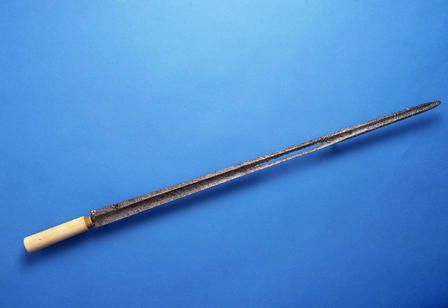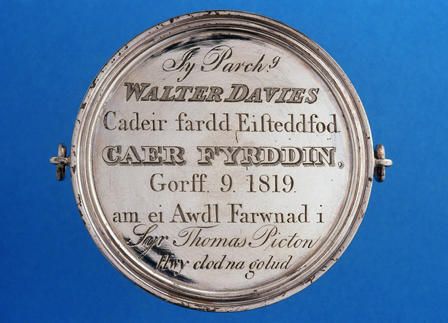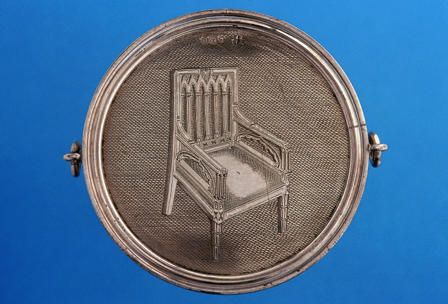 The first of these provincial eisteddfodau was held in Carmarthen, as I said, in the year 1819. And who should come to that eisteddfod every step from Merthyr, where he was staying at the time with his son, but that remarkable old gentleman, Iolo Morgannwg, creator of the Gorsedd of Bards. The Gorsedd had of course been established, and launched, in London some years previously, but it had no link at the time with the Eisteddfod. At the age of seventy, Iolo Morgannwg saw his chance in Carmarthen in 1819. He travelled all that way and there, with a pocketful of chippings as it were, he traced the Gorsedd circle on the lawn of that renowned old inn, the Ivy Bush. And there and then he began to invest bards and druids, among them the famous Bishop Thomas Burgess of St David's, a great patron of the provincial eisteddfodau. And we have here at St Fagans the sword used by Iolo Morgannwg during the druidic Gorsedd ceremonies of that year.
Meanwhile Gwallter Mechain was still competing, still winning. The medal you see here records his achievement in writing the prize-winning elegy to the great hero of Carmarthen and Waterloo, the famous Sir Thomas Picton. Picton was the focus of praise at the Carmarthen Eisteddfod of 1819 and Gwallter Mechain was the winner once again.
Listen to a video narrative in Welsh by Hywel Teifi Edwards):