Medieval and Later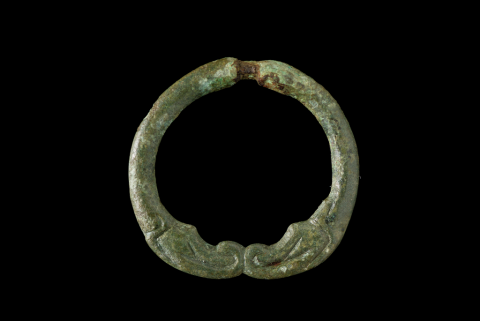 The Early Medieval collections illustrate the years from the 5th to the 11th centuries, a period which was characterised by small independent kingdoms ruled by princes. A key development in this period was the growth of Christianity, with monasteries becoming established in Wales by the 6th century. The pre-Norman bells in the collection are rare surviving examples of early medieval ecclesiastical metalwork. The custom of erecting stone memorials and monuments has resulted in a striking record which provides information on the development of language, burial practice and artistic traditions. A large number of originals and casts are in the collections. These range from early examples, inscribed in Latin and ogam, to later free-standing crosses.
The Medieval collection contains antiquities from the 11th to the 16th centuries. From the late 11th century the Normans and the English fought for two centuries to bring Wales under their control, whilst native rulers built up a power-base in the north-west. Warfare during the early period is illustrated by swords, spears and arrowheads from various Welsh castles, and for the late medieval period by an early form of handgun (hackbut) found in the sea off Bardsey Island, Gwynedd. Early in the 15th century, deprivation in Wales resulted in a national rebellion, led by Owain Glyndŵr. His seal and a gilt bronze armorial mount which bears the arms of the Princes of Gwynedd are on display.
Everyday life in medieval Wales is illustrated by a large collection of domestic secular finds from town and country ranging from wooden buckets to items of personal jewellery, such as the remarkable Oxwich gold brooch from Gower. Evidence of industry in Wales is also well represented with finds of metalworking, amongst other items. Churches and monasteries affected most areas of everyday life, and were centres of learning and artistic endeavour. Ecclesiastical objects include a processional cross and rare wooden rood effigies from Mochdre, Powys. Reference collections include seal matrices,
decorated floor tiles
and medieval ceramics.