William Goscombe John (1860-1952)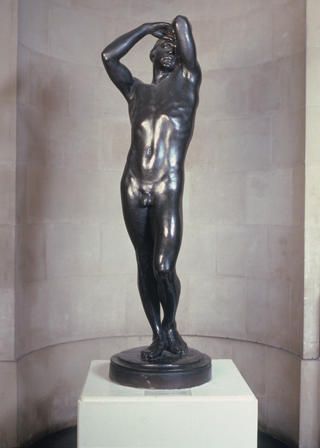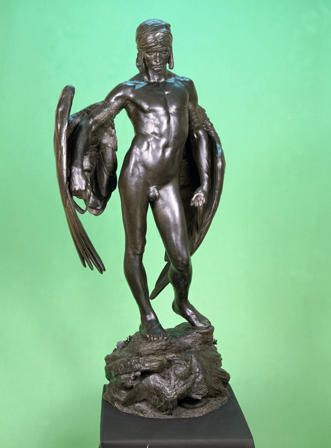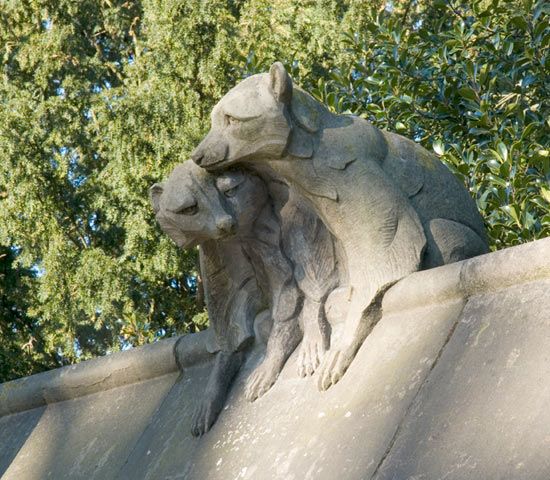 Edwardian Wales, newly wealthy from coal, iron and steel, provided rich opportunities for a sculptor. William Goscombe John's public monuments can be found all over Wales, but nowhere more than in his native Cardiff. He also modelled the prize medals still awarded by the National Eisteddfod today.
Making his way
He was born William John in Cardiff in March 1860. He assumed the name Goscombe from a Gloucestershire village near his mother's old home. His father Thomas John was a woodcarver in the workshops set up by Lord Bute for the restoration of Cardiff Castle. William joined his father at the age of 14, while also studying drawing at Cardiff School of Art.
In 1881 he went to London as a pupil assistant to Thomas Nicholls, the sculptor responsible for the Castle's Animal Wall. He continued his studies at the Kennington School of Art and, from 1884, at the Royal Academy Schools, where he was taught naturalistic modelling in clay in the French manner introduced in London in the 1870s by Jules Dalou.
He was an outstanding student, and travelled widely. He spent a year in Paris, including a period in Rodin's studio. In 1890 he returned to London and settled in St John's Wood.
His sculpture Morpheus, shown in the Paris Salon of 1892, clearly shows Rodin's influence.
The 'New Sculpture'
British sculptors of John's generation were trying to make sculpture more dynamic through the vigorously naturalistic representation of the human body. They represent the final flowering of a sculptural tradition that had its roots in the Renaissance, and was revitalised by Rodin and his contemporaries in mid nineteenth-century France. John followed the success of Morpheus with a statue of John the Baptist for Lord Bute, and by a group of life-size nudes including Boy at Play and The Elf. These show complete mastery of anatomical form.
By the end of the 1890s Goscombe John had firmly established himself, exhibiting his work both nationally and internationally. He was beginning to win big public commissions and in the years leading up to the First World War he was extremely busy.
Wales and the Empire
Although based in London, John was careful to position himself as Wales's national sculptor. In 1916 he contributed the central marble figure St David Blessing the People to a group of ten figures made for Cardiff City Hall. He also received commissions for portraits from the leading Welshmen of the day. John may have built his career on local patronage, but he attracted work from across the Empire, such as his tomb in Westminster Abbey to Conservative Prime Minister Lord Salisbury, and his equestrian statue of King Edward VII in Capetown.
His first major public sculpture was the King's Regiment memorial (1905) in the centre of Liverpool, incorporating soldiers from the regiment's history, including the vast Drummer Boy, which is his best-known work.
The Welsh and the Imperial came together in the commission for the regalia for the investiture of the future Edward VIII as Prince of Wales at Caernarfon Castle in 1911. John designed a crown, a ring, a sceptre and a sword that contained a 'Welsh' iconography of dragons, daffodils and Celtic interlace.
John had little sympathy with what he termed the 'Easter Island' style of modern sculpture, with its emphasis on direct carving in stone. Critical opinion was already beginning to leave him behind by 1914, but the First World War tragically brought new commissions for memorials, including many in Wales.
Goscombe John and the National Museum
Goscombe John was one of the founding fathers of Amgueddfa Cymru. He served on the governing Council for over forty years, and played a major role in establishing the future direction of the art collection. As well as a complete representation of his own work, his gifts to the Museum included work by many of his fellows in the New Sculpture movement, among them the primary cast of Alfred Gilbert's Icarus, and by many other artists he admired.