Stunning gold relic unearthed in Gwynedd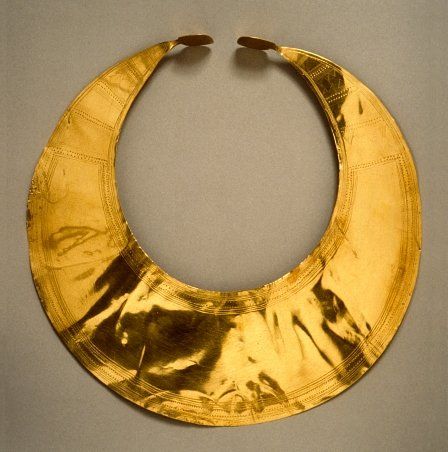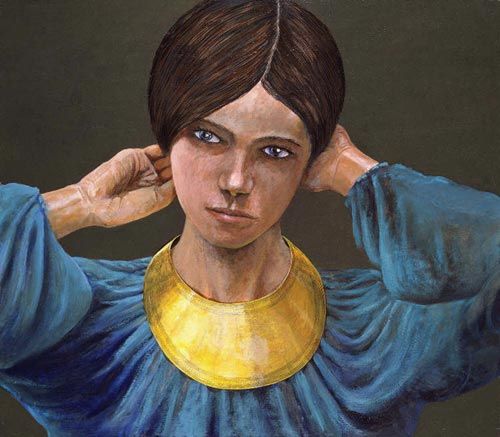 This stunning decorated object is one of the earliest gold artefacts to have been found in Wales and dates to the beginning of the Bronze Age (2400-2000BC).
Yellow leaf sticking from the ground
It was found a few miles from Llanllyfni (Gwynedd) on Llecheiddior-uchaf Farm near Dolbenmaen in about 1869. A farmer noticed what he took to be a yellow laurel leaf sticking out of some peat. Later, unsatisfied with this explanation, he returned to the site and uncovered the crescent-shaped object of gold.
The Llanllyfni lunula
Known as a 'lunula' after its crescent-shape (luna = moon in Latin), objects like this have been found in Scotland, Cornwall, and north-west France, with as many as 90 being discovered in Ireland.
Lunula are generally found in isolated locations, away from ancient settlements and, like the Llanllyfni example, they have often been discovered by chance.
It has been argued that they were intended to be worn around the neck as breast plates, although the lack of wear on the gold suggests that they were only rarely used - possibly they were the symbol of a priest or were used in the rituals of a community.
The gold in the Llanllyfni lunula may come from a Welsh source, for example the Dolgellau gold belt, or north-west of Llandovery, but as so many have been discovered in Ireland, the suspicion is that it was traded as a raw material across the Irish Sea.
Background Reading
'Bronze Age gold in Britain' by J. P. Northover. In Prehistoric gold in Europe by G. Morteani and J. P. Northover. Published by Kluwer (1993).
Bronze Age goldwork of the British Isles by J. J. Taylor. Cambridge University Press (1980).
'Objects mostly of prehistoric date discovered near Beddgelert and near Brynkir station' by W. J. Hemp. In Proceedings of the Society of Antiquaries of London, 2nd series, vol. 1, p166-83 (1918).