Two grand portraits by Joshua Reynolds
The two wives of Sir Watkin Williams-Wynn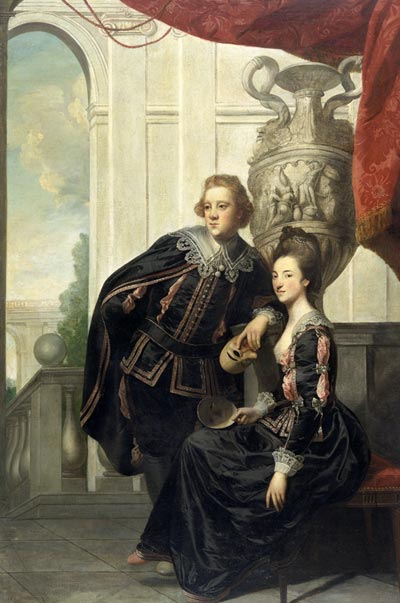 Sir Joshua Reynolds (1723-1792) is a major figure in British art. One of his most enthusiastic patrons was the wealthy Welsh landowner Sir Watkin Williams-Wynn (1749-1789). By the late 1760s Sir Watkin's income allowed him to spend massively on building projects and works of art.
In 1769 Sir Watkin married Lady Henrietta Somerset, a daughter of the 4th Duke of Beaufort. It was a short marriage, as Henrietta died three months later. Her mother-in-law's wedding gift to Henrietta was a magnificent silver-gilt toilet service made by Thomas Heming in 1768.
Sir Watkin Williams-Wynn and Henrietta Somerset
Reynold's first portrait for Sir Watkin, Sir Watkin Williams-Wynn and Henrietta Somerset, shows the young couple life-size in matching black and pink costume. They hold theatrical masks in a curtained architectural setting, beside a massive vase.
The vase is of a type that appears in a number of Reynolds' portraits. It is copied from a 17th century engraving by G.B. Galestruzzi after Polidoro da Caravaggio.
The sitters are wearing costume associated with the portrait painter Anthony Van Dyck, which was fashionable from the 1740s to the 1770s. Black Van Dyck costume was unusual for women, and it would have been unusual for a couple to wear colour co-ordinated clothes, except for a masquerade.
Henrietta is shown in an attitude common in Reynolds' portraits of women, taken from his master Thomas Hudson. Sir Watkin is shown with a melancholy expression, in a pose in keeping with his short, stout build.
The picture was presumably begun as a marriage portrait, although the black costume suggests that it was completed as a memorial portrait.
Charlotte Grenville with her children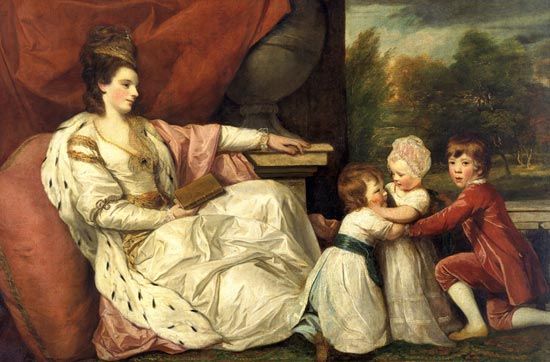 The second portrait, Charlotte Grenville and her children, shows Sir Watkin's second wife. Charlotte Grenville (1754-1830) was a member of one of the great governing families of 18th century Britain. She was the eldest daughter of George Grenville (1712-1770) who was Prime Minister in 1763-5. They married in 1771, two years after Henrietta's death.
The painting shows her accompanied by her three eldest children. Their apparent age suggests that this portrait was painted around 1778.
This composition recalls early 16th century Venetian paintings of the Rest on the Flight with St John the Baptist. The children's position in the picture echoes the group at the right of Titian's Vendramin Family (National Gallery), which Reynolds knew well. Lady Charlotte's costume is in the Turkish fashion and her pose derives from the pastel portraits Ladies in Turkish dress by Jean-Etienne Liotard. Charlotte Grenville and her children is one of Reynolds' most sumptuous portraits of the 1770s, when he was at the height of his powers.
Both portraits probably cost Sir Watkins around £315 each. Painted in the Grand Manner, they express the qualities Reynolds admired most in High Renaissance art. They also demonstrate the cultural ambitions of Sir Watkin Williams-Wynn and his wives.
For over two centuries, the portraits remained with the Williams-Wynn family, before being purchased by the Museum in 1998. The Museum holds a spectacular group of works from Sir Watkin's collection, including major paintings by Batoni and Mengs, and silver and furniture designed by Robert Adam.