ARTIST'S PROJECT: Celebrating 10 Years of Volunteering
20 June 2019

,
A few months ago, I was given the opportunity of a lifetime. I was invited to work at Amgueddfa Cymru as an artist in residence and asked to organise a project to celebrate 10 years of the volunteer programme. The project has consisted of a series of creative workshops with volunteers at sites across the country, which have fed into the creation of a celebratory artwork.
My name's Robin Bonar-Law, I'm a self-taught artist and graphic design graduate of Falmouth University. From the time of my graduation up until my residency, I have been working in the catering industry so my artistic outlet has been primarily restricted to latte art. The creative industries are incredibly competitive and coming from a low-income family I have often felt stifled by a lack of social mobility. I take portrait commissions and enter competitions when I can but over the coming years, I would like to make the rewarding leap into self-employment by becoming a freelance mural artist.
Early this year I applied to an artist opportunity based at St Fagan's. After a thoroughly exciting interview process, I was asked to join the team and given an open brief, 'Create an artwork that is inspired by the volunteers and showcases the amazing contribution they have given to the museum. The process should also include a series of creative workshops with volunteers.' With over 900 volunteers this year alone this was no small task, nonetheless, overflowing with unbounded enthusiasm and a sense of freedom (from the coffee shop) I got to work planning.
The project is split into two main components; the workshops and the final artwork. I love drawing and wanted to run a series of 'mark-making' workshops that help re-introduce the volunteers to the idea of drawing as something that's fun and relaxing. By normalising and simplifying drawing through a series of games and activities, I hoped to make it less daunting and something relaxing that they may enjoy doing brief moments of spare time.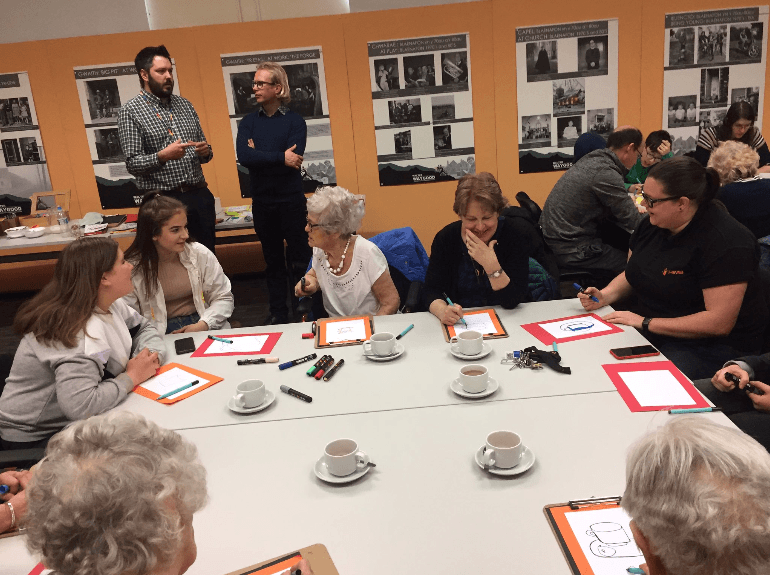 As well as allowing me to teach the volunteers new drawing techniques the workshops served as a time for the volunteers to teach me about their roles and experiences at the museum. From the beginning of the project, I have wanted to create an authentic artwork that represents the true collaborative spirit of the volunteer workforce and the best way to do that is to meet them and get their personal input. Visiting the sites and talking to members of staff was another valuable resource.
I have met such a large number of enthusiastic and happy volunteers, they are all equally passionate and have truly enriched my experience. The workshops have been far more rewarding than I could ever have expected, I hope the volunteers enjoyed them as much as I did.
My favourite part of any project like this is the final, hands-on crafting of a design, but there's no point rushing into it without a strong design process as a foundation. Alongside the workshops, I started amassing a large pool of research to help shape the direction of the artwork. I gathered inspiration from celebratory imagery such as friendly society banners, religious artworks, Flags, political/social murals etc. I also furthered my knowledge of Welsh craft and traditions by meeting with curators, visiting volunteers outside of workshops and making use of the information on display to the public. I wanted to create a final piece with mulitple layers of complexity; representing the wildly diverse range of roles, having that celebratory feel and being reminiscent of the traditional craft that imbues each site.
I am in the final stages of the design process and putting the finishing touches to my artwork. Once complete, the modular, hanging banner inspired artwork will be transformed into a majestic, megalithic and meaningful mural adorning the walls of Tŷ Gwyrdd (the new volunteer hub) and made into a digital print for each of the 7 museums around Wales. It will also be made into tote bags and given to each of the volunteers. From the very beginning, I have wanted to create a purposeful artwork that rejuvenates and enriches the volunteer spaces, fostering an environment that helps individuals find a sense of well-being, pride and identity. I can't wait to show you all the finished product.
I am incredibly grateful for the museum and all the staff that have given me this once-in-a-lifetime opportunity.
---
Robin's placement was funded by the Hands on Heritage youth project at Amgueddfa Cymru, which is supported through the National Lottery Heritage Funds 'Kick the Dust'