What do a firework and a painting from a medieval church have in common?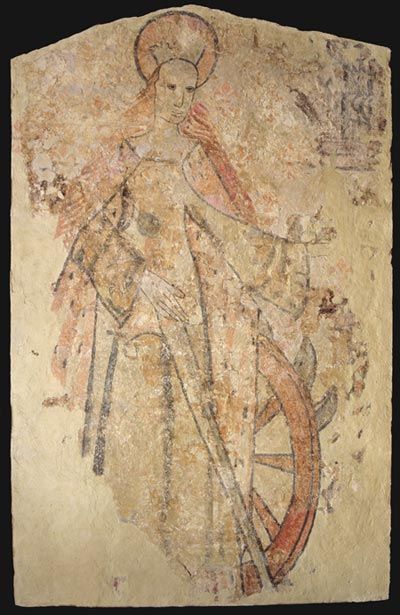 In 1998 St Fagans National History Museum began the challenging work of rebuilding and refurbishing a stone-built medieval church that had been moved from its original site in west Wales in 1984 — one of the first projects of its kind to be attempted in Europe. During the dismantling process, a number of extremely rare wall paintings were uncovered from beneath the limewashed walls.
St Catherine
One of the oldest paintings uncovered at the church dates from around 1400-1430 and represents St Catherine of Alexandria. It had remained hidden for centuries under layers of limewash, which had to be removed using doctors' scalpels.
Once the complete image had been painstakingly uncovered and the many thin layers of limewash delicately removed, St Catherine was revealed dressed in late fourteenth/early fifteenth-century costume, standing next to a spiked wheel and holding a sword.
Torture wheel and sword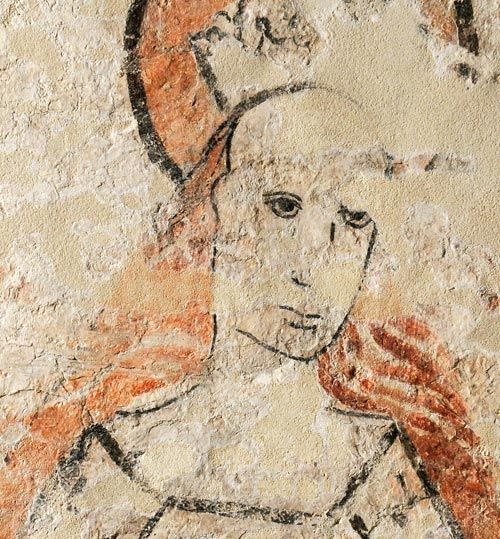 The spiked wheel she is pictured next to is the instrument of torture that Catherine was condemned to death on by the Roman Emperor Maxentius [306-312] for her strong Christian beliefs. According to legend, the wheel itself broke when she touched it, so she was beheaded with the sword she is seen holding.
The torturous wheel that St Catherine is associated with gave rise to the name 'Catherine wheel' for the popular firework.
The re-erected church can be seen at St Fagans National History Museum. The wall paintings have been faithfully and expertly reproduced to show how the church would have appeared in about 1530. The St Catherine painting is not represented in the re-erected building, as it would have been covered over by this time.
The original wall painting of St Catherine is currently stored at the museum and can be viewed upon request in advance.