Discoveries from underneath a medieval church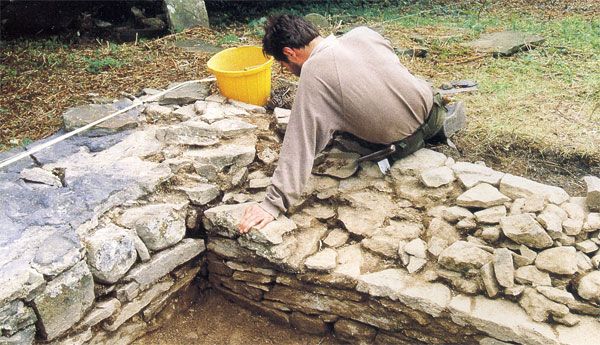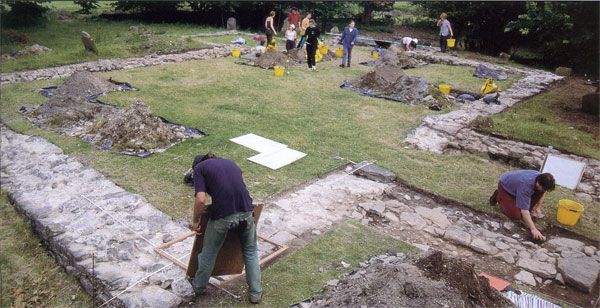 Following the dismantling of St Teilos Church at Pontardulais, west Glamorgan, and its removal to St Fagans, excavations on the foundations uncovered further clues to the history of this medieval church.
The dismantling and re-erection of the church made it possible to investigate the foundations of the church in a way that would be impossible otherwise. A detailed understanding of the building is essential in any investigation of a church's development. For churches still in use, only fleeting glimpses of the hidden fabric may be provided as opportunities arise. In the case of the dismantled St Teilo's church, it was possible to produce an accurate, stone-by-stone plan.
Before excavation began, a geophysical survey of the area, using ground- penetrating radar, revealed evidence of numerous burials, and within the church itself a number of areas were identified that could have been related to structural activity.
After excavating and surveying was done, details of the construction from the 12th or 13th century onwards were revealed. The present church probably dates from the 15th century. Before excavation, it was thought that the last addition was a small chapel on the north side of the chancel.
The earliest recognisable phase of the building appears to be a small rectangular nave and chancel. To this was added a north and south transept, probably during the 14th or early 15th century (though not necessarily at the same time).
Important churches in Wales during the later Middle Ages often had a cruciform plan. A south aisle was probably added in the late 15th century to provide for an expanding congregation, and finally a porch was added to the south side of the aisle. A buried grave-slab was found, at the junction of the chancel and north transept, to Mary Bevans of Killa, who died in 1717 aged 64. A section of rubble on the south side of the church, which appears to have been out-of-use by the time the porch was constructed, may have been the base for a churchyard cross.
The excavation has significantly altered the understanding of the development of the church.
The 12th century witnessed an explosion in church building, and much of what remains of the early stone phase of St Teilo's probably dates from about this period.
Although the church can be matched with 'Lan Teliav Talypont', one of four places in Glamorgan called after St Teilo that are mentioned in the 12th century Liber Landavensis (The Book of Llandaff), no carved stones or evidence for a earlier timber construction have been discovered.