National Waterfront Museum, Swansea named as one of country's best green spaces
14 October 2020

,
Keep Wales Tidy has unveiled this year's Green Flag Award winners – the international mark of a quality park or green space.
The National Waterfront, Swansea has achieved the prestigious Green Flag Community Award in recognition of its dedicated volunteer involvement, high environmental standards and commitment to delivering great quality green space.
The Green Flag Community Award is designed to help promote quality green spaces that are accessible to all. They are a great way to highlight the work that the fabulous volunteers have done, and to show that we are using the museums garden to grow produce that is donated to groups in need across the city.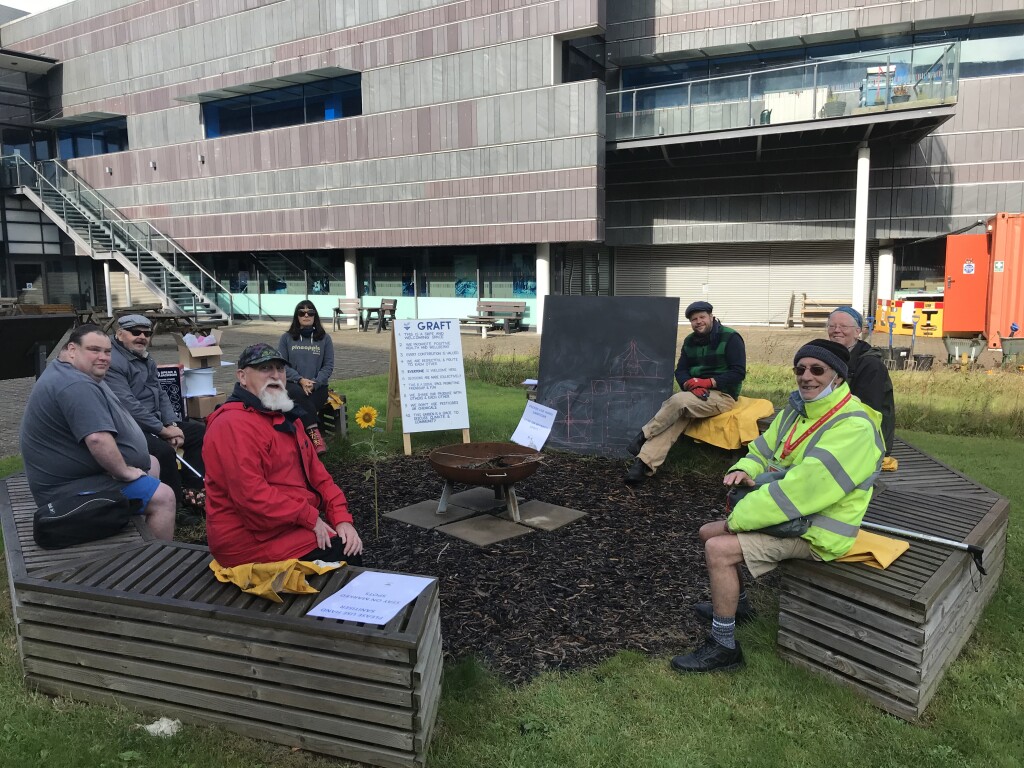 In 2018, the National Waterfront Museum transformed the Museum's once industrial courtyard into a beautiful, sustainable, organic growing environment; creating an edible landscape to encourage participation and conversation around land use, food and sustainability in an accessible and empowering way. It was created and continues to be managed by GRAFT, the Museum's land and educational project, and it forms a permanent piece of green infrastructure within Swansea City Centre. The project is also a socially engaged work of art by artist Owen Griffiths, and was originally commissioned as part of Now the Hero / Nawr Yr Arwr in 2018 funded by 1418NOW as part of a huge UK wide cultural project commemorating the first World War. Today, GRAFT works with community groups from a wide range of backgrounds across the city, who came together, to garden, grow, share food and conviviality.
Speaking on behalf of the Waterfront Museum's GRAFT team, Senior Learning, Participation and Interpretation Officer, Zoe Gealy said: "The GRAFT team at The National Waterfront Museum are delighted to have received this Green Flag, it really highlights the fabulous work our amazing volunteers have put in since we started in 2018 and is such a great accolade during a particularly challenging year for us all. We look forward to many more years of growing and developing our green space and will continue to create learning and volunteering opportunities, as well as donating produce to the fantastic charities across the city who are providing services for those in need".
The National Waterfront Museum is one of a family of seven museums and collections centres under the banner of Amgueddfa Cymru - National Museum of Wales, which offers free entry thanks to the support of the Welsh Government. Together, they house the nation's art, history, heritage and science collections, which will continue to grow so that they can be used and enjoyed by present and future generations.
127 community managed green spaces across the country have met the high standards needed to receive the Green Flag Community Award. This means that Wales still holds a third of the UK's community Green Flag sites.
The Green Flag Award programme is delivered in Wales by environmental charity Keep Wales Tidy, with support from Welsh Government. Independent green space experts volunteered their time in early autumn to judge applicant sites against eight strict criteria, including biodiversity, cleanliness, environmental management, and community involvement.
Lucy Prisk, Green Flag Coordinator at Keep Wales Tidy said: "The pandemic has shown just how important high-quality parks and green spaces are to our communities. For many of us, they have been a haven on our doorstep, benefitting our health and well-being. The success of National Waterfront Museum in achieving the Green Flag Community Award is a testament to the volunteers who have maintained excellent standards under the most challenging circumstances this year. I'd like to congratulate and thank them all for their outstanding commitment."
A full list of award winners can be found on the Keep Wales Tidy website www.keepwalestidy.cymru/greenflag