Talking through windows: interviewing refugees in a pandemic
9 June 2021

,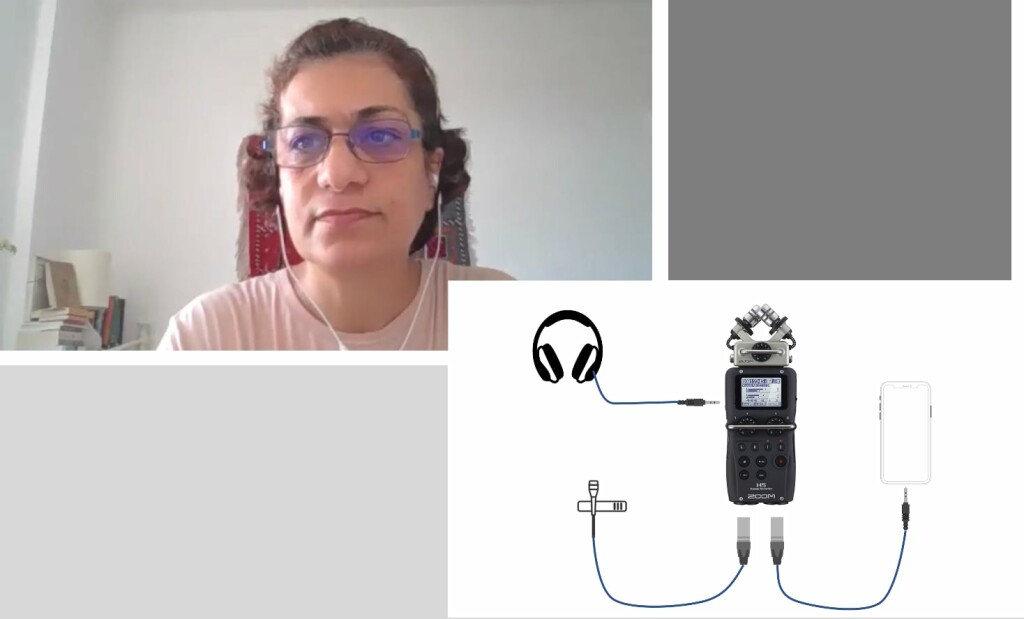 لو كنتُ في سجن حقيقي.. وكان هناك خمسون سجين سيكون عندي مالايقل عن خمسة أصدقاء… ولكن أنظري الى حالتي هنا… لايوجد أحد حولي…

If I was in a real prison… say there are fifty prisoners in one room, you would at least make friends with five of them… But here, look at my situation. There is no one around.
Salih, Cardiff, 2020
---
Towards the end of 2019, I began working as a Research Associate at the AHRC funded project "Refugee Wales: The Aftermath of Violence". The project is a partnership between Cardiff University and Amgueddfa Cymru-National Museum Wales. Its aim is to record the stories of refugees in Wales, inform Welsh government of what we've learnt from them, and archive them as part of the national collections. My role is to record interviews with Syrian refugees who have settled in Wales since 2011.
I am an Arabic-speaking Iraqi and new to Wales myself, so my first challenge was finding willing participants from the Syrian community. Once I had been introduced via a gatekeeper, I started meeting potential participants to gain their trust and confidence and to explain the project further. Establishing a relationship of trust with people whose lives have been in turmoil is not straightforward. My days were ebbing and flowing between positive and negative responses, encouraging and disappointing reactions, scheduling and rescheduling of appointments, rejections and last-minute cancellations. I succeeded in completing my first interviews in February 2020 and had others planned. Then came the COVID-19 lockdown on 23rd March.
When it became obvious that this situation would last some time, we decided reluctantly to experiment with remote interviewing. One of our team, Beth Thomas, is an OHS trainer who advised us, after discussion with her colleagues, on the options available. Our choice of method was decided on the following principle: that it should be as simple and secure as possible for the interviewees. We used a mobile phone connected to one channel of a Zoom H5 recorder, with the other channel recording the interviewer via a clip-on mike.
It seemed straightforward. Nevertheless, I struggled with the number of wired connections. I experimented with family and friends. I wondered what kind of interview it would be if I was unable to see my participants. I also wondered how my interviewees would feel about not seeing me. How could I expect the participants to be at ease telling their life stories to someone they are unable to see?
The other option was to connect the Zoom H5 in the same way to the audio output of a computer, to record the audio only of a Zoom video interview. This made more sense to me as it would enable me and the interviewees to see one another. However, most of my participants were unhappy with this option because they either didn't have a computer, had no access to Zoom, or they had problems with WiFi.
It quickly became clear that almost all my participants were happier using WhatsApp on their smartphones, as this was how they normally connected with their families overseas. WhatsApp allowed us to conduct video interviews while recording audio locally on the Zoom H5, using the same setup as before. The only drawback was bandwidth and WiFi reception. I had some remote WhatsApp interviews which went well, with reasonable sound quality, and a disastrous one because I was unaware of how bad the WiFi was at the interviewee's end. Other challenges ranged from dealing with the noise of children at the interviewee's house, street noise, postmen and deliveries at my door or their door, my next-door neighbour's loud music and my smoke alarm going off whenever my daughter burnt her eggs!
In some ways, the pandemic strangely helped strengthen my relationship with interviewees. I have even developed strong bonds with some of my participants which transcended social distancing rules and highlighted our common vulnerability as human beings. They were more than mere research subjects but persons who need to be listened to and be supported in a very difficult stage of their resettlement. However, that involvement occasionally made it difficult to draw the line between supporting others and protecting yourself.
Salih was introduced to me as a Syrian refugee who met my requirements for project participants. All I knew about Salih was that he was a Syrian-Kurd who was resettled in Cardiff a few months before the first lockdown. I introduced myself over the phone and asked if he was interested in an initial remote meeting. Salih interrupted me saying: "I wish you could visit me and my wife in our house. I am in a wheelchair and my wife has some health problems. We only have one person who comes to check on us and brings us groceries… When our Home Office Caseworker comes for a visit, he talks to us through the living room window, hands us documents to sign, asks a couple of questions and leaves… We barely talk to people." He became very emotional and asked me to help him reunite with the rest of his family who had been relocated in Germany. I explained to Salih that I was a researcher with no hand in policy making. Despite this, he was determined to be part of the project and have his voice heard.
The phone call upset me. My inability to improve his situation made me ashamed of asking someone like Salih, who was painfully lonely, to narrate his personal story of suffering and survival remotely. Next morning, I called Salih and asked if he and his wife were happy for me to visit them wearing a facemask and maintaining social distance. We agreed to meet the following day.
After taking all the necessary precautions; wipes, a facemask, Covid-19 declaration forms etc. I went to Salih's house. Salih opened the door while leaning on his walking frames. He greeted me in his Arabic-Kurdish accent and led me into a dark first -floor flat, with one small window being their opening to the outside world. Salih's wife sat on a small mattress on the floor. She had hardly any Arabic but could understand some of what I was saying as I saw her nodding at times. She made us a tasty Syrian coffee and uttered few words in Kurdish which Salih translated to me as: "I am so pleased to have a guest for whom I can offer coffee again as I used to!"
It was a short, emotional and tiring interview. I have kept in touch with them and have promised to revisit once lockdown is lifted. But I feel heavily burdened with helplessness, sorrow, and anger at their situation.
We are talking through virtual windows, barely touching the lives of those beyond the pane.