National Sporting Heritage Day
30 September 2021

,
The 30th of September is National Sporting Heritage Day, an opportunity to celebrate sporting heritage and use the stories it holds to educate and inspire.
This year, Amgueddfa Cymru – National Museum Wales in partnership with the Welsh Sports Hall of Fame has celebrated Wales' sporting heritage with a new exhibition, Wales is...Olympics. The exhibition features iconic objects from Wales' top Olympians and Paralympians and opened in July 2021 to mark the 2020 Tokyo Summer Olympics.
The exhibition explores the stories of some of Wales' greatest sportspeople, including Paulo Radmilovic, Wales' most successful Olympian, Irene Steer, the first Welsh woman to win a gold medal, and Lynn Davies who won gold in the long jump at the 1964 Tokyo Olympics.
To celebrate National Sporting Heritage Day, here's a taster of some of the highlights of the exhibition:
Irene Steer's swimming costume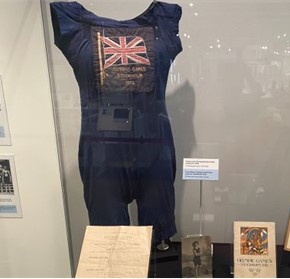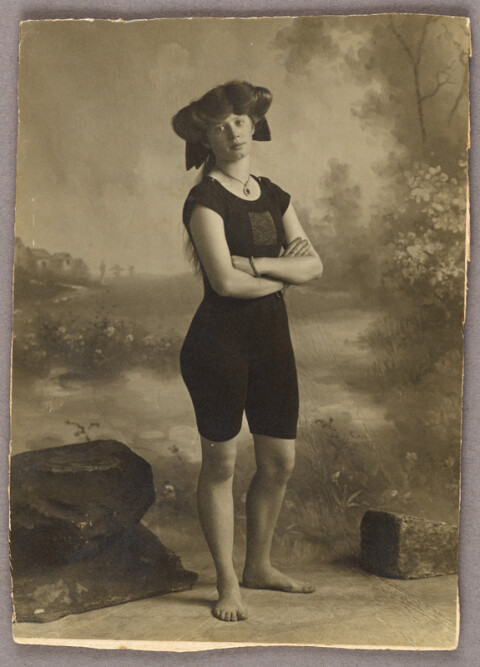 This is Irene Steer's swimming outfit from the 1912 Olympic Games in Stockholm.
The daughter of working-class parents, Steer's competitive swimming career began in her hometown of Cardiff, in Roath Park Lake. She struck gold in Stockholm in 1912 as the anchor leg swimmer in the world record breaking British 4x100 yards freestyle relay team.
The 19212 women's relay team wore racing suits similar to those worn in previous Olympic competitions by the male swimmers. The suit is made of silk, which meant once wet, the swimsuits became see-through, so female athletes would often wear underwear underneath their swimwear. The swimsuits were clearly designed for competition rather than protecting the modesty of the women.
At the Tokyo Games this year, Welsh swimming had its first gold medal in the pool since Irene Steer in 1912, with Matt Richards and Calum Jarvis winning gold medals with a magnificent victory in the 4x200m freestyle relay.
Olympic Games badge, worn by Paulo Radmilovic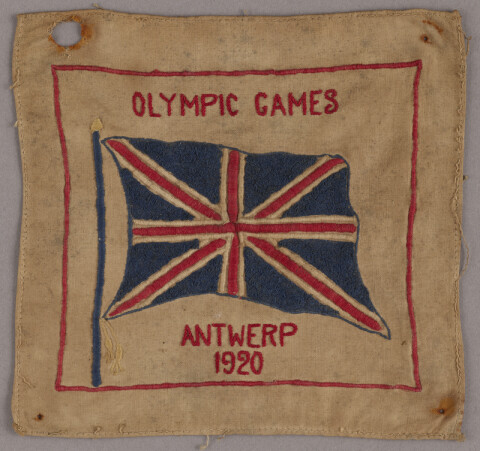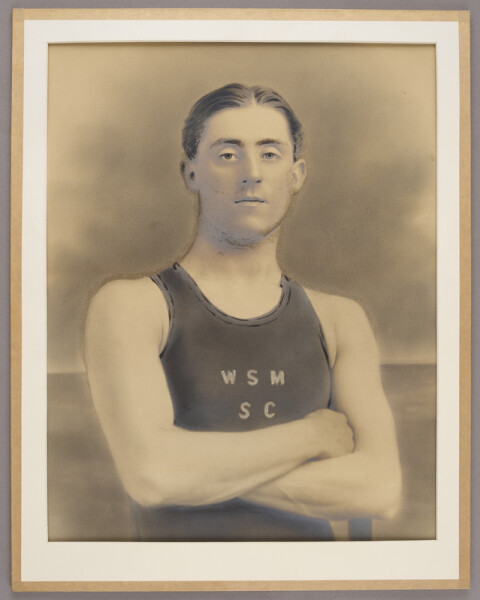 This is the badge worn by swimmer and water polo player, Paulo Radmilovic on his swimsuit whilst competing at the 1920 Antwerp Olympic Games. His finest moment came at these games, when he scored the gold winning goal against Belgium, three minutes from time.
Paulo was born in Tiger Bay, Cardiff, his father was a Croatian who moved to Wales in the 1860s and his mother was born in Wales to Irish parents. He remains Wales' greatest ever Olympian, with four golds from six Olympic appearances. For 80 years he was also Britain's most successful until rower Sir Steve Redgrave won a fifth gold medal at the 2000 Games in Sydney.
Lynn Davies' Olympic gold medal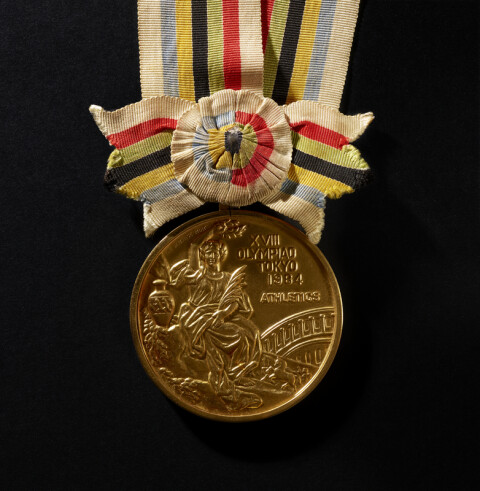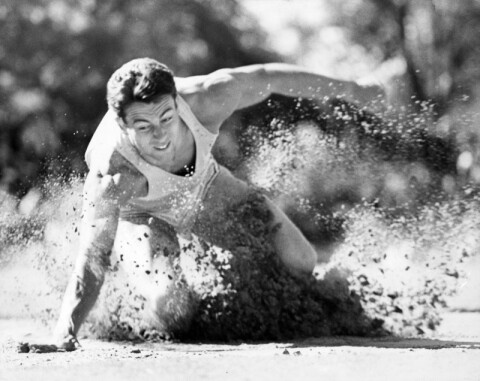 On display, is Lynn 'The Leap' Davies' gold medal, which he won in the long jump at the 1964 Tokyo Olympics. This was probably one of Wales' most memorable sporting moments. He was not expected to reach the final, let alone win the title. But the wet and windy conditions, favoured the Welshman better than the defending champion, Ralph Boston. Davies won with a jump of 8.07m, becoming the only Welshman to win an individual athletics Olympic gold medal.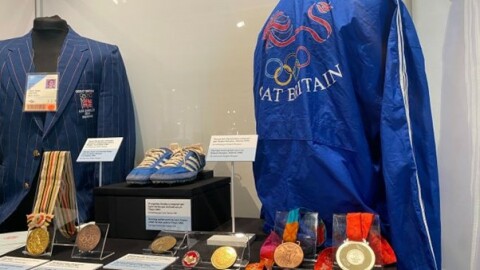 Other notable objects in the exhibition include one of Richard Meade's equestrian gold medals, the silver and bronze medal won by swimmer David Davies, diver Robert Morgan's Olympic team jacket, and participation medals awarded to Paralympians, John Gronow and David Winters.
Welsh athletes have a long tradition of success at the Olympic and Paralympic Games, and this year was no exception. The Welsh athletes in Tokyo this summer won 22 medals - eight at the Olympics and 14 at the Paralympics. History was made when Ystrad Mynach's Lauren Price became Wales' first Olympic boxing champion and Cardiff born, Hannah Mills become the most successful female Olympic sailor of all time. In the Paralympic Games, Welshpool's Jim Roberts helped Britain to its first wheelchair rugby gold, and Swansea's David Smith retained his BC1 title, becoming Britain's most successful boccia player.
Welsh Olympians have made an immense contribution to Welsh sport, life and culture, and they continue to inspire generations of athletes to follow in their footsteps.
The objects will be on display until January 2022. Entry to St Fagans National Museum of History is free, but all visitors must pre-book their tickets via the museum website.