Contemporary craft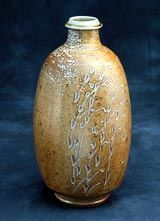 In the last few decades Wales has become an important centre for the production of contemporary craft. Potters and ceramic artists in particular have found Wales - both rural and urban - an inspiring and supportive environment to work in. It is a central part of the Museum's mission to collect and display the art of the past and present associated with Wales. In our craft collection we therefore aim to represent the diversity of contemporary craftwork produced in Wales and by Welsh-born craftspeople. We also strive to provide a broader context for this work by acquiring the work of leading craftspeople from outside Wales.
Traditional Welsh crafts, ranging from quilting and blacksmithing to coracle-making, are housed at St Fagans National Museum of History.
As a predominantly rural country, Wales has often been seen as a place of retreat, ideal for those wishing to adopt an isolated 'alternative' lifestyle. This is a stereotype, but one which matches well the ideals of the leading pioneer studio potter Bernard Leach. As a result, a number of potters in Wales have established potteries in rural settings and to varying degrees have sought to follow the Leach tradition. The best example of this is Phil Rogers, who works in Rhayader in Powys. Rogers was converted to potting by Leach's A Potter's Book and is largely self-taught. Like Leach, he is influenced by the ceramics of China, Korea and Japan and uses local materials, such as glazes made from wood ash from nearby trees.
It is especially appropriate for us to acquire pottery in the Leach tradition, as Leach's uncle Will Hoyle was the first Director of the National Museum of Wales. It was through this connection that in 1924 the Museum collected its first piece of contemporary craftwork - a slipware vase made by Leach in about 1923. Our collection now includes the work of other Welsh-based potters influenced by the ideas of Bernard Leach. These include Margaret and David Frith and Trefor Owen.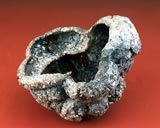 Other ceramic artists are inspired more directly by the Welsh landscape. Beverley Bell-Hughes of Llandudno Junction, for example, is interested in natural processes of change; echoes of tidal patterns and the effects of erosion can be seen in her work. David Binns, who lives in Denbigh, works in a dramatically minimalist style influenced not only by architectural and mechanical forms and Japanese aesthetics but also by the texture and appearance of natural rock.
Although their work is less obviously influenced by their surroundings, a number of Britain's leading potters have chosen to work in rural Wales. These include Walter Keeler, who has worked near Monmouth since 1976, and John Ward, who lives in Dyfed.
The Museum's collection also reflects the fact that many craftspeople in Wales live and work in an urban context, particularly Cardiff. Geoffrey Swindell, whose many interests range from the beach to science fiction, produces small elaborately finished porcelain vases. Michael Flynn is based in Cardiff but works overseas much of the time; he makes complex raku and porcelain figures that are full of energy and sinister humour, drawing on many sources of inspiration — theatre and dance, mythology and religion, historic ceramics and sculpture are just some of these. Morgen Hall was born in California but now lives in Cardiff, where the Museum's own collections and the work of William Burges have contributed to the development of her distinctive tin-glazed earthenware.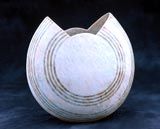 Wales has not only attracted craftspeople but exported them as well. Elizabeth Fritsch, for example, was born in Wales in 1940 and is now a potter with an international reputation. Clive Bowen, born in Cardiff in 1945, now works in Devon and has inherited the position of Michael Cardew as the leading exponent of slipware in the old English tradition. Less well known is Gwilym Thomas, born in Swansea in 1914 and in the 1930s a student of William Staite Murray, one of the leading pioneer studio potters. Thomas spent most of his life teaching and sold remarkably few of his imposing pots; however, following his death in 1995, the Museum was able to acquire a representative selection of his work from his family.
The collection of British craft work is by no means comprehensive but represents some of the major trends in British 20th-century craft. The 'Leach tradition' is represented by the work of Hamada Shoji, Katherine Pleydell-Bouverie, Norah Braden and Richard Batterham. Alternative traditions, less inspired by the ceramics of East Asia, are reflected in the groups of work by Hans Coper and Lucie Rie and in pieces by potters like James Tower who were influenced by the ceramic work of Picasso. Other prominent potters represented include Alan Caiger-Smith, Mick Casson and Magdalene Odundo.
At present our craft collection consists almost entirely of ceramics, but we hope to broaden the scope of our collecting. In the 1960s and 1970s a collection of craft jewellery was started, featuring the work of Helga Zahn, Wendy Ramshaw and Susanna Heron. In 1998 we commissioned two pieces of work,a vase and a beaker, from the Hereford silversmith Wally Gilbert.