Queer lives celebrated: LGBTQ+ Tours at National Museum Cardiff
27 August 2020

,
Just prior to lockdown we were able to run the first LGBTQ+ tours at the National Museum Cardiff which were created in partnership with Pride Cymru. As the doors unlock and visitors can start to return to the museum and also to mark and celebrate Pride Cymru 2020, I would like to share with you my favourite set of objects from the tours.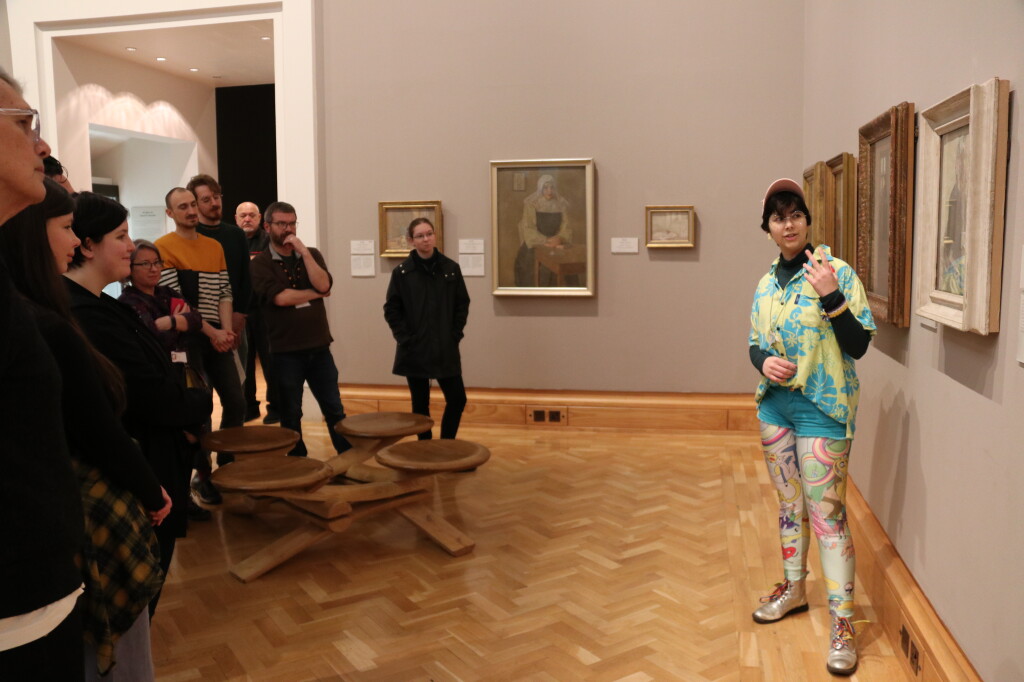 An Encounter with May and Mary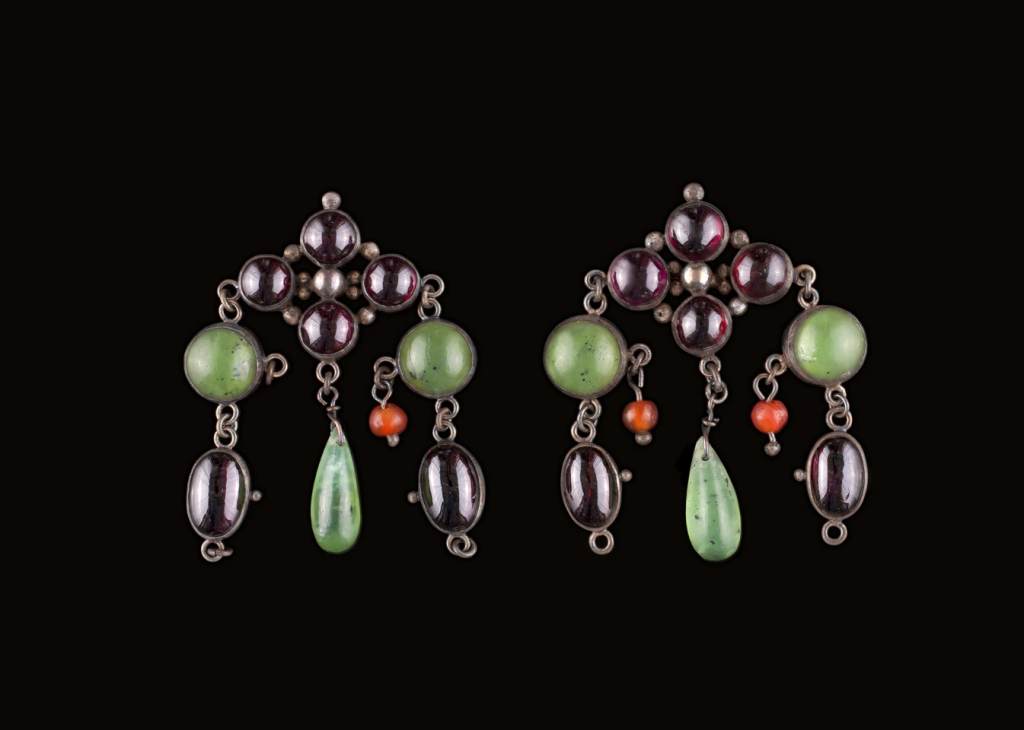 When I first saw the exquisite silver sleeve clasps with a centrally suspended chrysoprase teardrop gemstone flanked by two apple-green orbs, I was utterly charmed. What rooted me to the spot and caused goosebumps to tickle my skin though was the name of the owner and the donor: Miss May Morris, given by Miss M. F. V. Lobb.
Echoing in my mind was a talk, The Great Wings of Silence, that I'd seen Dr Sean Curran deliver at an LGBT+ History Month event at the V&A museum on their relationship. Curran also wrote about May Morris (1862-1938) and Mary Frances Vivian Lobb (1879-1939) saying, "people like Mary Lobb and May Morris are part of a still barely visible queer heritage that can contribute to legitimising contemporary queer identities".
I felt what I was seeing was evidence of their relationship. Though, as it turns out, there are two great collections that hold jewellery made by May and gifted by Mary, National Museum Cardiff and my 'home collection' of the V&A. Somewhat ironic!
The Welsh Connection
The link between May and the V&A, I think, is easy to deduce: William Morris had significant influence in the early years of the V&A and after he died May, a respected artist in her own right, carried on his work teaching about good design principles and maintained a strong relationship with the museum.
While the Morris family were proud of their Welsh ancestry, the question of how May's jewellery ended up specifically at National Museum Cardiff involves a curious path that takes in sites from all across Wales, and certainly affirms the significant relationship between May and Mary.
May was a skilled jewellery maker and embroiderer and took charge of the embroidery department of her father's renowned company Morris & Co. when she was 23. By the time Mary came into her life, May was living alone in the Morris family summer residence, Kelmscott Manor in the Cotswold.
Mary was from a Cornish farming family and during the First World War and as an early recruit to the Women's Land Army she was involved in demonstrations showing how women could support the war efforts, even making the news with a headline "Cornish Woman Drives Steam Roller"!
At some point after the war, Mary joined May at Kelmscott Manor and the couple became a familiar sight, even attending local events together. Then, perhaps as it is for some now, not everyone was sure what to make of the relationship: Mary has been variously described as Morris's close companion, housekeeper, cook, and even bodyguard!
When May died in 1938 she bequeathed her personal effects and £12,000 to Mary, an amount larger than any she left to anyone else. She also secured the tenure of Kelmscott for the rest of Mary's life, however, Mary tragically died five months later in 1939. In those short months, Mary arranged the donation of May's jewellery as well as her own scrapbooks to the National Library of Wales.
The scrapbooks were not given much consideration and were broken up and scattered across various sections of the library. It was researcher Simon Evans who began slowly reassembling the collection, and as he did so started to realise the significance and how it helps paint a clearer picture of the relationship between May and Mary.
Rediscovered items include watercolour landscapes painted by May, which suggests the pair traveled extensively together across Wales with journeys including Cardigan, Gwynedd, Swansea, Talyllyn and Cader Idris (one of my favourite images of the couple is a photograph from the William Morris Gallery that shows them camping in the Welsh countryside).
The Queer Perspective
Sandwiched in the scrapbooks is also a cryptic note in a letter from May to Mary, "after posting letter, I just grasped the thread at the end of yours, and having grasped (how slow of me!) I will be most careful."
To contextualise, Evans also describes a postcard (at Kelmscott Manor), written on a trip in Wales, in which Mary asked someone back at the Manor to send Morris's shawl which is in "our" bedroom, which seems to put to bed the rumour May and Mary shared a room. Further, writer and curator Jan Marsh concludes in her book Jane and May Morris by saying the relationship between May and Mary was, in contemporary terms, a lesbian one.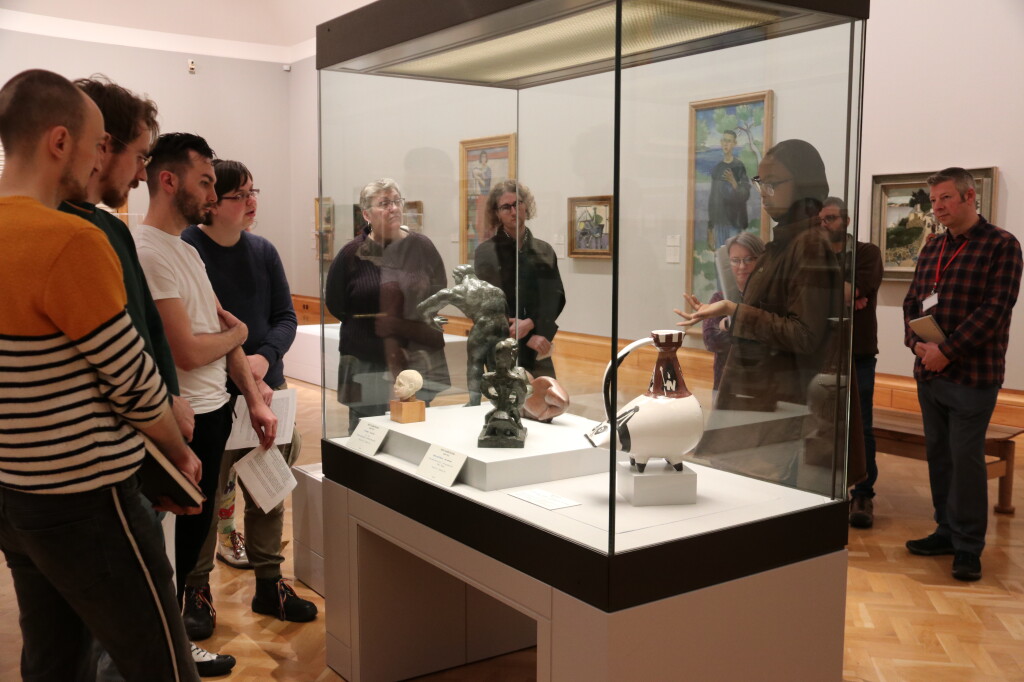 Through the jewelry gifted to the National Museum Cardiff we have a small glimpse of two lives intertwined, an intimate relationship between May and Mary that was full of love, care, and concern for each other. Theirs is one story among many on the free volunteer-led LGBTQ+ tours, which will return in the future when it is safe to do so.
In the meantime, labels for 18 objects have now been written that help highlight works with an LGBTQ+ connection for visitors. Connected to the May and Mary is a stunning hair ornament, which resembles a tiara, formed by floral shapes studded with pearls, opals, and garnets with silver leaves, all meeting symmetrically in the middle of the head.
There are landscapes and a self-portrait by Swansea born painter Cedric Morris and several portraits by the renowned Gwen John who hails from Haverfordwest, as well as a bust of her by lover Rodin. Other highlights include works by Francis Bacon, John Minton, Christopher Wood, and 'Brunette' - a ceramic bust of Hollywood star Greta Garbo by Susie Cooper.
It is also now possible to explore the museum's queer collection online by searching for 'LGBTQ' in the Collections Online. This will allow you to see works like The Wounded Amazon by Conwy sculptor John Gibson, a painting of Fisher Boys by Methyr Tydfil born artist Penry Williams (Gibson and Williams lived together in Rome and are understood to be lovers), and a ceramic plate that features perhaps the most famous lesbian couple in history, the Ladies of Llangollen, who lived together at Plâs Newydd.
It is a joy and a privilege to be able to share the rich history of Welsh queer culture in such a historic place. I'm pleased to say the tours and the related research are merely just getting started! There are so many more stories to be found and told, many that will take us down interesting intersectional paths too. So do stay tuned for more from the National Museum Cardiff and Pride Cymru volunteers.
For now I wish you a happy Pride. However you're celebrating it, I hope it's with as much sparkle as May and Mary's glamorous bling!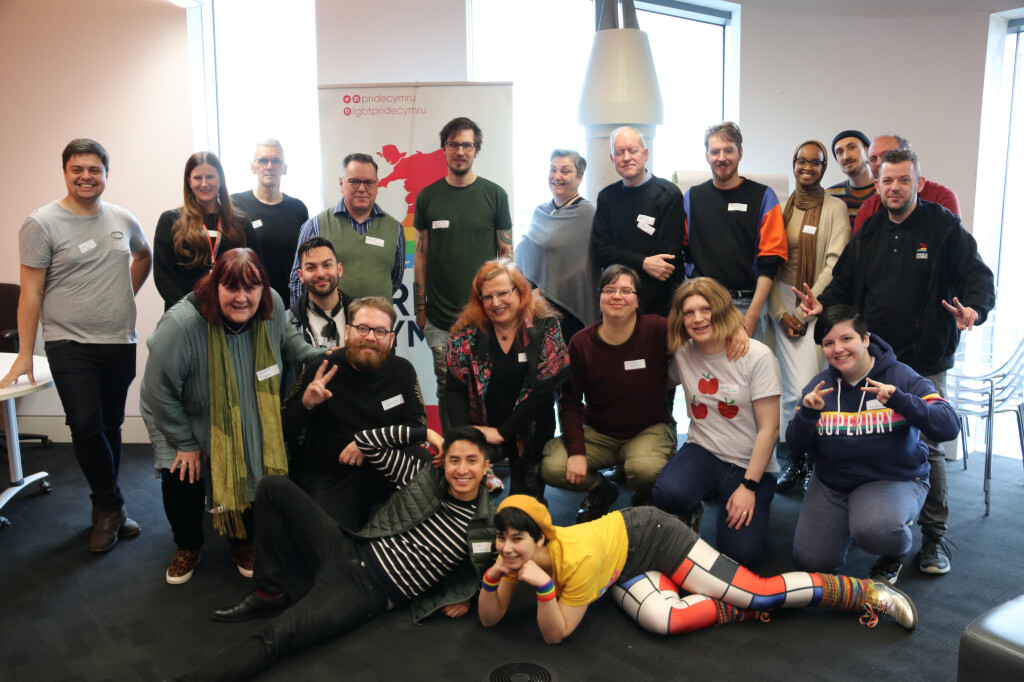 ---
Dan Vo is a freelance museum consultant who founded the V&A LGBTQ+ Tours and developed the Amgueddfa Genedlaethol Caerdydd National Museum Cardiff LGBTQ+ Tours. He is currently the project manager and lead researcher of the Queer Heritage and Collections Nework, a subject specialist network supported by the Art Fund formed of a partnership between the National Trust, English Heritage, Historic England, Historic Royal Palaces and the Research Centre for Museums and Galleries (University of Leicester).