Snakes! A Sssssstudent Experience
12 July 2019

,
Written by Caitlin Jenkins, MSc Conservation Practice student, Cardiff University
I'm Caitlin, an MSc Conservation Practice student from Cardiff University and I have just finished my summer placement at National Museum Cardiff. I've been working with conservator Julian Carter on the natural history collections, with the last five weeks focused on preparations for the museum's summer exhibition, Snakes!
The first week saw me elbow deep in jars full of snakes, as we worked our way through getting 32 fluid preserved specimens ready for display. Although the snakes had already undergone previous treatment, many were very old and in need of attention. After checking the jars' condition, we added or replaced conservation fluid as required.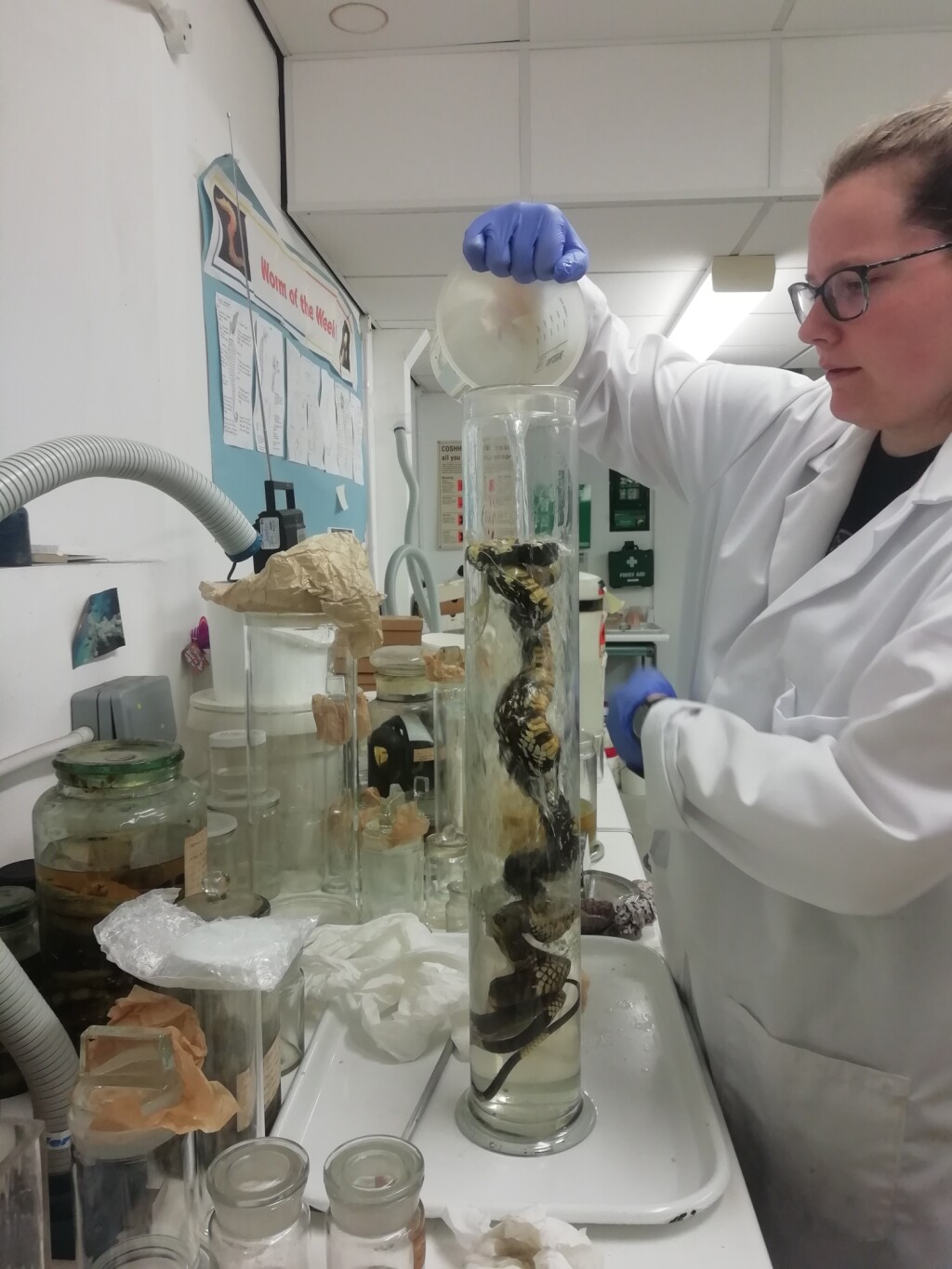 Many snakes needed to be rehomed in new jars. Some preservationists use wires or mountings, but we chose to follow the natural shape of the snake and its flexibility to guide its positioning within the jar. My favourite of the specimens was a grass snake that had been preserved in the act of eating a toad (with one leg dangling from its mouth...poor toad!)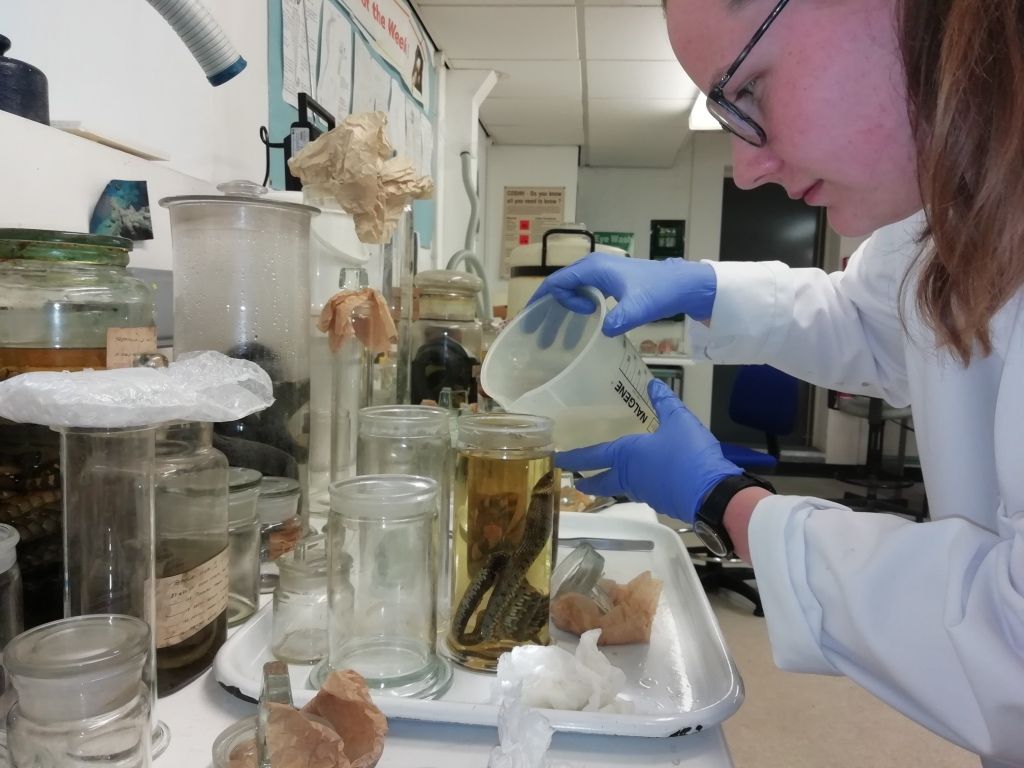 I was also able to assist with preserving a new addition to this collection – a boa constrictor named Aeron. After formaldehyde injections and several fluid changes, we needed to find an extra-large shiny new jar, because he was over a metre long. Aeron has now bagged a starring role as the centrepiece of his display case. I really enjoyed this experience, and it has given me a fantastic insight into the complexities and potential of fluid preservation.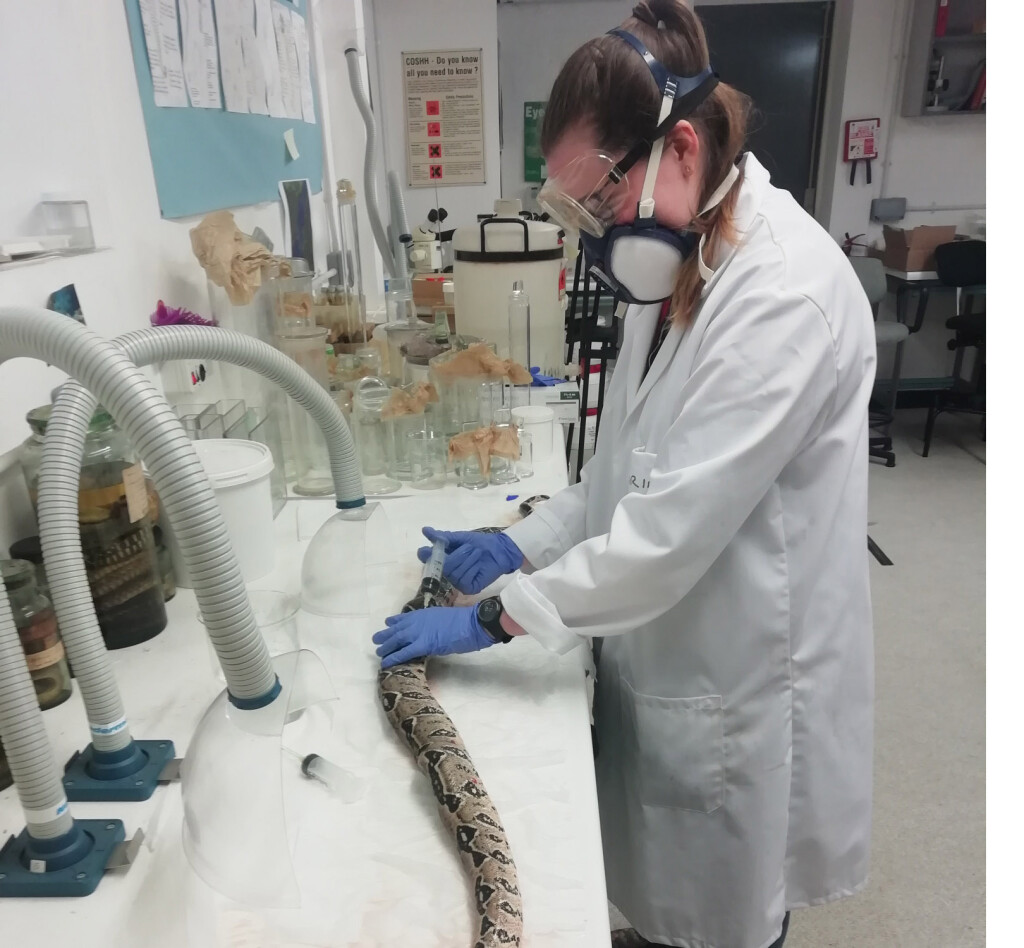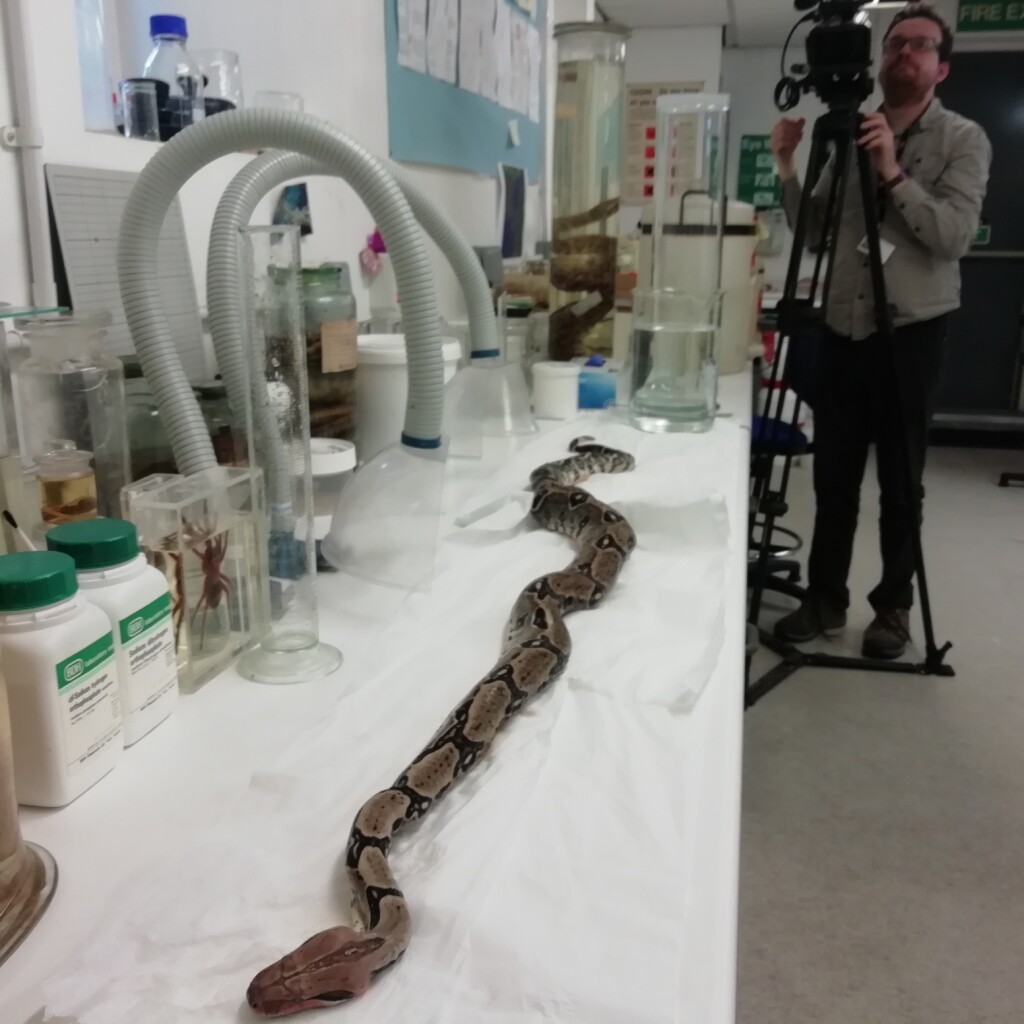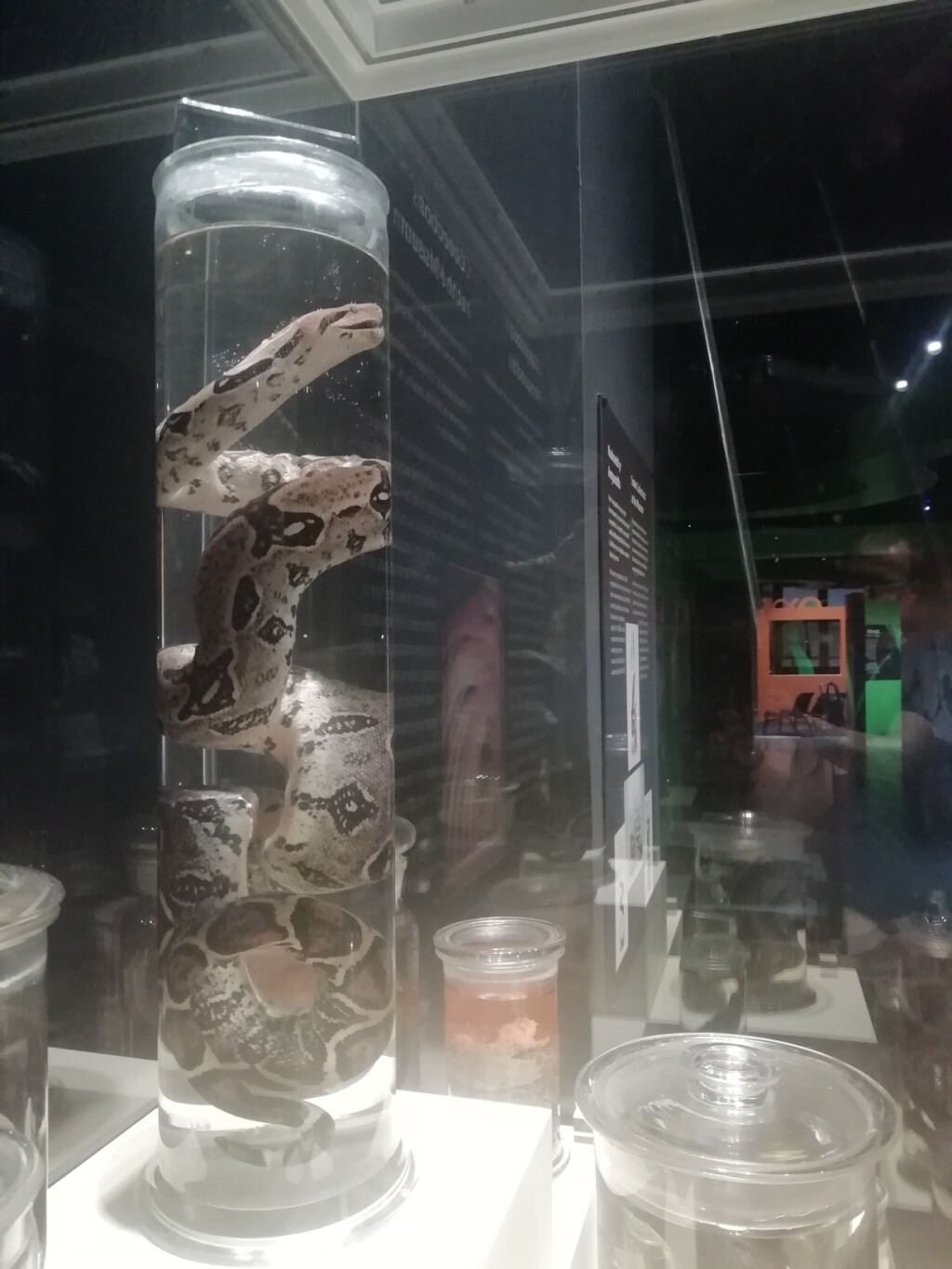 My other major project was the treatment of three snake models destined to be part of a large interactive exhibit within Snakes! Two were painted plaster models of a rattle snake and a king cobra. These incredibly detailed antiques were perhaps cast from real specimens. The third was a moulded rubber and polystyrene grass snake model from the 1960s. The models had survived in remarkably good condition given their age, they just needed a little 'zhoosh' to make them display-ready. Light brushing and swabbing with water and mild detergent was all that was needed to remove ingrained dust. Any loose or flaking areas were consolidated to ensure that they didn't become further detached from the model.
Nevertheless, small elements were missing from each model. The grass snake model posed a specific conservation risk, as rubber and plastics can become unstable over time. Its tongue became fragmented during cleaning and unfortunately proved too badly degraded to reattach. Using photographs of the real-life snake species as a guide, I fashioned replacement tongues for this and the king cobra model from a strong plant-based fibre known as Japanese tissue. They were secured in place and painted to blend them into the jaw area. Being able to see the immediate improvement after each snake 'facelift' was very satisfying - this took cosmetic surgery to a whole new level!
Finally, the finished models were settled into their new home for the summer – a large interactive exhibit affectionately dubbed 'the snake pit'. I'd become so immersed in their treatment over the last five weeks that I was kind of sad to see them go – but it was satisfying to see them looking their best and used in the spirit for which they were originally created.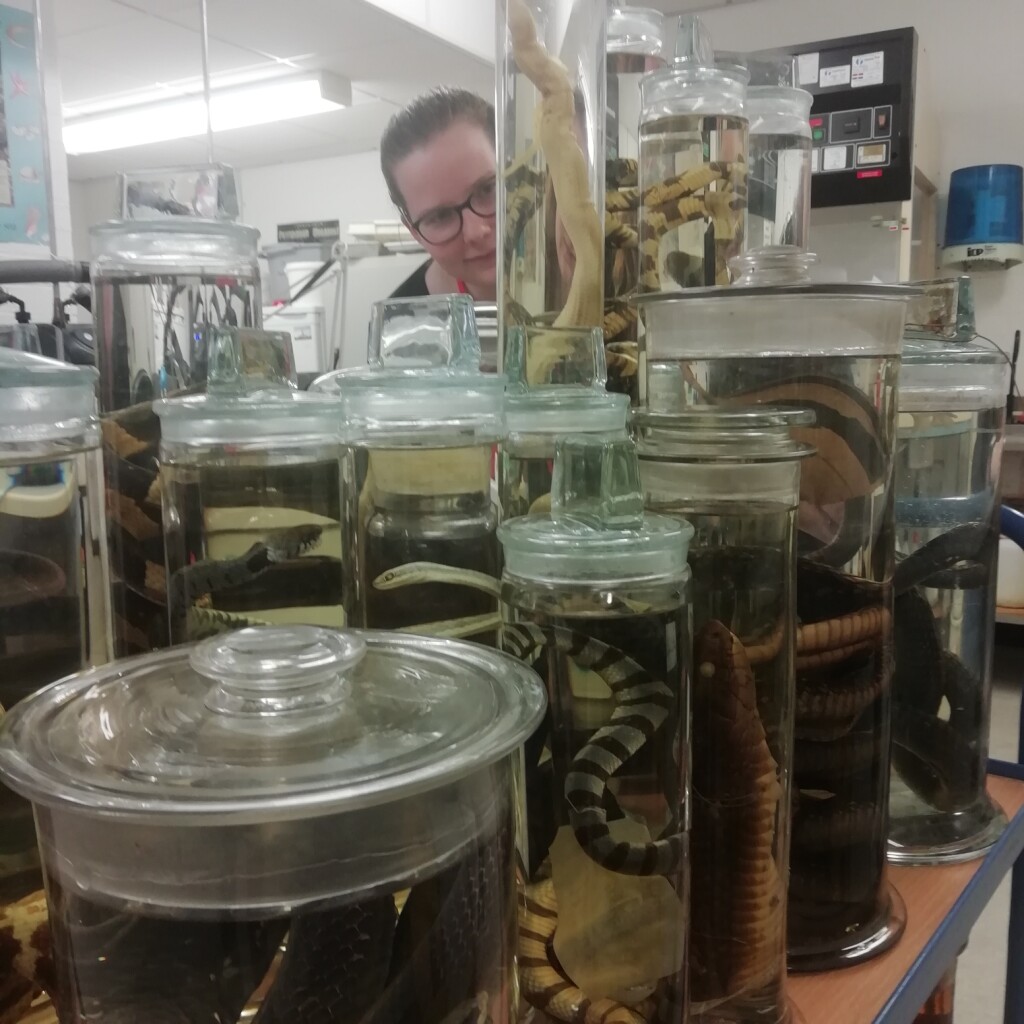 I've really enjoyed working on Snakes! from preparation to completed display – it's been a fantastic experience. If you are in the vicinity of the museum, pleasssse pay them a visit.
The exhibition runs till 15th September 2019, entry charges do apply, and all your contributions go towards bringing you even bigger and better exhibitions in the future. Please note that there is no live handling of the snakes within the exhibition, there will be a series of bookable handling sessions throughout the summer as well as a Venom themed Open Day in August. To find out more about all of this, go to our What's On page.