Hi Bulb Buddies,
I'd like to share a few pictures with you. Remember, if you ask your teacher to send pictures of your plants to me I can share them with other schools involved in the project! I'm especially interested in pictures that show the change of seasons, like spring flowers submerged in winter snow!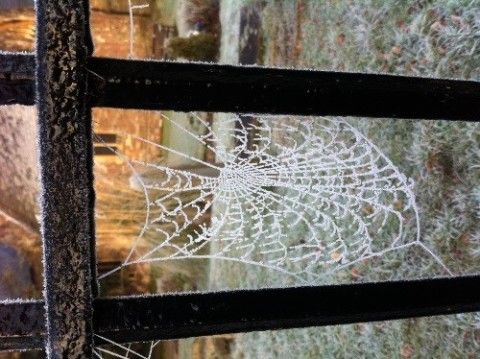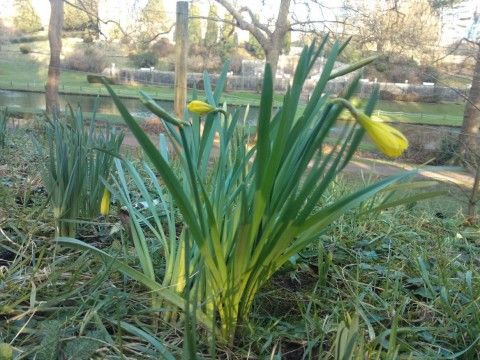 There has been some confusion over when to enter your flowering dates online. You can monitor how tall your plants are growing each week and let me know in the 'comments' section when you enter your weekly weather records. But the 'flowering date' and the height of your plant on the day it flowers are to be entered on the NMW website only once the flower has opened.
Look at the picture above of Daffodils at St Fagans National History Museum. This picture was taken on a cold day, so the flowers haven't fully opened. But, you can still tell which ones have flowered by looking closely at the picture. If you can clearly see all of the petals then your plant has flowered. Before flowering the petals are held tight in a protective casing and look like this: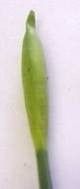 This is a flower bud. Once the flower has matured inside the bud (and the weather is warm enough) the casing will begin to open. This can take a few hours or a few days! If you watch your plants carefully you might see this happening! Once you can see all of your petals and the casing isn't restricting them at all you can measure the flowers height and enter your findings on the website. Once you have done this a flower will appear on the Map showing where your school is!
You can practice measuring the height of your plants to see how quickly they grow. If your plants are still small you can measure from the top of the soil. But, when you come to take the final reading to enter on the website we ask that you measure from the top rim of your plant pot to the highest point of your flower.
Have you compared the heights of the flowers in your class? Are there big differences in the size and maturity of the plants, or are they all very similar? What about the plants planted in the ground? Are these any bigger than the ones in your plant pots? Why do you think this is? You can let me know your thoughts in the 'comments' section when you enter your weekly weather records!
Once the bulbs start to grow send your stories and pictures to our bulb-blog and follow Professor Plant on Twitter!
Keep up the good work Bulb Buddies!
Professor Plant
P.S. Don't worry if your bulbs haven't sprouted yet. It's still early days and I'm sure it won't be long! Mine haven't all shown above the soil yet...