Christmas customs: The Mari Lwyd
Mari Lwyd (Grey Mare / Holy Mary) was the name most generally applied in Wales to the horse-figure formerly carried from door to door by wassail-singing groups during the Christmas season. This figure (which is, of course, represented in other countries) seems to have been once known all over southern Wales but during the present century relatively little has been seen of it outside of Glamorgan, where it is not yet completely extinct.
The attendant ritual began with the singing of traditional stanzas by the Mari Lwyd group at the door, soliciting both permission to sing and entry into the house, and issuing a challenge to a versifying contest.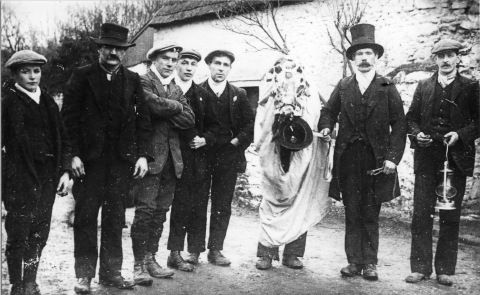 Next followed the pwnco, the debate conducted to the same music in a combination of traditional and impromptu stanzas) between a member of the group and an opponent within the house. This usually amounted to heavy leg-pulling in which the contestants mocked each other's singing, drunkenness, etc.
Victory in the debate would ensure admission into the house for the Mari Lwyd group, to partake of cakes and ale and perhaps collect a money gift as well. In at least some cases, after the end of the debate, the group would sing additional stanzas introducing its individual members and finally, after entertaining the occupants of the house, it would deliver a farewell song.