Magnum photographer, David Hurn, donates his photography collections to AmgueddfaCymru-National Museum Wales
17 May 2017

,
Amgueddfa Cymru – National Museum Wales is the recipient of an exceptional gift from Magnum photographer David Hurn. Of Welsh descent, Hurn lives and works in Wales and is one of Britain's most influential documentary photographers. Now, his home country will benefit from his collection of photographs.
David Hurn's gift is made up of two collections: approximately 1500 of his own photographs that span his sixty-year career as a documentary photographer; and approximately 700 photographs from his private collection which he has compiled throughout the course of his career. Speaking of his gift, Hurn notes,
"My earliest visual/cultural memories are visiting the museum when I must have been four or five. I remember the naughty statue - Rodin's 'The Kiss' - and cases full of stuff that people had donated. Well now I have the chance to repay, something of mine will be there forever, I feel very privileged."
A definitive edit of a life's work
Over the last two years, Hurn has been selecting photographs from his archive to create a definitive edit of his life's work.
The collection of approximately 1500 new prints includes work made in Wales, England, Scotland, Ireland, Arizona, California and New York. It includes some of Hurn's most celebrated photographs, such as Queen Charlotte's Ball, Barbarella and Grosvenor Square.
However, it is his carefully observed photographs of his home country of Wales that are the focus of the collection. Following his generous gift, National Museum Wales is now the institution with the largest holdings of Hurn's work worldwide.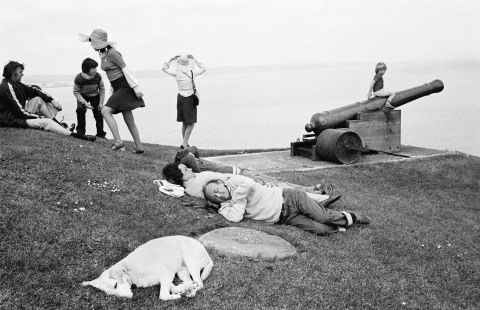 A Collection of Swaps
In addition to his own photographs, the Museum is also acquiring approximately 700 photographs from Hurn's private collection, which he has amassed over the past sixty years.
Throughout the course of his career, Hurn has swapped photographs with fellow photographers, including many of his Magnum colleagues.
In doing so, he has assembled a significant and diverse collection, which includes leading 20th and 21st century photographers such as Henri Cartier-Bresson, Eve Arnold, Sergio Larrain, Bill Brandt, Martine Franck, Bruce Davidson and Martin Parr, through to emerging photographers such as Bieke Depoorter, Clementine Schneidermann and Diana Markosian.
A selection of works from Hurn's private collection will be on display for the first time at National Museum Cardiff from 30th September 2017, in Swaps: Photographs from the David Hurn Collection of Photography, an exhibition that launches the Museum's new gallery dedicated to photography.
Photography Collections at Amgueddfa Cymru - National Museum Wales
National Museum Wales' existing photography collections are uniquely inter-disciplinary and span subjects including Art, Social and Industrial History and the Natural Sciences.
Importantly it includes some of the earliest photographs taken in Wales by pioneering photographer John Dillwyn Llewelyn and his family. The addition of Hurn's exceptional donation will transform the Museum's photography collections and raise the profile of Amgueddfa Cymru - National Museum Wales as an important centre for photography in the UK.
The exhibition at National Museum Cardiff follows an earlier presentation of Hurn's collection at Photo London, the international photography event held annually at Somerset House in London. Curated by Martin Parr and David Hurn, the Photo London exhibition, David Hurn's Swaps marks the 70th anniversary of Magnum Photos.