Shells, Prosthetics and 3D Printing: A Visit to the Mollusca collection at National Museum Cardiff
15 August 2017

,
I am an artist, studying for an MA degree in contemporary design craft, specifically the sculptural potential of prosthetic limbs. My visit to the Mollusca collection occurred after I came across a blog about the interior structure of shells on the museum website, and I made the connection between the interior structure of shells and how 3-D printers work and correct form. On the blog there was a contact number for the Curator of Mollusca, so I contacted Harriet Wood, not knowing what to expect in response.
When I explained my work on prosthetics to Harriet, and the connections with the interior structure of shells and 3-D printing she seemed very excited and invited me to come down, and also offered to introduce me to the person who runs a photography lab who uses 3-D printing and scanning for the museum.
Going Behind the Scenes
I could not have imagined it could have gone as well as it did. I met Harriet at the information desk of the museum and we then headed behind-the-scenes, where the collection is kept. Walking around the museum to get out back was really nice and modern. It reminded me of an academic journal I read not long before my visit, from the International Journal of the Inclusive Museum: 'How Digital Artist Engagement Can Function as an Open Innovation Model to Facilitate Audience Encounters with Museum Collections' in the by Sarah Younan and Haitham Eid.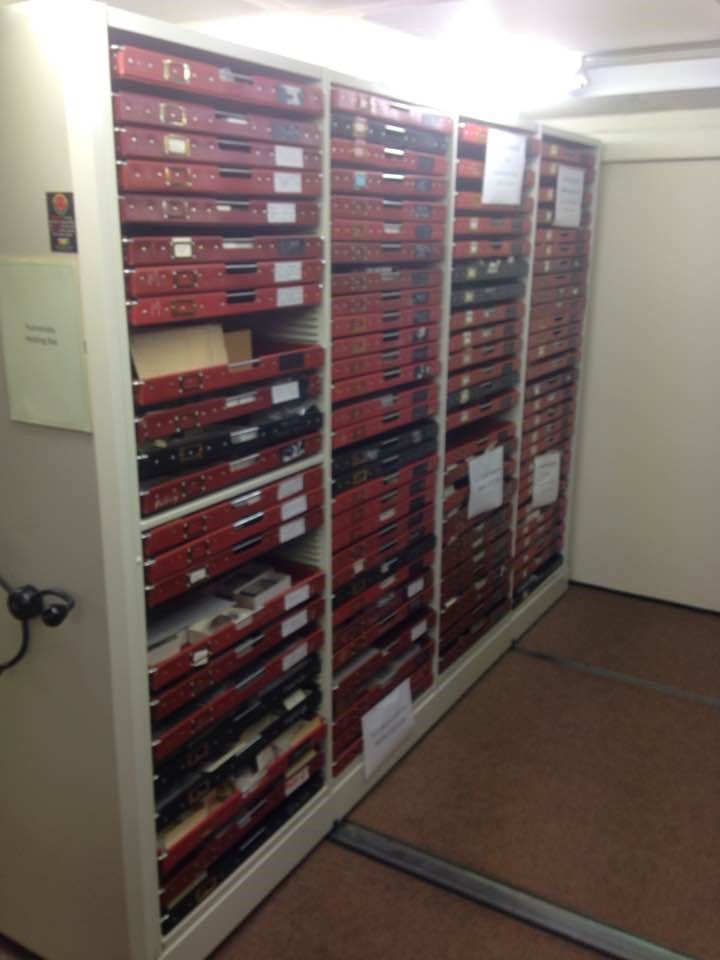 Behind the scenes at the museum was quite a special environment - generally the general public are not allowed access unless arranged. It was a great privilege to be walking through rooms and rooms full of shells that people over the years have discovered and appreciated for their beauty. What was really fascinating was how the shells had been cut so perfectly. The cut shells looked almost as if this was their natural state – the way they were cut blended in so well with the form of the shell. This is what I wanted to see.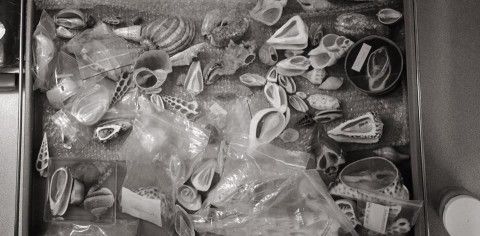 I was speechless when I saw these collections of shells – especially seeing that part we're not supposed to see. It was really exciting to see interior structure revealed by the cut, as it added a whole new value to the shells. They really reminded me of work by the the sculptor Barbara Hepworth, whose work I really admire.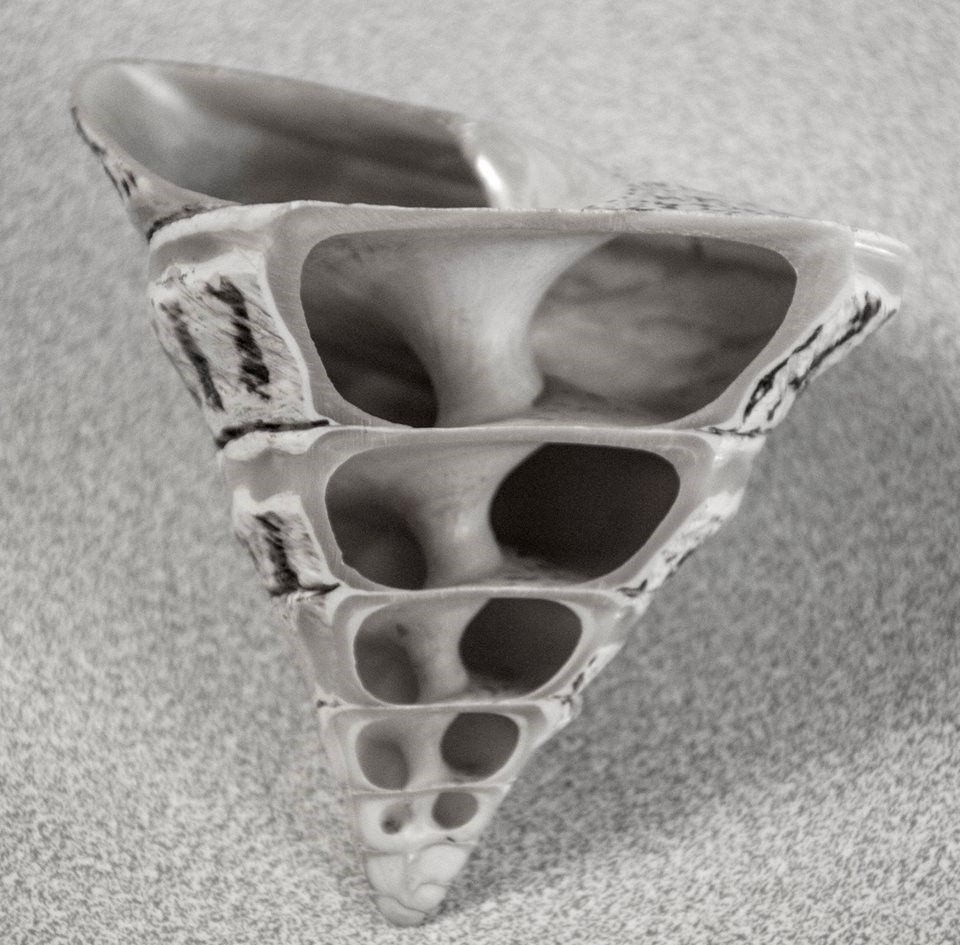 We see shells all the time on beaches and they just fascinate me, especially the broken ones which reveal part of the interior. It's a very imperfect break, very different to the quality of the shell which has been sliced purposely to reveal what is inside. A natural object sculpted by man: I feel that this is what I am drawn to.
3D Scanning: Art and Science
Before examining the shells myself, Harriet offered to take me down to see Jim Turner, where we ended up spending most of my visit because what he did was just very interesting. Jim works in a lab which uses a photography process called "z-Stacking" (or extended depth of field – EDF) which is used extensively in macro photography and photo microscopy.
Jim is also creating an archive of 3D scanned objects for the museum website, where people can interact with scanned objects using VR headsets - bringing a whole new experience to the museum.
I understood what he was doing immediately from my own work. He explained the process and I understood the technicalities. It was a real pleasure to speak to someone who is using 3-D scanning in a different way to me. Jim is using 3D scanning in a way that was described within academic texts I had read - and even though he wasn't doing anything creative with shells, he was still putting the objects into a context where people could interact with them using digital technology such as VR headsets, and on the web via sketchfab.
'Like being on a beach...'
When we got back to the Mollusca Collection I was able to take my own time and was under no pressure - so I got to have a good look and explored the shells. It was like being on a beach spending hours of exploring all wonderful natural objects.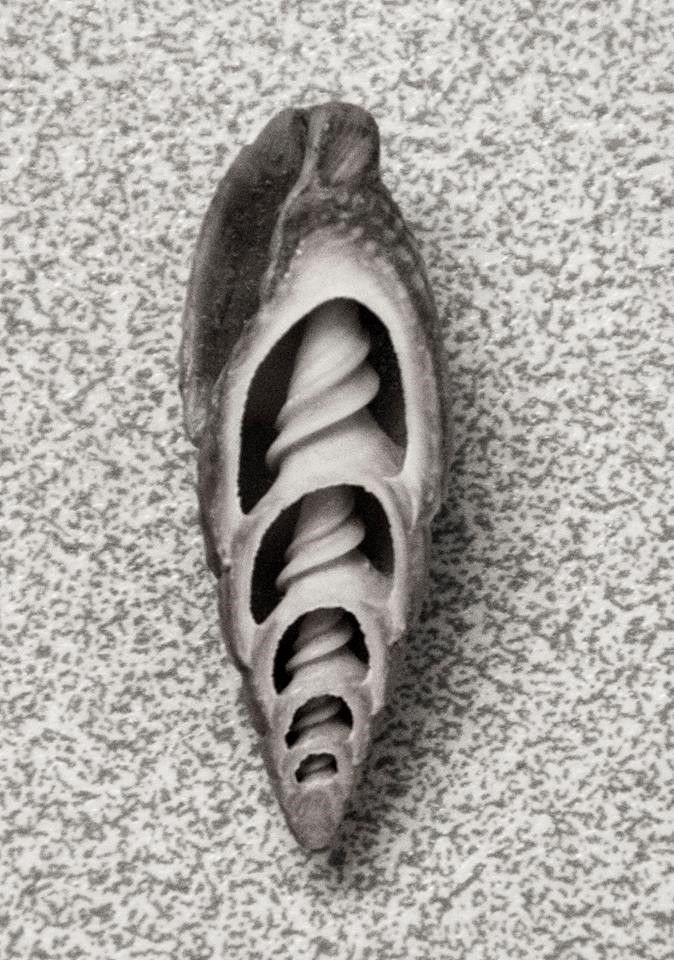 This visit had an amazing impact on my MA project - and I cannot thank Harriet and Jim enough for their time. This visit also gave me the confidence to approach other museums, such as Worcester Medical Museum, where I worked with a prosthetic socket from their collection. I 3D scanned the socket and, with the inspiration from Harriet's collection of Mollusca, I created a selection of Sculptural Prosthetic sockets, drawing inspiration from the internal structures of shells, and illustrating sections of the shells that I was most drawn to.
'A sculpture in its own right': my collection of sculptural prosthetics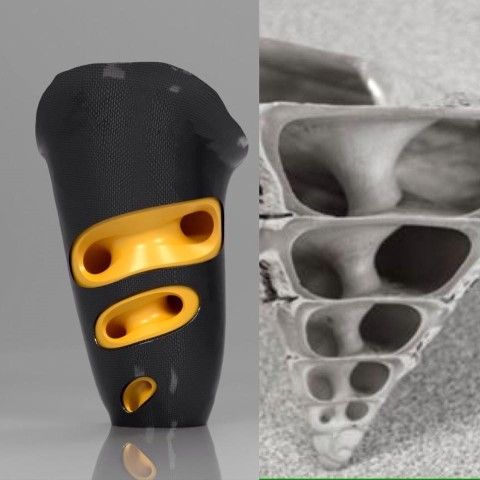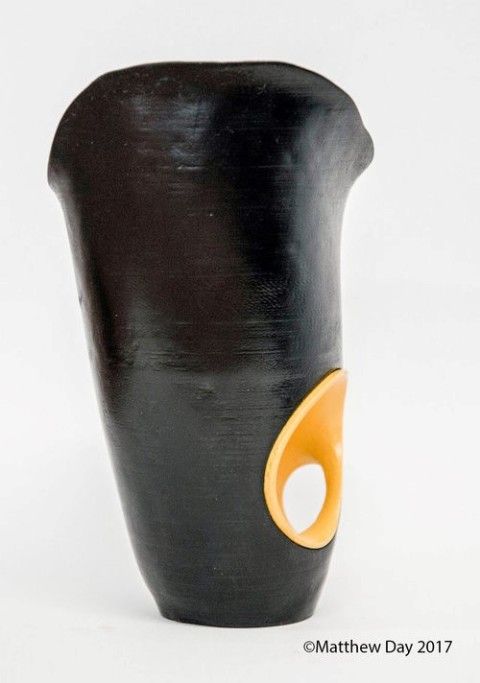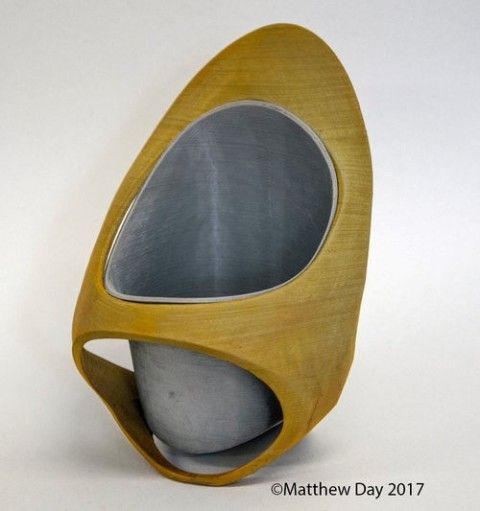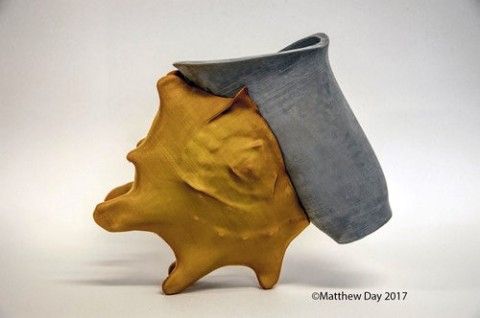 What's next?
My MA is now reaching a climax, and I am starting the final major project module after the summer, which I am very excited about.
For the final part of my studies, I want to take all that I have explored and incorporated into my research to date, and use it to create a concept prosthetic limb which would be wearable, but also a sculpture in its own right – work which is now on track.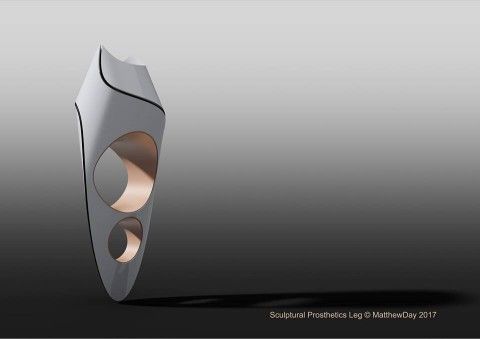 I aim to create a really spectacular prosthetic limb using 3D printing, further incorporating the shell-inspired aesthetics you see in this blog.
More of my work can be found on my website: Matthew Day Sculpture