A Radical Collection
I'm content when I'm rummaging through old records, photographs or documents. Gleaning through 'stuff' is an unusual pleasure now that I work in the Digital dept, my day-to-day work mostly bereft of bits of paper.
I love the feel of ruffling through collections; whether it's a pile of vinyl, a card catalogue, or a box of old letters and tickets from the last century (it's scary to say that: "I went to a Levellers gig in the last century".)
Nearest and dearest to me are the Screen and Sound Archive at the National Library (where my Father worked until his retirement), and the Archives at St Fagans National History Museum. At St Fagans, the history of those early, radical curators, the background noises they capture, the dialects and the voices have had me in awe for almost a decade now.
It's also a relatively egalitarian collection, that notes the value of women's histories and makes space for us to tell our stories in our own words, to share our songs, recipes, beliefs and superstitions. Paper history doesn't match up somehow, where our voices oftentimes get squished to the margins and footnotes. It must be said that it isn't a completely intersectional collection, though efforts have been made in recent years to address this, for example, in recording stories from LGBT people.
My Grandmother's Voice
I will never forget finding my Grandmother's voice in the archive. She died when I was very young and so I don't remember very much about her, apart from what I've picked up from photos and from her poetry.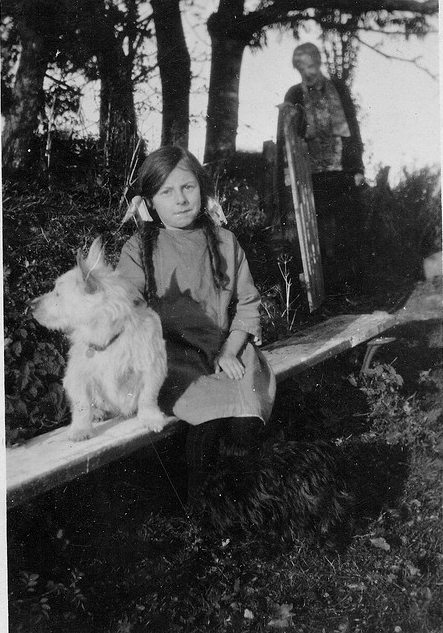 She was an excellent storyteller, and it was a privilege to receive a CD of her telling a few tales. Her voice had been there, kept safe all along - and I was bowled over, not just by her turn of phrase and sense of humour, but by the noises my Grandfather was making in the background as he tinkered around. His voice was not as deep as the one I'd committed to memory, and unlocked a drawerfull of memories besides.
This encounter further convinced me that archives deserve to be recognised as inherently meaningful collections, to be treated not as a supporting cast, but as whole collections which deserve pride of place alongside archaeological objects and artwork in our museums.
The Archive Today
I've been working with the team for a while - Richard (@archifSFarchive) who is part of the @DyddiadurKate team, and now with Lowri and Meinwen, who look after the manuscripts and sound archive. I've been showing them how to use our blogging platform, so hopefully we'll see a bit more of the life of those collections online soon.
Within the digital department, we're busy revamping our pages on Welsh traditions and folksongs. While that work is going on, I've been looking in more detail at how we could potentially reach a wider audience by sharing sound clips on social platforms.
Sharing Sound Socially
The platforms we currently run - twitter, facebook and tumblr - seemed too ephemeral somehow.
Tweets don't live long enough, especially since we have so many accounts running in St Fagans; and the data shows us that our facebook fans are more interested in our events programme than our collections. Something as focussed as oral history or folk music could easily get lost or miss its mark.
So, I asked Gareth and Rhodri about their experiences of sharing music on soundcloud, bandcamp etc. I decided to create a package our of existing digitised material using bandcamp, and to release them all in one go, father than drip-feed them on the blog or on twitter.
One of the lovely things about bandcamp is the ability to add more information, like sheet music, lyrics and the history of the recording, and that I'm able to package things in an 'album' style. I was also really keen to use the 'pay if you like' function to see if we could open up a small donations stream that could be evaluated in the future.
Download 'O'r Archif'
Here it is then, a selection of folk songs, recorded from 1960 onwards by our archive at St Fagans: O'r Archif: Caneuon Gwerin
Most of the recordings were made by Roy Saer. The sheet music and sound was arranged by Meinwen Ruddock-Jones in the archive, and additional research carried out by Emma Lile. The cover for the collection is held in our art department, and is attributed to the travelling artist W J Champan.
I used Canva to tie together the older scans of the sheet music, and to add a word or two about the archive's history. If there are any errors, therefore, they are mine! Enjoy, share, sing, donate and experiment - and if you have any feedback, please pop it in the comments!