It seems like Skull-Cups are all the rage this month.
The media loves a history-story with a bit of 'ick' to it, and the recently-discovered human remains from Cheddar Gorge struck a chord last week. Reports of our 'cannibalistic' ancestors appeared on the Beeb, the Guardian and even über-cool hangout Boing Boing. The skulls found in Gough's Cave were almost 15,000 years old, and were, according to experts, probably used as ceremonial goblets.
Fast forward around 14,000 years, to 1057CE (or 1057AD, depending on how you take your history). That's when an amazing piece of skull-cup history starts, and right here in Wales.
Far from the media's imagined early-mannibal, drinking blood from his familiar's head; this cup is a piece of Welsh history with refined, aristocratic associations. In fact, the skull was even set in silver by Garrard's of London, and supposedly once sat on the saintly shoulders of one of Wales' most popular men: St Teilo.
The skull, that is, not the cup.
The Mathew family, who lived in South Wales, took on the guardianship of Teilo's Skull just before the Battle of Hastings. By now, it is held in Llandaf Cathedral, and it can be viewed by appointment. I popped down last week to take a few photos of it for this Saturday's Holy Relics! talk.
It is currently sealed behind glass, to prevent the corrosion of the silver parts, and so I hope you'll forgive me for the reflections in my photos! I do like the fact that the curious custodian's shadow turns up in a few of them, like a ghost in a suit!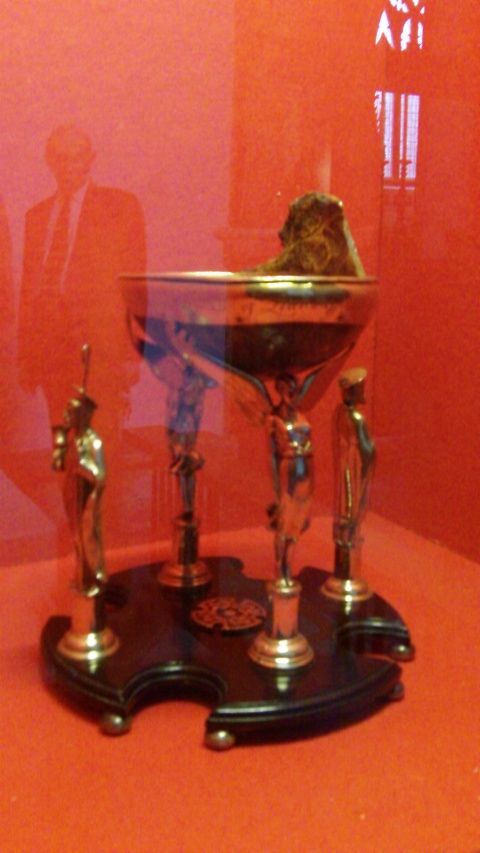 The skull itself was handed down from generation to generation, carrying with it a tradition which goes back to the early Church and its practices. The body, or even part of the body, of a Saint was seen as a high-status object. Many churches have built their reputations thanks to the presence of bones in their altars, reportedly belonging to important Christians.
The veneration of relics still takes place, as does the exchange of these very sensitive objects. Ebay even has an advisory page on how to buy and sell your relics without commiting the Catholic sin of Simony, which is selling the human remains of a saint. A glance at Interpol's Stolen Art Register (possibly one of the most interesting corners of the web, found here) shows that icons and relics, from many different religions, are still powerful objects which fascinate buyers - scrupulous or otherwise.
Today, I'm writing up my talk for Saturday - it's the point at which I get really excited, but before the information quite settles into a coherent sequence.
Maybe it's time for a cup of tea...